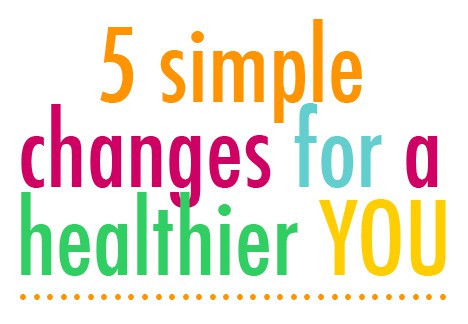 Let's face it: we are busy ladies. With work, school, family, friends and significant others demanding our time and energy, the idea of a healthy lifestyle can easily fall by the wayside.
Luckily, a little bit can go a long way when it comes to making your daily life healthier. Here are 5 simple changes that pack a big punch in improving your wellbeing:
1. Sit less and move more – Adding more movement to your everyday is a vital component of a healthy life. It's recommended that adults log 10,000 steps a day – a pretty lofty goal, especially for those working in offices and sitting for long periods of time. If you want to make sure you meet the minimum movement recommendations, pick up a pedometer. If you're regularly falling shy, aim to take the stairs more, take a longer route to the bathroom or park father away from the grocery store. Every little bit helps!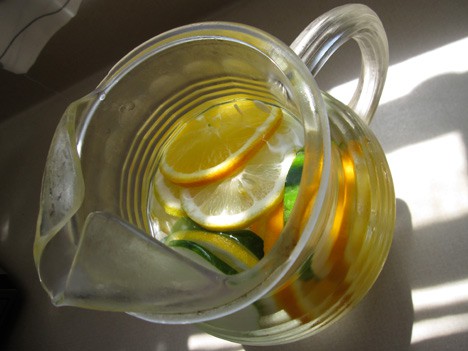 2. Drink more water – Water is the best trick to living a healthy life and its benefits are endless. Aside from the perks of diminishing bloating, clearing skin and making hair shine, water also helps the body perform its best at all times. Add lemon and lime slices or fresh-cut fruit, fresh mint and other herbs to spice up your water bottle and to help meet your daily requirements. (Currently I'm loving Stur – a sugar-free water enhancer that adds some oomph to my H2O. The Cucumber Mint is yum! ~ Tyna)
3. Live like a European – No, we're not going to tell you to live everyday like you're on a European vacation, Eat, Pray, Love-style, but you can take a page from the book of our friends over the Atlantic when it comes to their food choices and eating style. Europeans are known for their smaller portion sizes and for eating their food slowly and truly savoring it; that extra time allows your tummy to tell your brain that you're full.
Another lust-worthy diet trick comes from the Mediterranean. People along the coast focus on fruits, vegetables, and seafood – and a little bit of red wine too! – as primary components to their everyday diets.

4. Get your beauty sleep – We all know the beauty benefits of a good night's sleep (we can all agree that a day without bags under your eyes is a great day!) Time between the sheets also helps your body recharge and perform its best everyday. Try to go to bed at the same time every night and eliminate bedroom distractions. Your cell phone, laptop, TV – even light from your alarm clock – can all disrupt your sleep cycle. Take these away from your bedside to log some quality shut-eye.
5. Get cooking – Restaurant meals are typically gigantic and loaded with extra fat, calories and sodium—not to mention the hit they take on your wallet. Take your cooking to your own kitchen and you will save money and unnecessary calories, while making sure your family's dishes are healthier.
Healthy living doesn't have to be a challenge and taking small steps can make a big impact. You'll have plenty of time to enjoy all of life's little pleasures!
Readers – what are your simple tips for living a healthy life?
photos: we heart this
Marissa is a public relations professional by day and jewelry designer and entrepreneur by night. She has an affinity for creativity and inspiring style and loves writing, reading, and being in the sun.