There's still time to grab the collection that will make you want to dance on the sand
Summer heat got ya down? It's too darn hot and it's only getting hotter—like Rio hotter. Time to turn that fizzle into some sizzle, put on that cherry ice cream smile and dance across the dusty land. MAC has released its Tropical Taboo collection and I'm definitely feeling some eighties south of the border heat.
MAC Tropical Taboo is defined by bold, bright colors, shimmery pastels and a rich black gold. Capturing the "passion of samba" (and the essence of my 80's high school wardrobe) in this sensual collection, MAC sends the mercury rising.
Let's take a look at the Tropical Taboo goodies received by wht for our review!
Mineralize Eye Shadows ($21 each)
Time to Tango — greyed lavender with gold and silver pearl
Tropica — reddish purple with bluish silver
Dare to Bare — light lavender with yellow gold
Time to Tango
Time to Tango – applied dry and wet
Tropica
Tropica – applied dry and wet
I tested Tropica which has some nice pigment for full-on lid color. Appearing in the pan as a marbled blue silver shimmer with mid-tone purple, on the skin it appears to be a pale violet with silvery shimmer. As with all Mineralize powders, these are finely milled, feel almost creamy on the skin and intensify when applied wet.
Dare to Bare
Dare to Bare – applied dry and wet
I also tried Dare to Bare which has less color impact, but is lovely as a highlighter and brightener. Appearing to be a marbled pale gold and lilac shimmer in the pan, it gives a whitened peach with a vague blueish cast on the skin.
Time to Tango, Tropica and Dare to Bare
Kohl Power Eye Pencil ($16 each)
Orpheus — black with bronze gold pearl
Orpheus was my hands-down favorite of the entire collection, laying down the hard edge line of black but so shot through with gold as to look mesmerizing, rich and elegant. Black gold…Texas Tea.
Now, let's take a look at some of the fab lip products in the MAC Tropical Taboo collection!
Mineralize Rich Lipstick ($22 each)
Midnight Mambo — bright, sheer magenta violet
By itself, Midnight Mambo is a sheer, buildable and intense violet. The slightly sweet scent and light, moisturizing formula of the Mineralize Rich Lipstick is a nice juxtaposition to the bold color. And Stef said it reminds her a lot of Feel My Pulse from the Temperature Rising launch earlier this year, and says to grab it if you find it (as it's been her go-to Summer color!)
Lip Pencil ($15 each)
Heroine — Bright magenta violet
Ablaze — Bright orange coral
Of course, it takes two to tango and the Lip Pencil in Heroine with Mineralize Rich Lipstick in Midnight Mambo dance well together. With Heroine (a bright pure purple) lining and filling the lips, Mambo is even darker and more intense.
If these look familiar, you're right – the shades were both part of Fashion Sets from May 2013.
Cremesheen Glass ($20 each)
Calypso Beat — peachy nude with silver shimmer
Japanese Spring — cool milky light pink
Cremesheen Glass is high shine gloss with a sweet yet healthy amount of color. I received Calypso Beat, a peachy nude with the barest amount of silver shimmer. This shade is a pretty way to tone down all those punchy tropical colors, but it also looks great with just a (fake) tan.
Thick but not sticky, Cremesheen wears quite well for a gloss (I counted 3 hours, after which it was faded and not-so-glossy, but still there).
Cremesheen Glass lip gloss in Calypso Beat and Japanese Spring; Mineralize Rich Lipstick in Midnight Mambo; Lip Pencil in Heroine and Ablaze
A closer look at Midnight Mambo, Heroine and Ablaze
Mineralize Skinfinish ($30 each)
Rio — red bronze and bright pink pearl
Adored — light coral peach with light beige pearl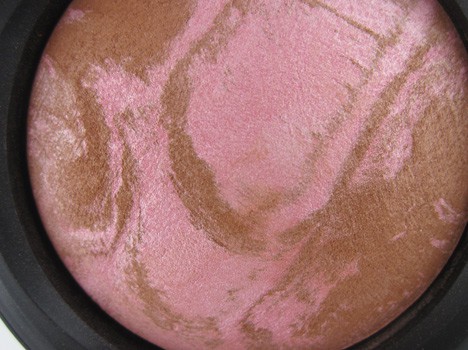 Rio
Adored
I sampled Mineralize Skinfinish in Adored, a pearlescent swirl of coral and pale beige. From the looks of the pan, I thought I might be able to use this as a blush because the coral seems quite prevalent and intense. As with most of the Mineralize marbled powders, looks can be deceiving.
Mineralize Skinfinish in Rio and Adored
On the skin this appears to be a very pale gold/silvery beige with just the slightest hint of peach, making it just warm enough. A light application on the bridge of the nose and cheekbones looks like a kiss of moonshine (not the white lightening in a bottle, but the white light of the celestial body).
What's great about all the Skinfinishes is that these are so finely milled that skin is smoothed to such a degree that the shimmer reflects without emphasizing pores.
Mineralize Blush ($25 each)
Sweet Samba – dark pink magenta with reddish brown pearl
The Tropical Taboo Mineralize Blushes offer a silky smooth texture and lots of color. These shades can be layered with the Skinfinshes without heavy coverage. Join us in the comments to see what our tester thought of this intensely pigmented blush.
Mineralize Blush in Sweet Samba
Mineralize Skinfinish in Rio and Adored; Mineralize Blush in Sweet Samba
Peaches, pastels, purples and black eyeliner – I know what you're thinking – I'm a bird of paradise, I'm catching that mirror way out west…I'm something special and look like I'm the best. Well, I do with a little help from MAC and 80's pop music. (Bonus points to the first reader to name that tune!)
Readers – Do makeup collections ever make you think of a song, a time, a place?
photos: we heart this, swatches shown on NC25/30 skin tone
Sherri is co-author of What Would You Do With This Room?
My 10 Foolproof Commandments to Great Interior Design, and of course, a wht writer!
Disclosure: This review includes products that were provided by the manufacturer/PR firm for our consideration. It also contains an affiliate link, a link that gives us a small commission if you purchase the item. For more info, or any questions, please see our disclosure policy.
Mineralize Rich Lipstick
Luxe Naturale – light beige cream
Divine Choice – mid-tone cool pink cream
Lady at Play – mid-tone cool tangerine
Glamour Era – mid-tone warm brown frost
Midnight Mambo – intense violet
$22.00 US/$26.00 CDN
Cremesheen Glass
Calypso Beat – pale neutral peach
Fever Isle – bright red coral
Japanese Spring – pale dirty pink
Narcissus – dirty eggplant
$20.00 US/$23.00 CDN
Lip Pencil
Hip 'n' Happy – dirty blue pink
Have to Have It – soft warm beige
Ablaze – bright apricot
Heroine – bright purple
$15.00 US/$18.00 CDN
Zoom Lash
Zoomblack – rich black
$16.00 US/$19.00 CDN
Kohl Power Eye Pencil
Feline – rich black
Orpheus – intense black with gold pearl
$16.00 US/$19.00 CDN
Brush
287 Duo Fibre Eye Shadow
$32.00 US/$38.50 CDN
159 Duo Fibre Blush
$35.00 US/$42.00 CDN
Mineralize Blush
Sweet Samba – dark pink with tan pearl (frost)
Exotic Ember – orange with bronze pearl (frost)
Simmer – burnt rose with peach/gold pearl (frost)
$25.00 US/$29.50 CDN
Mineralize Eye Shadow
Dare to Bare – light cream with gold pearl (frost)
Caribbean – rose with pink and red pearl (frost)
Tropica – silver blue with purple (frost)
Time to Tango- lavender with silver pearl (frost)
Cha-Cha-Cha – deep blue green with green pearl (frost)
Bossa Blue – royal blue with brown pearl (frost)
$21.00 US/$25.00 CDN
Mineralize Skinfinish
Soft and Gentle – gilded peach bronze
Adored – coral with light beige pearl
Lust – pale pink with cranberry pearl
Rio – bronze with bright pink pearl
Gold Deposit – soft reflective golden bronze
$30.00 US/$35.00 CDN
Brush
187 Duo Fibre Face
$42.00 US/$50.50 CDN