The holidays are here and we know what that means…limited edition beauty gift sets! Benefit Cosmetics (always a we heart this fave), is one company that always gets it right this time of year.
Their kits are always packaged impeccably, include a few of their most-loved products and are reasonably priced – perfect for giving and receiving. This year's offerings are no exception and today we have a look at two stellar kits, Luv It Up and Groovy Kind a Love.
The gals at Benefit Cosmetics have upped the cuteness this year with these set packaged in adorable, reuseable, hinged tins. Once you are done with the goodies inside, remove the recyclable cardboard dividers to store small items like lipglosses, paperclips and/or love letters.
Speaking of love letters, I'm about to pen an ode to Luv It Up! ($25), a sweet collection of eye and lip colors for those that love nudes. The retro tin is packed with five soft, flattering and wearable shades without a miss in the bunch. Not counting the tin, that's just 5 bucks per beauty product – what a great deal!
Tucked inside the teal, gold and lime tin you will find:
• Longwear Powder Eyeshadow in Call My Buff – champagne shimmer
• Longwear Powder Eyeshadow in Nude Swings – nude shimmer
• Longwear Powder Eyeshadow in Thanks a Latte – light brown shimmer
• Creaseless Cream Eyeshadow in R.S.V.P. – shimmery light peach
• Ultra Plush Lip Gloss Mini in Dandelion – multifaceted shimmering pink
These eye colors are perfect for an easy, polished day-time look. I'm a huge fan of Benefit Cosmetics Creaseless Cream Eyeshadow so I was thrilled to add R.S.V.P. to my stash. The sheer, almost nude shadow is now my go-to hue when I'm striving for the "no makeup" makeup look.
Meanwhile the three Longwear Powder Eyeshadows work well together and make my blue eyes pop. I use Thanks A Latte on the lower lid, add a swipe of Nude Swings in the crease and finish with Call My Buff over the browbone for a simple, ready to face the day look. For those that need a little help, there is a tips and tricks booklet tucked in the tin.
My favorite piece in this kit is the Ultra Plush Lip Gloss in Dandelion. I love the teeny tube that is small enough to fit into any pocket – what is it about minis I find so irresistible? And the sheer pink looks great on its own or over top lipstick to add some soft shimmer.
Call my Bluff, Nude Swings, Thanks-a-latte, R.S.V.P. and Dandelion – outdoors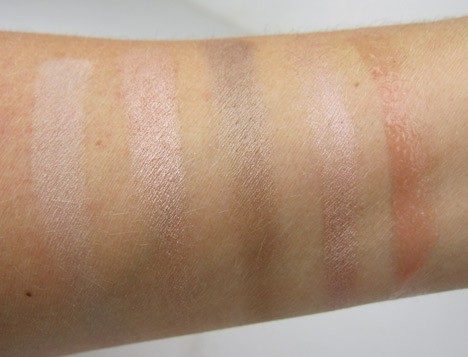 Call my Bluff, Nude Swings, Thanks-a-latte, R.S.V.P. and Dandelion – indoors
If your Secret Santa budget is a little bit more, make sure to check out Benefit Cosmetics' Groovy Kind a Love kit ($36) which offers 10 pieces for eyes, lips, cheeks and face in shimmery golden browns, beige and pink.
This gold and purple-y pink tin will bring a smile to anyone's face before they even open it up! Inside you'll find:
• The POREfessional (mini size)
• They're Real mascara (mini size)
• Benetint in Rose Tint (mini size) – a pinky red
• Cheek Powder Duo in Dandelion and Gimee Fever – peachy pink shimmer when mixed together
• Cheek Powder Brush
• Deluxe Eye Shadow in Tickle my Ivory – light nude matte
• Deluxe Eye Shadow in Gilt-y Pleasure – antique gold shimmer
• Deluxe Eye Shadow in Shimmer Down – light milk chocolate shimmer
• Deluxe Eye Shadow in Kiss Me, I'm Tipsy – dark chocolate shimmer
• Double-Ended Sponge Applicator
This kit is a fabulous way to try some of Benefit Cosmetics' most beloved products, including their Benetint lip and cheek tint. This reddish-pink tint has been worn on the faces of beauty junkies for years and for good reason – it produces a sweet, natural flush of color that is versitile and long-lasting.
Recently, another Benefit favorite has been on the eyes of beauty lovers – the They're Real mascara. The mascara is top-notch, but it's the brush that made me fall in love. Designed to help lengthen, volumize, define and curl every single lash you have the staggered bristles of varying length help "grab close to the root, boosting length and volume beyond belief". Plus the tiny bristles on the rounded tip help to get to the even the teeniest of lashes.
Plus, if you have yet to lay your hands on any of Benefit Cosmetics' beloved box of powders, here's your chance to try one, with a limited edition bonus (Gimme Fever was from the Matthew Williamson palette!) These super soft, but buildable cheek colors are one of my all time faves, and this kit includes Dandelion, the first box I ever purchased. This soft pink gives my cheeks a just-in-from-the-cold flush of color.
Tickle my Ivory, Gilt-y Pleasure, Shimmer Down, Kiss Me, I'm Tipsy, Dandelion and Gimme Fever (mixed), Benetint – outdoors
Finally, the deluxe eye shadows are a neutral lovers dream. The four hues work well with one another and offer just enough shimmer to add some sparkle to your look this holiday season.
Tickle my Ivory, Gilt-y Pleasure, Shimmer Down, Kiss Me, I'm Tipsy, Dandelion and Gimme Fever (mixed), Benetint – indoors
Overall, Benefit has once again created holiday sets that are sure to be on your wish list. Adorably packaged, reasonably priced and filled with Benefit favorites, you can't go wrong by picking up one of these kits on your holiday shopping trip!
Readers – Will you be gifting any Benefit Cosmetics' holiday sets this year?
photos: we heart this, swatches shown on NC25/30 skin tone
Tyna, co-founder and co-editor of wht, worries about becoming a crazy cat lady, reads at least a book a week, checks in at a Flyers fan forum every morning and is forever (some say obsessively) organizing her closets and drawers.