Sponsored
If we said it once, we've said it a thousand times – we love to throw a party! So when the fine folks at CVS asked if we would be interested in hosting and sharing a Football party – how could we say no?
We know, you're thinking we don't seem like biggest football fans around. However, since we grew up smack dab in the middle of Eagles and Steelers territory, we do know quite a lot about football, and have been to our fair share of football parties. Sadly these parties normally consisted of a few cans of beer and some stale pretzels.
Stef and party guest Eric are ready for some football! (though Stef didn't get the memo to look football tough…)
We KNEW we could do the game of football justice by hosting a more upscale party. We invited our fellow sport-obsessed friends for a Super Bowl playoff game get together (New Orleans vs. Seattle), and with the help of the CVS Gold Emblem line we threw a snacktastic party! Here's how you can do the same and host your own footabll party!
The Decor:
Since most people will be keeping their eyes on the television, you don't have to worry about going overboard with decorations. Concentrate on a few key areas, like the food buffet or viewing room, and leave the rest of your home as is.
Stef put her creative juices to work by crafting a football themed banner mimicking the yardage markers on the football field. We draped this over the main wall of the party room to set the mood.
We amped up the room by leaving a few actual footballs around the party area. They will pull double-duty as toys during half time when you send a few of the more high-stung guests outside for a little scrimmage. We also used three footballs as a table centerpiece (use double-stick tape to keep them in place.) Talk about easy – no fussy arranging needed here!
We picked up a few inexpensive supplies at our local party store, including NFL-themed napkins and pigskin decorations. These football cups were a no-brainer. They are perfect for drinks of all kind and can also be used to store utensils on the food buffet. Guests could also use the cups to scoop up some of the Gold Emblem snacks around the house for their own personel snack bowl while watching the game.
We also snatched up these cute paper lanterns to string around the party for the final football touch. You can add to the festivities by hanging jerseys and tee-shirts on the walls and by asking your guests to wear the colors of their favorite team.
Of course, one of the most important areas is that around the television! We added a few more footballs around the screen (and placed our Gold Emblem filled gift bags next to it.)
Make sure that there is an unobstructed view from every area of the room, and plenty of seating space. Bring in some folding chairs if needed, or toss some throw pillows and blankets on the floor if extra seats are needed.
The Food:
In my opinion, the most important thing when watching the game (or any tv show) is the snacks! Thanks to the CVS Gold Emblem line we were able to make this party the snack-iest ever! Whether you go for salty or sweet snacks, Gold Emblem has something for you. Plus a plethora of treats and beverages to round out your tv viewing. Made with high-end ingredients, these treats will elevate even the trashiest of television shows.
We poured our Gold Emblem snacks in colorful bowls and placed them all around the room. A few of the favorites included the California Roasted Pistachios with Sea Salt, Butter Popcorn, Classic Blend Trail Mix (made with real M&Ms, this was a big hit) and the Ranch Flavored Pretzel Bites.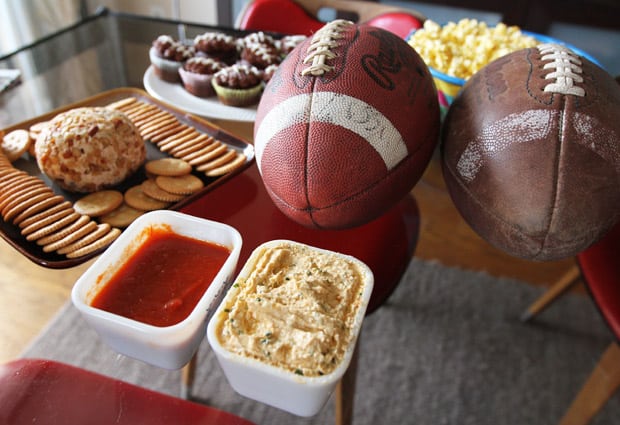 These delicious snacks kept our guest satisfied during the first half of the game, and when half time hit, we were ready for more. We rounded out the all-American, game-time menu with these crowd pleasing favorites (we named them all after football terms, because that's what we do!):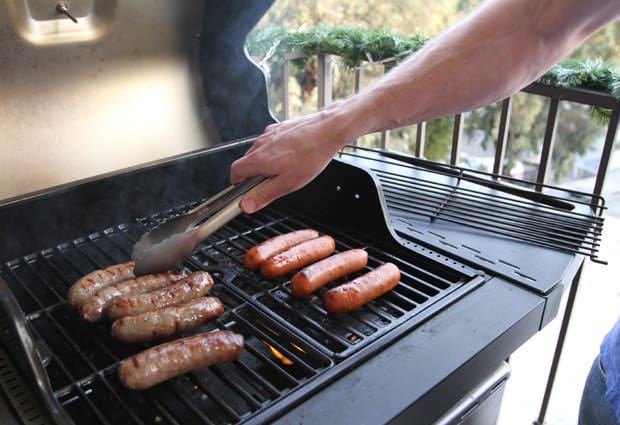 • Super Bowl Sausages – heated on the grill and served with rolls and carmelized onions
• Fumble Dogs – for the vegetarians; tofu dogs wrapped in puff pastry
• 7 Point Individual Layered Dips – The classic Mexican seven layer dip, served in individual cups for easy dipping
• No Huddle Nut Ball – a mixture of cream and cheddar cheeses shaped into a ball and rolled in crushed Gold Emblem Deluxe Mixed Nuts
With all the primed-for-dipping-foods, we added two unique dips:
• First Down Feta – feta cheese with olive oil and spices
• Punter's Pepper Dip– red peppers, garlic and beer, and way better than ketchup!
These fabulous dips really elevated the food and both containers were empty before the players took the field for the second half. We've got the complete recipes for both, click their names for all the info!
• Any Sunday Cupcakes – Chocolate cupcakes with chocolate icing decorated like little mini footballs
For drinks, we offered a variety of Gold Emblem juices, water and of course beer! But the true star of the football party was this rum, apple cider and ginger beer punch. East coasters said it reminded them of Cream Soda, and every party goer had a few glasses. Click on the name to get the recipe!
We rounded out the evening by playing a few games, including "Game Day Fun" provided by CVS (a kind of cross between charades and Password.) When the football game is over, and guests are not quite ready to leave, it's the perfect time for every one to get a little competitive!
Stef always really gets into games! Check out that face!
There you have it! One football party that is sure to please even non-football fans. Food, drink, games, decorations – what's not to love?
Readers – It's that time, will you be going to or hosting a Super Bowl party this year?
photos: we heart this
Tyna, co-founder and co-editor of wht, worries about becoming a crazy cat lady, reads at least a book a week, checks in at a Flyers fan forum every morning and is forever (some say obsessively) organizing her closets and drawers.
Disclosure: This is a we heart this Sponsor Feature; a post highlighting an advertiser. For more info, or any questions, please see our disclosure policy.