The latest from Milani gives you (and your lips) the power!
The morning I tried Milani Power Lip for the first time, I felt compelled to dig out a retro soundtrack for my drive to work. "I've got the power!" I sang along, doing a little car dance that made kids at a bus stop nearly fall over laughing.
I didn't care because everything about Power Lip had me in a great mood. Between singing, dancing and driving, I thought about how Milani has become my absolute favorite drugstore brand. The company could rest on its laurels at this point, and I'd still sing its praises.
But it doesn't appear there's any resting going on with Milani. This new release, Power Lip (a mere $6.49 per glossy tube), is nothing short of brilliant. Milani somehow achieves what much more expensive brands attempt and fail time and time again: a lip product that provides a glossy stain that lasts and lasts without drying the lips.
The we heart this team got a look at all eight shades, and I tested three of them. The product is more of a liquid lipstick than a gloss – full of pigment, with smooth, opaque coverage. Milani recommends applying one coat in the center of the lips and brushing out to the corners for a natural look, or layering it on for "color pop."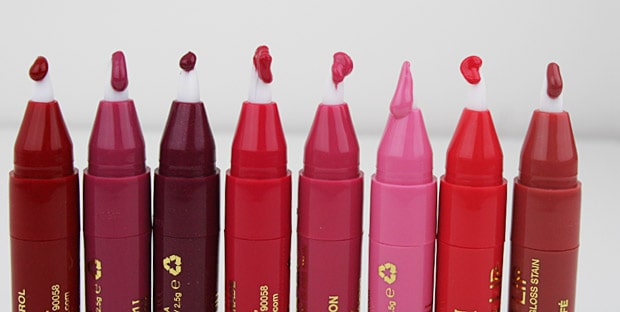 The twist-up mechanism works great, only taking a few clicks to get the right amount of color to the brush. Two things I especially appreciate are the squat, compact shape of the tube, and the brush itself, which is dense, pointy and just about perfect!
I found that the Power Lip goes on glossy, then gradually wears down to a lasting stain. The gloss is thick and non-sticky, and has no scent or flavor.
All right – let's take a look at the colors!
01 Red Control – bright red
03 Raspberry Tart – berry mauve
02 Cabernet Blend – dark berry
04 Pink Lemonade – bright yellow pink
05 Macaroon – medium rosy pink
06 Strawberry Sugar – cool light pink
07 Mango Tango – bright orange coral
08 Creamy Cafe – medium nude
Note: All have a slight shimmer, except Strawberry Sugar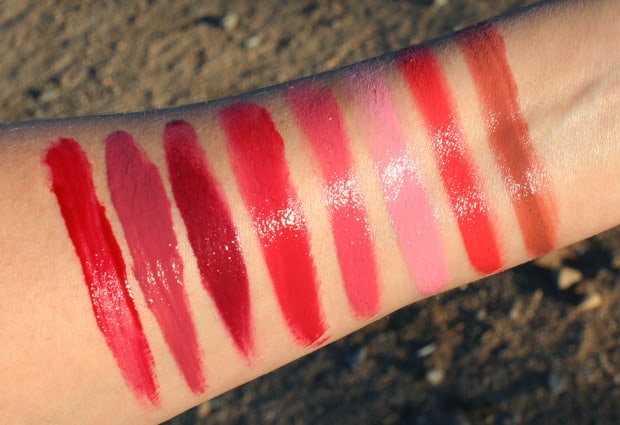 Let's first talk about Creamy Café, the most obvious choice for a day at the office. This nude hue has a bit of red in it – giving it a little more oomph than the average "naked" lip color.
I also tested Raspberry Tart, which hints at this year's Radiant Orchid without going into full bloom. It's more pink than purple, just bright enough and extremely flattering.
My final test color was Red Control, a true Valentine red that, like the other colors, stays bright and true for hours – I averaged about four hours until I was down to stain alone, then another hour or so until the color faded completely.
Pros:
• Gloss can be layered for desired level of coverage
• Color lasts 4-6 hours
• Brush is perfectly pointed and firm for precise application
• Compact tube won't clutter up your makeup bag
• Paraben-free
• Cruelty-free
• It will be the most satisfying $6.49 you've ever spent
Cons:
• They're flying off the shelves in my local stores – CVS had just one color in stock! Luckily, we can purchase online through the Milani website
• I do NOT have the power to resist buying more!
Readers – Are you ready to power up your lips with the latest from Milani? Which shade is calling your name?
photos: we heart this, swatches shown on NC25/30 skin tone
Melissa loves road trips, bargain shopping, drive-in movies, lip gloss and rock 'n' roll. She lives in Baltimore with her two precious pups; Zeus and Bellarina.
skin tone: NC25
skin type: dry to normal
favorite beauty product: skincare