press sample
When I think of COVERGIRL, I always end up taking a walk down memory lane, even though they have so many awesome new products (like Capitol Beauty Studio collection, inspired by the hit young adult book/movie "Catching Fire"). It's because COVERGIRL will always be one of the things I really consider an integral part of my adolescent years – and continues to be a mainstay in my adult life.
I remember in middle school, ALL of the popular girls had COVERGIRL pressed powder compacts, and some of them had the COVERGIRL liquid foundation too. I was always envious of those little green discs and those little glass bottles that signified a transition to adulthood.
I relentlessly begged my mom to allow me to wear something more than just some clear mascara. The moment she gave in, I high-tailed it to the store to get some COVERGIRL concealer to help cover my acne (a magic act in itself). I felt like I'd transformed from an ugly duckling into a beautiful swan, all with a wave of a magic stick of concealer!
And even though COVERGIRL products were my gateway drug into the world of makeup, it's not just a line for rookies. COVERGIRL offers affordable products that range from your basics to on-trend products for every woman – including Ellen DeGeneres, Katy Perry, Queen Latifah, Sofia Vergara, Pink, and Olympians like Gracie Gold! (Seriously, could you find a more eclectic but awesome group of women?)
The new COVERGIRL truMAGIC products are a perfect base or accent to any type of look, whether you're going for natural or glam. They can be worn alone, over or under other makeup products, and promises to control shine and perfect your skin without clogging pores. Here's the rundown on the two of the three finishes of truMAGIC:
The Sun Kisser is a warm bronzer that appears matte on skin, although it looks like there's a tiny bit of sheen/shimmer in the pan. It does not seem to "set" or dry down – the feeling is very much like that of a thick silicone-based primer. It's also fairly sheer so if you're nervous about bronzer turning you into Snooki, have no fear!
If you like bold bronze, or have a medium/medium-tan or darker skin tone, this may not be the product for you, since building up the product can feel heavy. It applies best with a duo-fiber brush or with fingers patting/dabbing the color on. You could use a sponge, but be sure to press the color onto your skin, rather than sweeping it across your skin.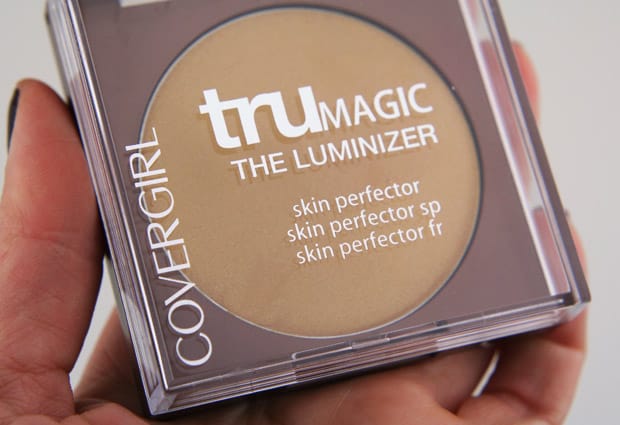 The Luminizer has a drier texture and isn't noticeable on the skin because it feels like it "sets" and has less of the silicone-feeling to it than the Sun Kisser. If you want a little sparkle but don't want to look like a glittery hot mess, this is a good in between product.
There doesn't seem to be any fragrance to these, and the packaging feels a little bulky. The length of wear was just okay. While I like that COVERGIRL has come out with a wider range of products, in general I'm not a fan of cream products in general. But if you are, check out this drugstore fave.
COVERGIRL TruMagic: The Sun Kisser, The Luminizer
By the way, we didn't test it out, but there is one more TruMagic item on the shelves, The Perfector. This one is a colorless product that ideal for use on its own or as a primer to create a perfect canvas.
TruMagic The Sun Kisser and The Luminizer in action
Readers – Did COVERGIRL work their magic on you with their latest products? And tell me, what was your first COVERGIRL purchase?
photos: we heart this, swatches shown on NC25/30 skin tone
Marilyn is a makeup maniac and slow but stubborn runner. She loves color coding her day planner, reading celebrity gossip and drinking good wine. Marilyn blogs about makeup and fitness over at her blog, Lipgloss and Spandex.
skin tone: NC25
skin type: oily, acne-prone
favorite beauty product: eyeshadow