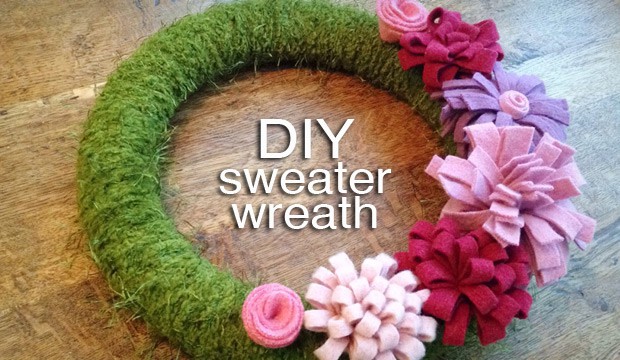 There is a heap of felted thrift shop sweaters in my craft room that have been begging to be transformed into something beautiful. With spring in the air, a floral wreath seemed to be the perfect solution. This DIY home decor project will add a pop of color to your door and greet guests with a cherry "hello!"
Supplies:
• Eyelash Yarn (I used Yarn Bee's Riot Eyelash in Sealeaves color)
• Wreath Form
• Hot Glue Gun and Hot Glue Sticks
• Scissors
• Felted Sweater Fabric
Directions:
1. Get started by hot gluing one end of yarn to the wreath form. Wrap yarn continuously and tightly around wreath form, until all of the white is covered. Secure end with hot glue so yarn does not unravel.
Tip: You can skip this step altogether if you purchase a green mossy-covered wreath form from your favorite craft supply store.
2. Gather your felted thrift shop sweaters to begin crafting flowers. If you haven't felted the sweaters yet – throw them in the wash, on the hottest setting. Tumble dry until you achieve desired effect.
3. To create this pom-pom flower, start by cutting a double-layer of material measuring 5″x12″ from your felted sweater.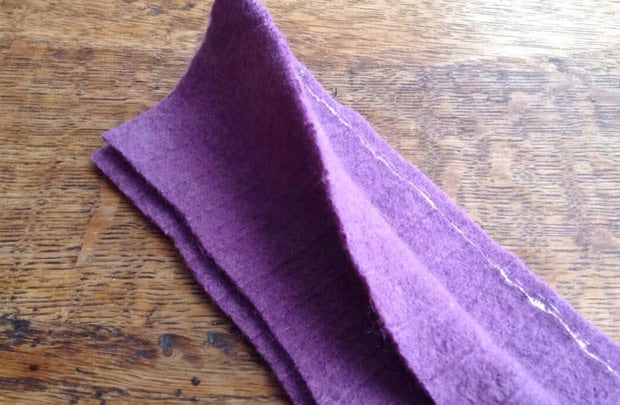 4. Using your hot glue gun, glue one edge of the length of your fabric together as shown.
5. Next cut some fringe along the unglued length of your fabric – 1/2 inch wide fringe works well.
6. Apply another hot glue strip along the top, as pictured.
7. Finish flower by rolling along glued edge.
Optional Step: You can add a center to your flower by rolling up and gluing a thin fabric strip in a contrasting color to the middle of the flower.
8. Another flower option! Creating this flower is quite similar to the above pom-pom flower directions. However, you will fold your fabric rather than cutting two separate pieces – 6″x 12″ is a good starting point. Fold the material in half so it will now measure 3″x12″. (Feel free to experiment with different sizes for variation.)
9. Cut 1/2 inch fringe along folded edge of felt fabric. Hot glue a line along the opposite edge and roll.
10. A third flower style: To make this rosette, start by cutting out a circle of fabric.
11. Cut the material in a spiral.
12. Glue a few inches of the bottom of fabric and roll, adding glue to the unrolled fabric as you continue to roll into shape.
13. When completed, the bottoms of your flowers should look like the rosettes above.
14. Now that you have the flower directions – create as many different flowers in a variety of colors and sizes as needed.
15. Lay out the placement of the flowers to your liking. Then start hot gluing the bottoms to your wreath.
Hang on your door and enjoy!
we heartsters – Do you love to hang a wreath on your front door? Do you stick to the holiday season or hang one all year round?
All photos: Rachel for we heart this
Rachel is a stay-at-home Mom that never seems to be home. She's a military wife, mother to The Danger Boys and a self-proclaimed craftaholic that enjoys photography, knitting, baking and all things handmade.
A stay-at-home Mom that never seems to be home. Military wife. Craftaholic. Mother to the Danger Boys.
Latest posts by rachelshay