Press Sample
MAC for Disney's Maleficent – swatches and review
"Disney's most iconic villain, brought to life in this summer's epic new film, inspires a limited-edition colour collection in specially designed packaging to delight the most demanding of dark sorceresses. Intensely admired for her evil elegance, despite her efforts to instill fear in the hearts of generations, this icon casts a spell of absolute adoration with sensuous shades so wickedly gorgeous, who needs beauty sleep?" ~ MAC Cosmetics
I've said it a million times – I'm addicted to MAC's limited edition collections. I shake my fist at the sky and curse as I hand over my credit card, yet then forget it ever happened as I cradle my beautiful little compacts, whispering and cackling, "My preciousssss". And the MAC Maleficent collection had me transfixed from the moment I heard that such a collection would exist!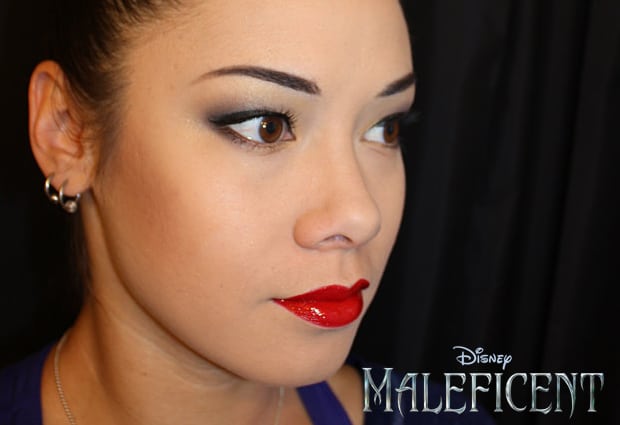 From the second I saw Angelina Jolie as Maleficent in a movie trailer, I knew that this collection would be epic. While MAC has done a Villainous Villains collection in the past, which included Maleficent, it's exciting to see a collection focused around just one villainess, that featured shades that are very true to the character and theme, but also classic and wearable.
Maleficent Eye Shadow X4 ($44)
Carbon – matte black
Concrete – matte grey/brown/taupe
Ground Brown – matte brown
Goldmine – deep gold
Packaging Note: This quad is in "limited edition" palette packaging, but all four shades are permanent
This is one of MAC's better quality quads, which have a reputation for sometimes being chalkier than their eyeshadow singles. It does need a good brow highlight/inner corner shade, like MAC Vanilla, to really complete it, but these shades do work well together, whether you're going for a little dramatic or all out villain.
Penultimate Eyeliner ($21.50)
Available only in Rapidblack, a deep, rich carbon black, this liner is housed in limited edition packaging, but is a permanent shade. This eyeliner pen is awesome – perfect for a cat eye or any detailed eyeliner look. It applies smoothly and is really pigmented. It's much easier to use than liquid liner.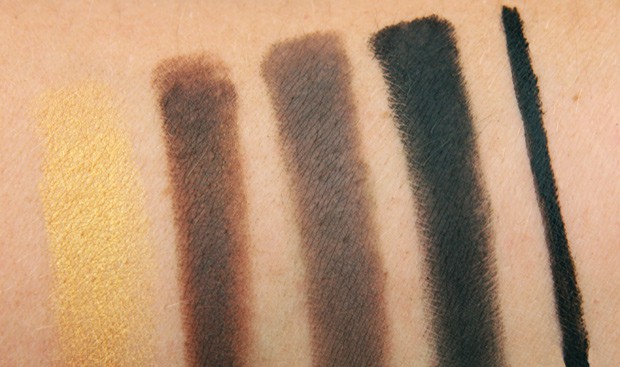 MAC Maleficent Eye Shadows in Goldmine, Ground Brown, Concrete, Carbon; Penultimate Eyeliner in Rapidblack
Now let's take a look at the gorgeous lip colors available in the MAC Maleficent collection!
Pro Longwear Lip Pencil ($21.50)
The only lip liner in Maleficent, Kiss Me Quick is available in this limited edition packaging, but is now a permanent shade. This is a re-released limited edition shade described as a "yellow red." I'd say it's nearly a true red, with slightly cool/blue tones. This pencil applies smoothly to my lips, without any tugging.
Maleficent Lipstick ($17.50)
There's also only one lipstick in the line, True Love's Kiss and it is limited edition. It's a true "clean" red, in my favorite finish, amplified! It's slightly brighter than MAC Russian Red (which is a matte formula). It's lovely.
Pro Longwear Lipglass ($22)
Another limited edition item, this Lipglass comes in one shade, Anthurium, a true "clean" red. I didn't like long wearing lipcolor until I found MAC's Pro Longwear Lipglass – I think it's really one of the best long wearing lip color products out there.
It is slightly sticky feeling, but I don't mind at all, because it's comfortable, shiny, and wears fairly evenly. Also of note, Anthurium is the first true pure "clean" red in this formula.
MAC Maleficent Lipstick in True Love's Kiss; Pro Longwear Lip Pencil in Kiss Me Quick; Pro Longwear Lipglassin Anthurium
MAC Maleficent Nail Lacquer ($17.50)
There are three shades of nail lacquers, and we received Flaming Rose, another deep true red. Again, the shade is housed in limited edition packaging, but is also part of the permanent collection.
This is a glorious red! I think that MAC's Russian Red nail lacquer is a little brighter, but they seem to be fairly similar.
Nail lacquer in Flaming Rose
MAC Maleficent Beauty Powder ($30)
(Still loving the packaging!)
This limited edition Beauty Powder comes in Natural, a "peachy pink". It is formulated to be multi-purpose and can be used as a blush, highlighter, or overall powder, depending on your skin tone.
Honestly, I felt that this doesn't seem to necessarily fit Maleficent's character, but it sure is pretty. Sadly on my NC30-35 skintone, it was too light/sheer to be used as anything other than a finishing powder all over my face. Paler girls will be able to use it as a blush or highlighter.
As you can tell, I loooove this delightfully wicked collection! After all that temptation, it didn't disappoint one bit.
we heartsters – do you find this collection as enticing as I do?
photos: Stef and Marilyn for we heart this – swatches shown on NC25/30 skin tone
MAC Maleficent
Lipstick
True Love's Kiss – clean bright red (amplified)
$17.50 US/$21 CDN
Pro Longwear Lipglass
Anthurium – clean bright red
$22 US/$25.50 CDN
Pro Longwear Lip Pencil
Kiss Me Quick – yellow red
$21.50 US/$25.50 CDN
Maleficent Shadow Quad
Ground Brown – dirty deep brown (matte)
Concrete – muted taupe brown (satin)
Carbon – intense black (matte)
Goldmine – intense gold with shimmer (frost)
$44 US/$52.50 CDN
Penultimate Eye Liner
Rapidblack – true black
$21.50 US/$25.50 CDN
Eye Brows
Fling – light taupe ash blonde
$17.50 US/$21 CDN
Sculpting Powder
Sculpt – soft taupe matte
$23 US/$27.50 CDN
Beauty Powder
Natural – soft peachy pink
$30 US/$35 CDN
Prep + Prime Highlighter
Bright Forecast mid-tone peachy coral
$25.00 US/$30.00 CDN
Nail Lacquer
Uninvited – neutral nude with slight pearl
Flaming Rose – true red
Nocturnelle – black-as-night black
$17.50 US/$21 CDN
Lashes
36 Lash
30 Lash
$17.50 US/$21.00 CDN
Marilyn
is a makeup maniac and slow but stubborn runner. She loves color coding her day planner, reading celebrity gossip and drinking good wine.
skin tone:
NC25
Skin type:
oily, acne-prone
Favorite beauty product:
eyeshadow
Latest posts by lipglossandspandex