Glam Summer Beauty Board 2014
Summer's in full swing. Have you changed up your beauty routine in its honor? It's the perfect time to experiment with a brighter blush, tousled waves, a glossier lip or an upgraded version of a staple. As a member of the Glam Beauty Board, we got a peek at some must have beauty products that will do just that, and more!
So grab a cold bev and get ready to meet some new favorites…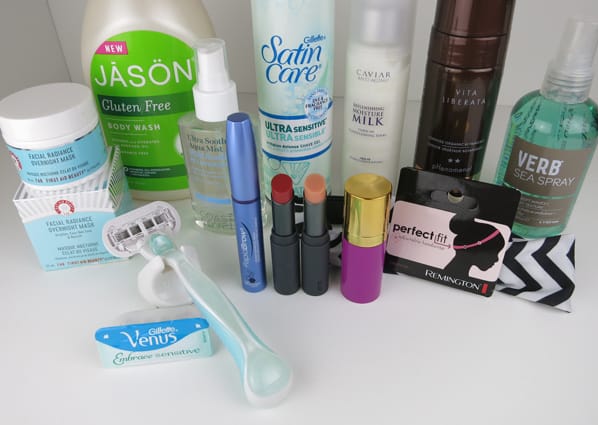 First things first, there's one thing I do every year that just signifies summer to me – buy a brand new razor! That first zip of it across my legs is like the equivalent of a checkered flag being waved. Summer…GO.
If the Gillette Venus Embrace Sensitive Razor ($12.99) wasn't in this box, it most likely would have been the one I picked for myself. I've been wanting to upgrade to 5 blades for a while now. I mean, why wouldn't you want more blades?! Especially one that's developed for a closer shave and minimal irritation.
It boasts 8 times more glide boosters than most razors. Those are the moisture strips that make for a smooth zip, and this razor is loaded with them (the whole outer green border and the top blue strip.)
Pair it with the dye and fragrance free Gillette Satin Care Ultra Sensitive Shave Gel ($4) for the smoothest summer legs you can imagine.
Another summer must have for me is a pop of popsicle-like color. Estee Lauder Pure Color Cheek Rush ($30) delivers. I got to try X-Pose Rose, a bright raspberry pink.
They describe the consistency as "cellophane" and that exactly right. Its sheer and bright gel formula allows your skin to shine through, leaving a matte (but not dry) burst of buildable color on your cheeks. So summery!
Estee Lauder Pure Color Cheek Rush in X-Pose Rose
Lip product junkie that I am, I have fallen HARD for Bite Beauty BB for Lips ($24). Much like BBs for your skin, this BB for lips is a multi-tasker too. It adds shine, feels moisturizing like a balm, primes lips for lipstick (should you choose) and protects them with an SPF 15. Oh, and it smells gorgeous; like a lemon cupcake!
Tawny is a sheer, light and warm red, and Natural is clear.
from top: Estee Lauder Pure Color Cheek Rush in X-Pose Rose, Bite Beauty BB for Lips in Tawny and Natural
But perhaps the area where I change things up the most in the warm months is my hair. Flat irons get banished to the cabinet, only to be replaced by beach sprays and cute accessories that do double duty to keep hair out of my face.
I love the VERB Sea Spray
($14). It gives me tons of texture with minimal crunch. The light summery scent lingers in my waves too. A few spritzes through my dry hair with the adorable chevron-printed Remington Soft Hairband ($5.29) to hold back my bangs, and I look like I just spent a day at the beach rather than the office.
But one product I need regardless of season is a good leave-in conditioner. My dyed locks demand a detangler in all temps! The Alterna Caviar Replenishing Moisture Milk Leave-In Conditioning Spray ($30) smells clean and slightly lemon-y, and hydrated my dry hair to the point that I didn't even need another styling product in it. (Almost unheard of for my hair!)
I'll fill you in on the details on the other products as I try them, but I definitely found some new faves to heat up my summer! we heartsters, anything appeal to you?
Stef is many things. Amongst them: co-editor of we heart this, photographer, condiment connoisseur, Philly girl in the California desert, borderline hoarder and a hardcore beauty junkie.
skin tone: NC 25/30
skin type: oily with a fear of rosacea
favorite beauty product: high end skincare and lip products