Affiliate Link
Everyone has a loved one in their life who is a true geek or nerd. You know who I mean, the person who is fanatical and passionate about their particular interests. I am proud to identify myself as both a geek and a nerd. I have many passions that other people would probably identify as being nerdy. This Holiday Gift Guide has a little something for everyone, regardless of what kind of geek they are.
Kindle Voyage
(starts at $199)
How does Amazon keep improving upon perfection? Not sure! But they did with this premier e-reader for geeks who love books. I was skeptical that I could possibly enjoy the reading experience of the Voyage more than previous editions. But I was wrong. The Kindle Voyage is pure reading pleasure that is easy on the eyes, feels great in your hands, and self-adjusts to any ambient light conditions.
According to Amazon, the Voyage has, "Next Gen Paperwhite Display; Highest Resolution, Highest Contrast, New Adaptive Front Light, Reimagined Page Turns, and is available in Wi-Fi or Wi-Fi Free 3g". You will make your favorite geek reader thrilled to receive this gift, and you can be certain that it is the gift that keeps on giving.
Nomiku
($299.95)
What is a Nomiku, you ask? According to the company, "The most powerful and compact sous vide immersion circulator in the world". Sous vide is a famous French cooking method where one cooks things extremely low and slow. Sous vide is a brilliant technique that marries science with cooking. Cooking geeks love this stuff! Unfortunately, the process is typically complicated and costly, requiring expensive and bulky appliances.
Nomiku has changed all of that with a small, unobtrusive wand that stores easily almost anywhere when not in use. You can turn any pot into a sous vide machine! Nomiku helps you to create beautiful, creative, and delicious dishes out of simple, inexpensive ingredients. Buy your favorite cooking geek a Nomiku and your belly will never be disappointed. I know, as my cooking geek husband regularly creates magic with this gem.
Roku Streaming Stick
($49.99)

Do you have a geek in your life who is crazy for movies and television? Do they binge watch entire seasons of television shows over a weekend? If so, may I suggest the perfect gift, a Roku Streaming Stick. They are amazing little devices that easily plug into the HDMI port of your television and can be controlled via your phone or remote control. It is portable, making it easy to bring with you on vacation or to a friend's house. The device completely elevates and simplifies your streaming experience.
You can do so much with this little guy, whether it's Netflix, Hulu, or whatever. I love that you can cross-reference all Roku channels during your searches. Typically, I can search for any obscure actor or movie and find them somewhere on my Roku. The possibilities are endless. Your movie/TV geek will love you for this one!
The Walking Dead Game – Season One or Season Two
($29.99 per season, available on disc or via download for almost all game systems, including PC)
This gift is perfect for a lot of different types of geeks: video gamers, comic book fans, TV show fans, and even zombie fans. If you are not familiar with The Walking Dead, it's a stellar piece of fiction that started its life as a comic book several years ago and has now migrated over to being the number one TV show in the country. It's all about life after a zombie apocalypse, and is a deeply character-driven world.
The reason that these games add something to the story already being told in other formats is that they follow the lives of new characters going through the same post-apocalyptic events, and because the choices you (as the player) make through each game reflects upon what might happen next, or how it will all end. If you haven't already picked up either the first or second season of The Walking Dead game, do your inner zombie geek a favor and do so immediately.
Star Wars R2-D2 Measuring Cup Set ($19.99)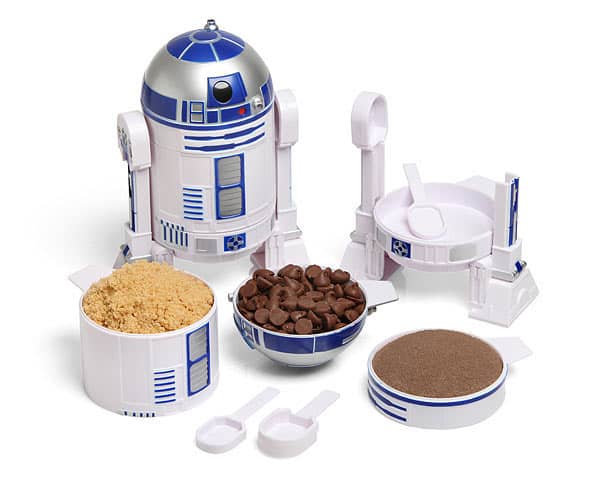 JJ Abrams' installment of Star Wars comes out next year, and the excitement is building. The Star Wars geeks in your life are certainly looking to prepare for the frenzy with awesome new Star Wars gear. I was so excited when I saw this clever R2-D2 kitchen item. Sitting on your counter, it just looks like an awesome homage to one of the greatest sidekicks ever, but once you take it apart, you see that the body is actually a set of measuring cups and spoons.
Give this one to the Star Wars geek in your life, and you can bet that you are giving them something unique and original. May the force be with you this holiday season as you look for awesome gifts for your favorite geeks!
Tell us, readers – What are your favorite gift ideas for the geeks in your life?
top photo: Jonathan McIntosh
Kellie is a perpetual grad student, glamorous geek and writer. She hopes to one day soon add the title of history teacher to her repertoire. She resides in the frozen tundra of Northeast Ohio and is an avid consumer of books, tv, music, video games, beauty stuff, and accessories.
skin tone: NC15
skin type: oily and acne prone
favorite beauty product: lip products and face primers
Kellie is a perpetual grad student, glamorous geek and writer. She hopes to one day soon add the title of history teacher to her repertoire. She resides in the frozen tundra of Northeast Ohio and is an avid consumer of books, tv, music, video games, beauty stuff, and accessories.
skin tone: NC15
skin type: oily and acne prone
favorite beauty product: lip products and face primers