This post may contain affiliate links, which means I may receive a small commission, at no cost to you, if you make a purchase.
Have you started your holiday shopping yet? Yeah…we haven't either. But never fear. Our 2015 Gift Guide series will help you nail every single gift on your list.
The holidays are the most wonderful time of the year, but they can also be stressful. We're looking at you, gift giving. The age-old question of what to give our strange and wonderful friends and family can be a difficult one to answer. Worry no more, my fellow WHT readers. Here are some great ideas from Etsy, inspired by television shows for the pop culture/TV fanatics in your life.
Parks and Recreation: Although this series has ended, it will always remain one of the greatest television shows in history. It is intelligent, hilarious and endlessly quotable. The series appeals to people in all walks of life. Get your best friend who is having a baby girl this Parks and Recreation Pawnee Goddesses Onesie ($15) to remind her to instill some Leslie Knope girl power into her newborn daughter.
Also, don't pass up this amazing Parks and Recreation Treat Yo Self mug ($18) to remind the new mom to indulge herself every once in a while.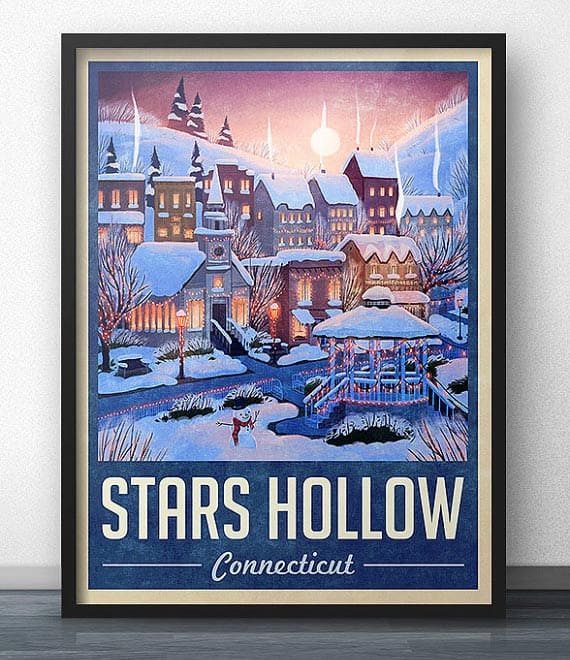 Gilmore Girls: Although this series ended years ago, it remains beloved by many. (Thank you for bringing it back next year, Netflix.) The fast talking and quick witted mother-daughter duo at the center of this series are beyond adorable. May I suggest this gorgeous Gilmore Girls Stars Hollow Travel Poster ($16.50) for your sentimental but cool mom. The town was a huge part of this brilliant show. Who didn't want to live there, or at least visit?
Sherlock: The BBC version of Sherlock Holmes is nothing short of a masterpiece, and an obsession for many. I know that I am counting down the days until the series returns in December of 2015. For your brother who has everything, check out this cool Sherlock BBC Minimalistic Poster. ($18.50)
And if your brother has a great sense of humor, include this fun Sherlock High-Functioning Sociopath Mug ($15).
Orphan Black: This BBC gem is the perfect marriage between science fiction and sisterhood. This series may have a lot of flash, but it also has a lot of heart. The world is generally as obsessed as I am. For your favorite sister, try this beautifully engraved Orphan Black keychain ($13.75) that says "Hello Sestra" to remind her that although you are different, you are still family.
The Walking Dead: This comic book turned television series has become a worldwide phenomenon. The characters are so beloved in this zombie classic that people often feel as if they have lost a family member when one dies. For your zombie-loving dad, what about this awesome The Walking Dead Hoodie with Daryl Dixon Angel Wings ($32)? Then your dad can really pretend that he is as tough as Daryl!
we heartsters – what TV show would YOU like a themed gift from?