It's time to embrace the dark side
Introducing Lipstick Queen Bête Noire ($40), aka the perfect, flattering vampy lip. The collection is rich blackberry-hued lipsticks available in a trio of formulas for every desire. With the launch, Poppy King has combined her notoriously luxurious lipstick formula with an idea so clever, I want to demand that all of my lipsticks have counterparts from now on!
Bête Noire translates to "Black Beast" and loosely means something that's dreaded. But in this instance there is nothing to fear – you CAN wear dark lips. Yes, even you, lip balm gal…
Poppy said of the trio "They're glamorous, intriguing and yet with no hint of goth about them thanks to the warm, blackberry tone of these dark, midnight shades."
I'm not sure I entirely agree, Possessed Intense would do a goth proud! But they do embrace the dark side without being TOO dark.
Possessed Sheer, Intense and Metal
Possessed Sheer is true to its name, an easy to wear wash of rich color that even dark-lip shy folks will welcome. It's the most moisturizing of the bunch, by nature of the coverage. But honestly, all three textures are comfortable to wear.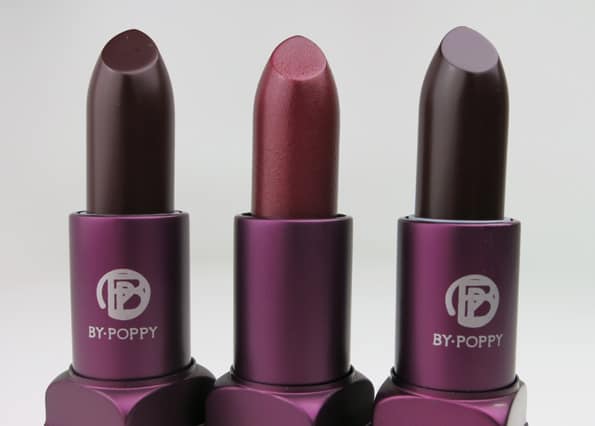 Possessed Intense is the pigment packed, moody and dark take on the shade, with totally opaque, satin coverage. Definitely the most vampy of the three.
Possessed Sheer, Intense and Metal
Possessed Metal is the metallic finish option, and my favorite of the trio. Rather than being overly frosty like a lot of metallics are, this is a true metallic with a subtle shimmer texture that reads as a multi-faced matte metal. It's a really unique shade, unlike anything I've seen.
All three formulas contain Vitamin E to provide hydrating, soft color. And the metallic dark berry square tube is both beautiful and helpful ("Where's my berry lipstick? Oh, in the berry-toned package!").
I admit, $40 is a lot to pay for a lipstick. But, oh what a lipstick it is – and imo, worth the splurge.
we heartsters, which formula do you want to possess the most?
Stef is many things. Amongst them: co-editor of we heart this, photographer, condiment connoisseur, Philly girl in the California desert, borderline hoarder and a hardcore beauty junkie.
skin tone: NC 25/30
skin type: oily with a fear of rosacea
favorite beauty product: high end skincare and lip products