As a lover of all things craft and beauty-related, making my own lip balm is the best thing I've ever done. You can customize the recipe in terms of consistency, moisturizing power and — my favorite — color. Seriously, what's not to love?
After tons of experimenting and playing around, this recipe has become my absolute favorite. It's super moisturizing and glossy, without being sticky. I typically like to use darker lipsticks to create a light tint; it's a fool-proof way to looking like a real life person in the early hours of the morning.
Of course, color, consistency and moisturizing preferences will depend on the person. Feel free to adjust the ingredients to your liking. That's the beauty (no pun intended) of DIY projects!
Supplies
Lipstick
A little more than 1/2 teaspoon grated beeswax *
1 teaspoon shea butter

1 teaspoon coconut oil
3-5 drops of essential oil **
3-5 drops Vitamin E oil **
Glass dropper
Pot of water and small glass jar
Empty lip balm tube
Wooden mixing/Popsicle stick
Washi tape **
* Use another 1/4 – 1/8 teaspoon of beeswax for a firmer lip balm
** Optional
Not sure where to find empty lip balm tubes? Try your local health food store (near the essential oils) or Amazon. You can also clean and re-use an old lip balm tube.
1. Place the beeswax, shea butter and coconut oil into the jar.
2. Fill the pot with water and bring to a boil. Lower the heat down to a simmer, and place the jar in the pot. Look at that, you just created a double boiler! Using the wooden stick, stir the mixture periodically.
3. Once the mixture has completely melted, remove from the pot. 

Use caution while handling the hot jar. Don't forget to use an oven mitt or pot holder!
4. While the mixture is still a hot liquid, quickly scrape the lipstick into the jar. The more lipstick you use, the darker your lip balm will be.
5. Mix thoroughly. 

If the mixture begins to harden before you're able to thoroughly mix everything, simply re-melt it by placing the jar back in the pot.
6. Add 3-5 drops of vitamin E oil.
7. Add 3-5 drops of your favorite essential oil. For this lip balm, I used lavender oil.
8. Stir. 

Don't forget that you can easily re-heat the jar if the mixture starts to harden. The most important part is that the ingredients are thoroughly combined.
9. Using the glass dropper, transfer the mixture into the lip balm tube. If you're feeling brave, you can also pour the mixture directly into the tube.

 Tip: Some of the lip balm mixture will inevitably harden in the glass dropper. You can hold the glass portion in hot water, let the mixture melt, then release. You can also squeeze up some hot water directly into the dropper, let the water sit, then release. Repeat until the dropper has cleared.
10. Let the lip balm harden before using. To speed up the process, stick it in the fridge for a few hours.
Once the lip balm has completely hardened, you're ready to moisturize in style. If you'd like, wrap the tube with a strip of washi tape for a personalized touch. This would make the perfect gift for beauty-obsessed friends!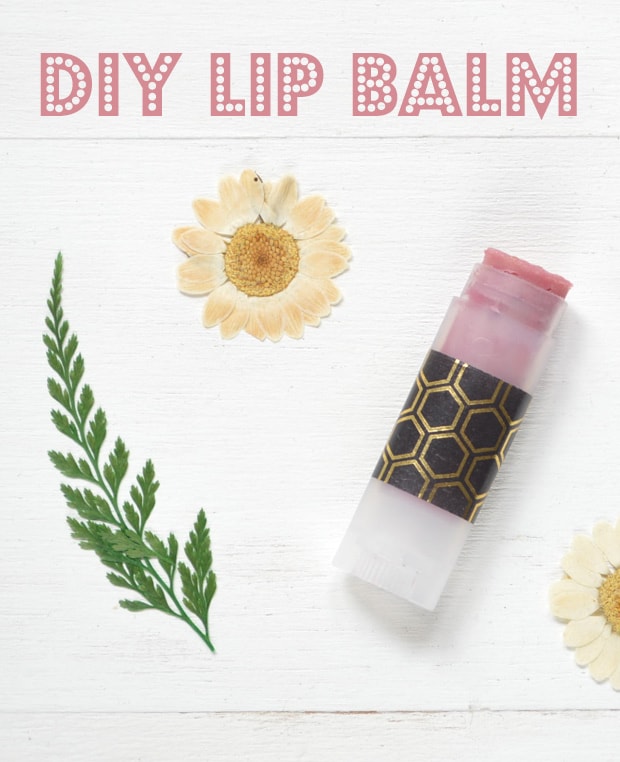 Like this DIY? Pin and share it!
we heartsters, tell us — what color and oil combo would you use for your homemade lip balm?
Kirsten is an author, crafty lady, nutritionist and women's lifestyle writer Since 2010, she has been sharing DIY projects at Studs-and-Pearls.com. In May 2014, Kirsten published her first book, Studs & Pearls: 30 Creative Projects for Customized Fashion – you can find it at Barnes & Noble, Amazon & select independent bookstores. She spends most of her time writing, crafting, traveling, and dreaming up new recipe ideas. Kirsten currently lives in New York.