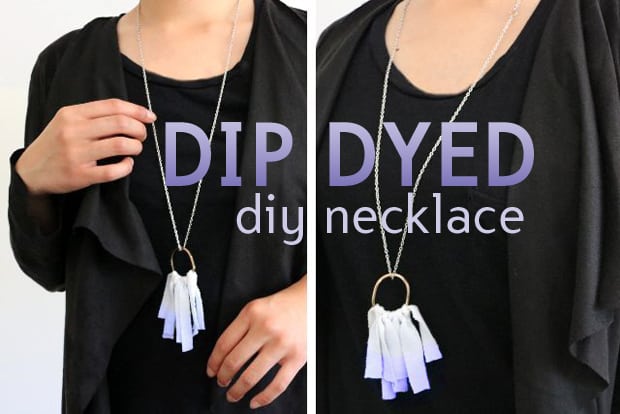 Kirsten brings you another one of her Easy DIY projects…
Jewelry-making provides an awesome outlet to put small trinkets and materials to good use. And since you don't need much to create something like a necklace pendant, it's super easy to whip up new baubles for your wardrobe. For example, you can use pieces of old clothing to create this fun and flirty dyed fringe necklace. It doesn't hurt that it's beginner-friendly, too! Here's how to make it…
Supplies
Light-colored jersey or cotton fabric scraps
Fabric dye
Metal hoops (key rings, jewelry components, old rings, etc.)
Jewelry pliers
Jump ring (7-10mm)
Chain
- Fabric scissors
Scrap paper, old newspaper, or cardboard
1. Cut the fabric into strips. Each strip should measure twice your preferred length of the finished necklace.


2. Tie each strip of fabric onto the hoop of your choice. This hoop can be anything that you have laying around – key chain rings, fixtures from old purses and even old rings all work perfectly. Trim the bottom of the fabric to even out the fringe.
3. Dip the bottom of the fringe into fabric dye of your choice. Make sure to protect your work surface with scrap paper, old newspaper, etc.
4. Leave to dry.
5. Insert a long strand chain through the hoop. Connect the opposite ends with a jump ring. Done and done!
we heartsters, what color(s) would you dye your fringe necklace? Let us know, below!
Kirsten is a lifestyle writer and craft book author focusing on DIY, food, health and creativity. Since 2010, she has been sharing DIY projects at WildAmor.com (formerly Studs & Pearls). In May 2014, Kirsten published her first book, Studs & Pearls: 30 Creative Projects for Customized Fashion; you can find it at Barnes & Noble, Amazon & select independent bookstores. She spends most of her time writing, crafting, traveling, and dreaming up new recipe ideas. Kirsten currently lives in New York.