This post may contain affiliate links, which means I may receive a small commission, at no cost to you, if you make a purchase.
Whenever we're asked to think of a stylish, sleek, sophisticated color, our thoughts almost always go to black.
After all, who doesn't love the ubiquitous, always fashionable little black dress? And elegantly black-lined smokey eyes?
And black isn't just for fashion and makeup. If you want a stunningly sleek manicure, black is also an excellent choice.
And there are so many ways you can use black nail polish. While a simple black mani or black nails and nail art are always in style, there are ways to elevate this gorgeous polish.
One unique and eye-catching way is to opt for stylish black ombré nails!
Yes, you read that right — black ombré manicures are super fab! They're quickly becoming the contemporary nail trend of the season.
So if you're looking for a gorgeous way to highlight your black nails, try this beautiful nail trend. And if you're looking for some ombré with black nail ideas, look no further!
We've rounded up gorgeous black ombré nails to inspire your next fabulous manicure!
What Are Ombré Nails?
The term ombré is often associated with hair, but that's not the only place to experiment with this gorgeous trend.
Ombré is also becoming a viral nail trend! Everyone wants to try it, and it's not hard to see why.
Ombré nails look classy and effortlessly timeless, which is why they're a favorite among celebrities like Lizzo, Dua Lipa, and more.
So what are ombré nails exactly? Like ombré hair, ombré nails refer to manicures where a color gradient is applied to the nails.
This can mean a lighter color blending seamlessly into a darker color. It may be done by combining a darker and lighter shade of one color for a monochromatic palette or two different colors in lighter and darker shades.
You can even use a different shade of one color on each nail.
Ombré nails can also be customized in a wide variety of ways. You can use bold hues, different finishes, muted shades, glitter, geometric lines, and even 3D nail art or embellishments.
Plus, you can achieve an ombré manicure with any nail polish or artificial nail type — regular polish, gel polish, acrylics, or dip powder.
21 Gorgeous Black Ombré Nail Designs
Black is a classic nail color, exuding feelings of elegance and mystery. Ombré is a beautiful nail art technique that takes the beauty of your mani up a notch.
Ready to combine these two and take the black ombré nail plunge? Here are some black ombré nail inspirations for you!
1. Art and Galaxy Black Ombré Nails
These black-tip ombré nails are elegant and sophisticated! Combining them with fun galaxy nail art and cute moon, star, spiderweb, and safety pin nail stickers lends added mystique to the whole look.
2. Soft and Sexy Spiderwebs
Black ombré nails in an almond shape help elongate your fingers visually and make them look sleek and sexy. This minimalist mani looks gorgeous, featuring a black-and-gray ombré with stunning metallic spiderweb designs.
3. Red and Black Romantic Nails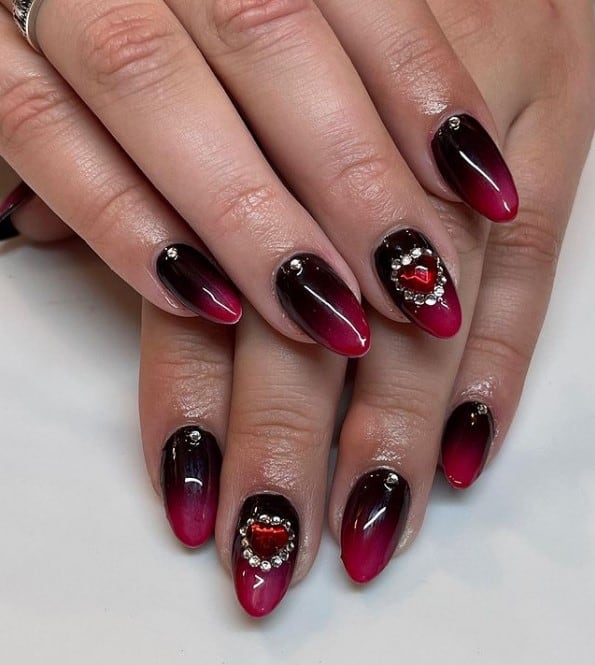 These glossy black-and-red ombré nails are super sexy. The glossy finish perfectly highlights how the red bleeds into black, and the rhinestones and heart gems on the accent nails add the perfect romantic touch.
4. Blood Red Black Moon
These long black ombré nails feature a beautiful black-to-nude gradient paired with a blood-red accent nail embellished with a unique cat and moon design in silver.
5. Sophisticated Ombré with Thin French Tips
Go for something sweet and sexy with these pink-and-black ombré nails. The soft pink is the perfect palette for star and bubble nail art as it slowly darkens to black, ending in sleek and stylish thin French tips.
6. Bats and Glitter
If you love all that is spooky and stylish, these black ombré glitter nails with bats are perfect for you.
Add more edge to the whole look with a different finishing touch for the rest of the nails, including 3D black gems and multicolored glitter flakes.
7. Long Black and Red Stiletto Nails
Black looks exquisite on long and sculpted stiletto nails. Make your nails even sexier by going for a red-and-black ombré and a top coat with a gorgeous glossy finish.
8. Black Ombré Short Nails
You don't need long nails to enjoy a black ombré mani. Even short nails look good with a gradient effect. Create a black-and-white ombré effect on your short nails, and add more oomph to them with gorgeous glitter.
9. Pop Art With Black Ombré Nails
Make matte black ombré nails playful by turning them into a pop art masterpiece. This pop art mani features a monochromatic black palette and matte black accent nails that look elegant and fun at the same time!
10. Black-and-Nude Ombré Nails
If you want a trendy and elegant mani, create an ombré effect with black and nude nail polish. This gorgeous design pairs these two colors beautifully with a glossy glitter finish.
11. Pretty Purple and Black
Purple is really popular now! Use this trendy color to create eye-catching purple-and-black ombré nails in a square shape and with a matte finish for a chic and fabulous mani.
12. Gel Black and Glitter
These gorgeous square-shaped nails are perfect for your next night out! They combine solid black glitter nails with accent nails that achieve a gorgeous ombré effect using chunky black glitter flakes.
13. Black and Lilac Celestial Nails
Can't decide on a single color for your mani? Try this design! This mani has black ombré nails on one side and lilac ombré nails on the other, all covered in gorgeous celestial nail art and sparkly glitter flakes.
14. Coffins and Spiderwebs
Spiderwebs aren't just for the spooky season! These glamorous, perfectly sculpted coffin nails combine clear-to-black ombré nails and stylish spiderweb nail art with a matte finish.
15. A Touch of Black
Even a hint of black in your ombré manicure can add a sophisticated touch; just take these gorgeous red matte oval nails, for example. The red takes center stage but fades mesmerizingly into stunning and subtle black tips.
16. Black and Blue Ombré Nails
These glossy long black ombré nails combine black and midnight blue to create a stunning and vibrant ombré manicure on eye-catching coffin nails.
17. Neon and Black Nails
Get gorgeous Billie Eilish-inspired nails by combining black and yellow-green polish to create a fab and funky neon ombré manicure.
18. Beautiful Black and White
If you're looking for a classic manicure, look no further than black-and-white ombré nails paired with marble and frosted accent nails.
This combination is timeless, and the mani is made modern with fun leaf and butterfly nail art.
19. Geometric Ombré Nails
Create a gorgeous and trendy black ombré manicure by pairing black-and-nude gradient nails with geometric line nail art.
The contrast between the gradient's softness and the lines' sharpness makes a manicure that's edgy and sweet at the same time.
20. Black and Holographic Glitter
Elevate black ombré nails with glitter using chunky holographic glitter for a stunning mirror-like effect. Pair this black ombré with a hint of violet and a glossy finish for an intense standout shine.
21. Black and Red Sugar Ombré Nails
Combine different finishes with your black-and red-ombré nails to create a dazzling and mysterious effect. This matte mani stands out with a fine sugar-textured accent nail.
Creating Ombré Nails
Now that you know which black ombré nails you want to try, you may wonder if you can DIY a gradient mani at home.
The answer is — of course, you can!
It may require a few more focused steps than a regular manicure, but with some practice, you'll quickly get the hang of it and even gain the confidence to experiment with more colors, finishes, and styles.
Here is a step-by-step guide to creating ombré nails with the sponge technique:
1. Prep Your Nails
As always, remember that clean and well-prepped nails hold polish much better. So start your manicure by cleaning, clipping, and filing your nails.
You can gently push back the cuticles using a rounded manicure stick or orange stick. This elongates your nail beds and gives you more space for your polish.
Lastly, swipe alcohol or a cleanser across your nails to remove any remaining dust and dirt. This will ensure that the polish will adhere better to your nails.
2. Apply Your Base Coat
Begin the manicure by applying your clear base coat. This helps even out the ridges or chips in your nails and helps extend your manicure.
3. Apply Your Base Color
After your base coat, you can apply your base color coat. Most ombré nails use a base color that's the lightest version of their chosen primary color.
The base color is usually clear or light gray for black ombré nails. However, you can use any two colors you like, similar to some of the designs featured above.
The base color will be the lightest color you are using.
Tip: If you want your base color to dry faster and be smoother, use two thin coats instead of one thick one.
4. Paint Your Ombré Colors on a Sponge
Once your base coat is on, paint the ombré colors in straight horizontal lines on a makeup sponge.
The area on the sponge that you paint with polish should be approximately the same size and width as your nail. You can decide if you want the ombré effect lighter at the base or vice versa.
Whichever way you choose, be sure to paint the lines right next to each other with no spaces in between.
You can already get an ombré effect with just two colors, but you can play around with more colors and combinations as you get more comfortable with the technique.
Tip: It helps to slightly wet the sponge before painting on the color. This prevents the sponge from absorbing too much polish or drying too quickly.
5. Blot or Roll the Polish Onto Your Nails
Once you've got the colors ready on your sponge, there are two ways you can use the sponge to create your gradient ombré nails.
The first is by blotting or "stamping" the sponge directly on the nail to transfer the polish to its surface, checking to see if the effect is saturated enough with each stamp.
Alternatively, you can slowly roll the polish onto your nails by placing the sponge on one side and rolling it over to the other repeatedly until the color is dark enough.
These are just two ways of doing it, but you can try other methods once you're more comfortable.
Be sure to reload your sponge often to ensure the colors are even on your nails.
Tip: To prevent polish from getting on the skin surrounding your nails, use tape or apply petroleum jelly on your skin.
6. Apply a Top Coat
After applying your ombré effect, give your nails around 10 to 15 minutes to dry so that you don't ruin the look or make the colors bleed.
Then apply a top coat, which will seal in the colors. When doing ombré nails, doing two top coats is usually a good idea to prevent a bumpy or uneven finish.
7. Clean Up Your Nails
Once your topcoat has dried, clean up the sides of your nails with acetone. You can use a Q-tip dipped into polish remover or a brush for excess polish removal.
Frequently Asked Questions
Can You Do Ombré Nails With Gel Nail Polish?
Yes, you can! However, this may require more patience as you'll have to cure your nails with a UV/LED lamp.
The ombré technique is similar to regular polish, but for gel, it's easier to create the ombré effect with a gradient nail brush than a sponge.
How Long Do Ombré Nails Last?
If you are using regular nail polish, your ombré mani will usually last for a week or a little over a week, depending on how careful you are.
For gel polish, manicures will often last for three weeks, while ombré manicures created with acrylics or dip powder can last up to four weeks.
Get Creative When Creating Your Dream Black Ombré Nails
Manicures are all about self-expression. And these days, there are so many unique ways to show off different colors, finishes, and more!
Exhibit your creativity and create elegant and sophisticated manicures with black ombré nails.
The best part is that there are no limits to creating unique ombré nails, and you can get adventurous by trying various techniques, nail art, and accents.
So take some inspiration from these gorgeous manicures and begin experimenting! It won't be long before you become an ombré expert and create the perfect black ombré mani you'll love.
Want More Nail Inspiration?
Check these articles out: