This post may contain affiliate links, which means I may receive a small commission, at no cost to you, if you make a purchase.
Move over beauty bargain faves, Hard Candy is the new drugstore diva brand!
photos: we heart this
Remember back in the day when Hard Candy was best known for its iconic nail polishes that had the cute little rings attached to them? Since Hard Candy made the move to mass-market (their products are now available online and at Walmart), the brand has rolled out some amazing, and seriously affordable cosmetics in addition to its nail polish collection.
Don't fret – the polishes still come with the cute little rings, but today I'd like to share with you some makeup products that are packed with just as much color as their fun, fashion-forward polishes.
Take for instance, Hard Candy's Take Me Out Molten Metal Eyeliner Pencils which simply could not be any more adorable. Shaped like a chopstick (get it? Take out?), these eyeliner pencils can actually double as a hair bun holder in a pinch. In fact, I'm using one to secure the bun in my hair as I write this, and it looks pretty darned cute.
These liners are truly metallic, boast a long-lasting, stay put formula and are available in 18 vivid hues. Plus, at $5 a pop, they are a true beauty bargain!
Molten 24K, Molten Camo, Molten Sailor Blue, Molten Bullet
I tested Molten Sailor Blue, a beautiful silver-blue, that glides across my eyes effortlessly. There's a built in smudge time of about 30 seconds and then the color is locked into place. In addition to the metallic finish, this liner has a touch of silver microglitter in it as well.
This hue, like the entire Take Me Out line, is definitely a "notice me" shade that looks stunning paired with the other product I received for review: Hard Candy's Kal-eye-descope Baked Eyeshadow Duo in Make Believe.
Make Believe
Make Believe contains an icy silver-blue shimmer on one side – and a rich, but also icy, midnight blue shimmer on the other. This eyeshadow duo has a baked texture, which means you can easily use it dry for a subtle wash of color, or wet for a bolder pop of color.
Absolutely Fabulous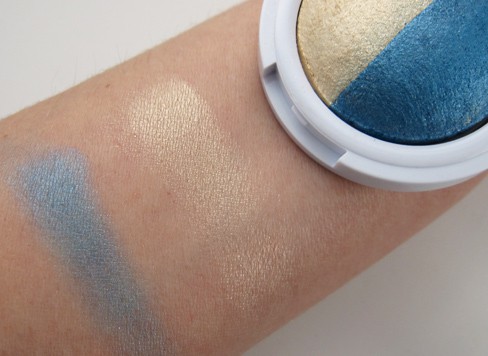 Backstage Pass
And speaking of color, the Kal-eye-descope Baked Eyeshadow Duos are available in over a dozen bold, color coordinated sets, for just $6 each. They are not for the color-shy – keep reading for a taste of the stunning range of shades!
Bad Reputation
Blind Date
I like to dampen my eyeshadow brush and use these shades wet (aka "foiled") for dramatic effect. I also find that wearing these shades foiled really increases the staying power as well. When applied wet, these shadows definitely take on a metallic quality and both shadows are packed with color and vibrancy.
Love Bug
Pick Up Line
Pros:
• Extremely affordable
• Intense, bold colors
• Shadows are versatile and can be worn wet or dry
• Take Me Out Eyeliners are smooth and apply with no tugging or pulling
Cons:
• Bold colors mean they're not for everyone
• Take Me Out liners don't always fair well on the lower lash line, especially if you have oily skin
• The eyeshadow duos are light on pigmentation when worn dry, so you must apply them wet for more vibrancy
After having used several products over the past year or so, I have been consistently impressed with the performance, selection and affordability of the "new" Hard Candy and these two products are definitely no exception. If you love color, and you don't want to break the bank to get it, I think they're definitely worth a look.
we heartsters – do you have any favorites from Hard Candy? Please stay tuned to see the wht review team's thoughts on these products!
Disclosure: This review includes products that were provided by the manufacturer/PR firm for our consideration. For more info, or any questions, please see our disclosure policy.
Latest posts by nouveaucheap
(see all)