This post may contain affiliate links, which means I may receive a small commission, at no cost to you, if you make a purchase.
They're like flowers blooming on your fingertips!
I'm sad to report I have the blackest thumb. Plants, even ones that people insist are indestructible, die while in my care. So if I have any spring flowers in my life, it's not my garden that's grown them. In this case, it was China Glaze's!
China Glaze Avant Garden is broken into two, six-piece accurately named collections; Blooming Brights and Pastel Petals. And while I am typically a bright kind of gal, the atypical Pastels we got to check out are incredibly beautiful.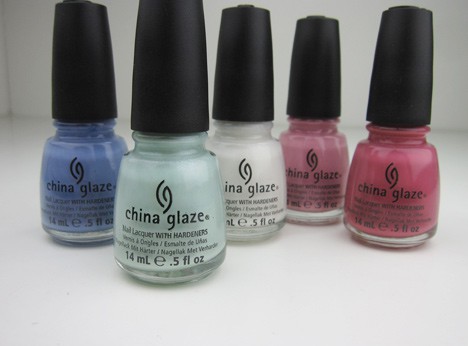 Swatches and Colors:
Dandy Lyin' Around – I love this shade, a white shimmer that's laced with silvery flecks. It may be one of the most wearable pure whites I've ever worn. It glimmers!
Pink-ie Promise – a lightly greyed pink with a flash of pink shimmer that's visible in the bottle but not seen on the nails.
Fade Into Hue – this beautiful periwinkle creme is the other stand out of the collection for me. Really different from most of the light blues I own. And the kind of color that makes me stare at my fingers all day, just too pretty!
Keep Calm, Paint On – shamrock shake shimmer green.
Life is Rosy – a dirty rose creme.
(The other shade in this collection is Tart-y for the Party, a lavender creme.)
China Glaze is like the baby bear of the polish world for me. I never have to worry about issues with the tried and true round brush (like splaying bristles and such) and the bottle is a comfortable shape. And as with all of their polish, this Garden party is big 3-Free.
Pros:
• Beautiful, easy to wear spring shades
• China Glaze's formula are some of the best on the market; minimal streaking, nicely pigmented
• Fade into Hue and Dandy Lyin' Around are the standouts


Con:
• Other than Fade Into Hue, the shades aren't very unique
we heartsters – how does your Avant Garden grow? Are there any must haves in the line up?
photos: we heart this
Disclosure: This review includes products that were provided by the manufacturer/PR firm for our consideration. For more info, or any questions, please see our disclosure policy.