This post may contain affiliate links, which means I may receive a small commission, at no cost to you, if you make a purchase.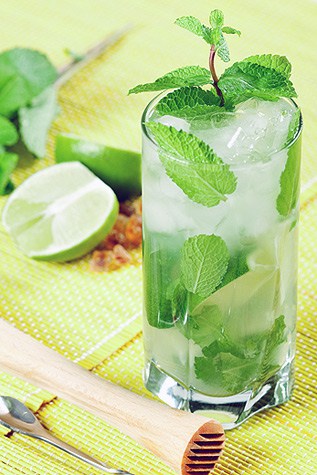 Well, here it is – the day has finally arrived! My first post here on wht – I'm very excited to be a part of this fabulous team and to share my favorite recipes and cooking adventures with you.
Because this is post number one – and because many of you may not have ever heard of me before, I really wanted to choose something to share with you that rocks my socks. I wanted it to be fun and even a little trendy, but still easy to make with ingredients that aren't too difficult to find. Oh – and I wanted it to be something that everyone can enjoy this coming Memorial Day, too!
I immediately thought of my killer mojito recipe! I'm a huge mojito fan, and if you've never tried one, you need to go home, grab your boyfriend or hubby or bestie and drag them out to your favorite bar/restaurant and order one together. Make sure it's a place that has fresh mint (I still have nightmares from the guy that made one with crème de menthe). And then just sit back and be happy that you didn't waste even one more day of your life before you got to taste this yummy, refreshing cocktail.
Or, better yet, stay in and whip up a pitcher at home! I made these for my daughter's 6th birthday party (for the grownups…sheesh) and everyone swooned over them. My version has lemongrass added for a sophisticated twist and makes it even more refreshing. But any way you choose to make them, they're sure to be a hit!
Lemongrass Mojitos
photo: kristy for we heart this
• 5-6 lemongrass stalks
• 10 limes; 9 juiced, 1 for garnish
• Fresh mint (about thirty leaves or so)
• ¾ cup sugar
• 1 cup white rum
• Club soda, chilled
1) Remove any tough outer leaves and the bulb and microwave lemongrass for 30 seconds or so. Cut 6 inches off the bottom of each stalk and slice that very thinly.
2) Combine lemongrass, mint and sugar in the bottom of a pitcher and mash with muddler or wooden spoon.
3) Add the rum, lime juice, lots of ice and top with club soda (more or less to taste, I find that a small sized bottle works well) and stir well.
4) Garnish glasses with mint sprigs, lime wedges and the tops of the lemongrass stalks.
Makes one pitcher.
Note: If you can't find lemongrass or you'd just like to try the standard mojito, simply omit the lemongrass.
Once you discover how easy this cocktail is to make AND how refreshing it is, you'll be reaching for the ingredients to the Lemongrass Mojitos all summer long. Cheers!
Latest posts by Kristy Bernardo
(see all)