This post may contain affiliate links, which means I may receive a small commission, at no cost to you, if you make a purchase.
Say goodbye to boring nails in 2023! If you love getting French manicures, we have great news for you! Colorful French tip nails are all the rage right now.
You have tons of options to match your fashion taste now with a French manicure with colored tips.
Start by switching the classic white polish with other colors for a simple design. But if you're feeling a little more playful, there are a bunch more designs you can try.
Keep reading and browse through these 50 nail ideas to find your next French tip design!
What Is French Manicure?
French manicure has always been a classic mainstay and is a favorite design by many because it looks elegant without requiring too many steps.
As popular as the French manicure is, there are different stories about how and when this classic nail design started.
One theory says that the history of French manicures can be traced as far back as the 1930s when the father modern cosmetics, Max Factor, created the look for the fashionistas of France.
But the more widely known theory is that French manicure was popularized and trademarked in the 1970s in Hollywood, not France.
At the time, actresses' nail polish had to match the color of the dress they wore in scenes. That meant changing nail polish every time an actress changed her wardrobe. And as you can imagine, that's a very time-consuming process.
Orly founder Jeff Pink looked for a solution from his technique of using white pencils under the nails to make them look clean.
Pink changed the process by applying white lacquer on the nail tips and flesh-toned polish as the base.
That's reportedly how the main components of French manicure came to be.
Pink then distributed his trademarked Original French Manicure kit to French runway models in Paris.
To this day, the conventional French manicure is still composed of a clear or flesh-toned base coat color. But the white polish for the nail tips is arguably its defining aspect.
As for nail shape, square and almond are the usual choices.
In the past, French manicure didn't use splashy colors, and that simplicity made it a timeless, stylish technique.
50 Colored French Tip Nails To Try
Like other beauty and fashion styles, French manicure has greatly evolved. Having colorful French tip nails is now an emerging trend.
You can find tons of nail ideas that combine French manicures with colored French tip nails.
There are also different ways to apply colorful polish. You can go for the usual block color or mix things up with two-tone tips, split color design, V-shaped tips, and more!
Now we've reached the fun part. Check out these beautiful colored French tip nail designs.
1. Pink and Orange Split French Tips
We love these bright and colorful French tips! You don't have to choose between your two favorite colors with split-color tips like this.
2. Two Tone Blue Tips
Blue French tips on short nails are fun. But you can have an even cooler look by simply using two shades of blue for your nail tips.
3. Mint Tips and Daisy Art
Get creative and match your colored French tip nails with fun art. This design is a great start with simple mint-colored tip nails, a nude polish, and cute daisy art for a cute spring look.
4. Summer Inspired Colorful Tips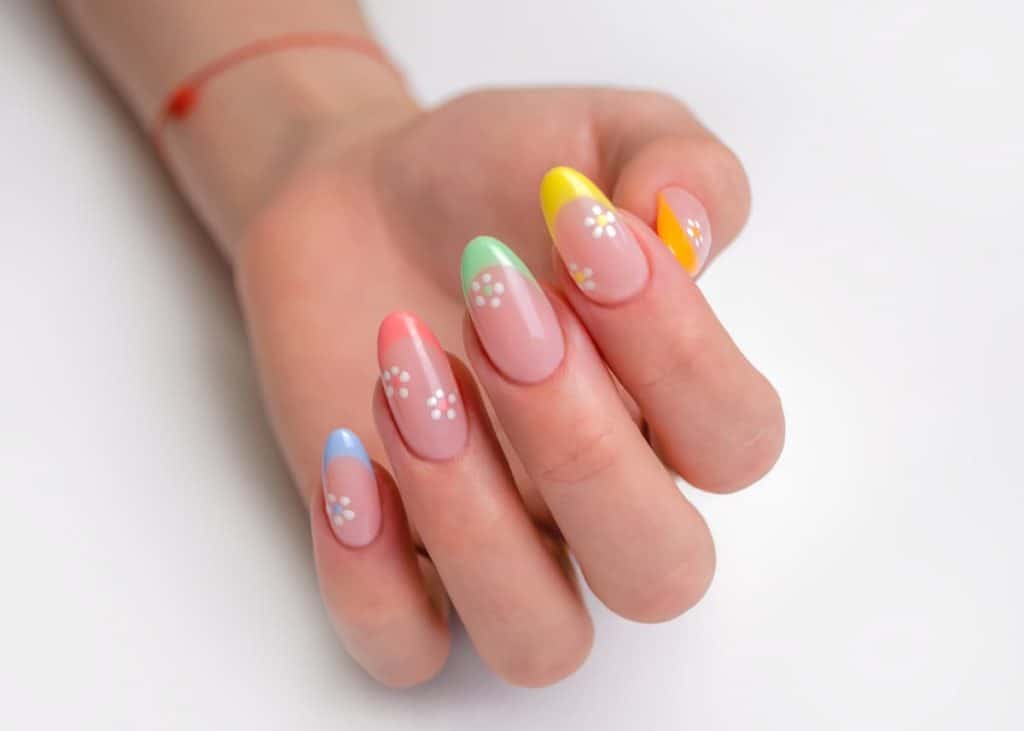 Achieve a well-rounded summer look by using different-colored pastel French tip nails paired with very simple flower nail art.
5. Two-Tone Multicolored Tips
If you want to use as many colors as possible, you can choose multicolored tip nails in two tones each. You can use a brighter or darker shade as a thin lining to make your colored French tip nails pop even more!
6. Elegant Beige
You can achieve a minimalistic look even with colored French tip nails just like this elegant design. Try this French manicure with glossy beige tips on long matte nails for a more refined look.
7. Three-Color V-Tip French Manicure
Pay homage to the classic white French tips, but make it more fun with dual-colored V-shaped tips on a single-colored base.
8. Chic Black-and-Brown French Combo
Want nails with colored tips but prefer less splashy colors? You can't go wrong with this black-and-brown combo. You'll still get plus points for creativity and beautiful nails!
9. Green French-Tip Accents
Here's a great idea for square French tip nails with colors. If you find hunter green a little too muted, add an accent of glittery gold lining for a shiny pop of color.
10. Hot Pink With North Star Design
Your nails will sparkle with chrome-colored north star–inspired art complete with colorful rhinestones. But the highlight here is, undoubtedly, the hot pink–colored French tip nails.
11. Stained Glass–Inspired Tips
Have more fun in donning a French manicure with color tips by including a multicolored design inspired by gorgeous stained glass windows.
12. Zodiac Theme Matte Green Tips and Gold Powder
Show off your zodiac sign with colored French tips. It's best to have long nails for this one to have more space to write your zodiac sign with gold chrome powder.
13. Shades of Green
Here's for all of you who love the color green. Thanks to the colored French tip nails trend, you won't have to choose just one shade of green!
14. Glitter French Tips
If you want more sparkle over colors, use glittery holographic dip powder for your French tips.
15. Pink French Tips on Square Nails
Make your square French tip nails stand out with colors. But if you're looking for a more minimalistic look, use a bright pink polish on thinly lined tips.
16. Multicolored Pastel Tips
Pastel can be a year-round theme too! And why settle for just one shade when you can have multicolored French tip nails?
17. Colorful Outlines
Looking for a two-tone French tip nail design with a fun twist? Use a different color for each tip and add an accent of thinner outlines right below.
18. Summer Vibe Yellow
Match the bright rays of the sun in the summer with pastel yellow French tip nails.
19. Pastels on Frosted Nails
Here's another way to make pastel French tips more fun. Use a sheer frosted polish and top it with a couple of simple flower art.
20. Multicolored V Shape French Tips
Have as many as four colors on every nail with these sophisticated V-shape tips.
21. Leopard Prints on Neon Coral Tips
Love leopard prints and neons? You can have both by following this rather simple French nail tip design.
22. Rainbow French Manicure Set
Put one color of the rainbow on each nail. You can also use pastel versions for each color, but having brighter shades will make your rainbow-themed colored French tip nails pop even more!
23. Barely There Black Tips
This one's the definition of elegance. If you love nude polish, add a little more oomph with thin strokes of black for the French tips and thin outlines on the sides.
24. Peachy French Tips
With this color on long almond nails and a touch of glitter near your cuticles, everything is just peachy!
25. Purple Shades
This goes out to all you purple lovers out there! Have different shades of purple on French tips for fun, cute nails.
26. Black French Tips
The simplest yet opulent take on colored French tip nails. Take the basic French manicure technique, but swap the white tips for black polish.
27. Half-Moon French Tips
A mix-and-match approach to different colored French tips. It's best with a nude or clear base, and you can use a wide variety of colors for the tips and the half-moon design near the cuticle of each nail.
28. Two-Color Split Tips
Split colors for French tips are one of the best designs you can try! Find the best color matches and use an asymmetrical layout for added flair.
29. Pastel Orange Tips
Colored French tip nails don't necessarily need a complicated design to pop. Sometimes, all you need is a fun color — like this pastel orange.
30. Pink and Gold Combo
Pink is one of the best colors to match gold. Try this side French tip design to mix it up for a unique appeal!
31. Matte Green Tips
Pastels are some of the best colors to choose for matte nails. Just look at these gorgeous matte tips in light green!
32. Flowers and Frogs Green Tips
French tips are usually chic, but they can be fun and cute too! Add simple freehand styles to achieve colored French tip nails with cute flowers and frogs.
33. Fruit-Themed Pastels
If pastel tips are too simple for your taste, bring it up a notch with added fruit art!
34. Blue French Tips
These blue French tips on short nails are another simple take for your nails all year round.
35. Retro Colored French Tips
If you're a big fan of anything retro, here's something you MUST try! Use bright shades of pink and orange and apply them with freehand curves to achieve this groovy look.
36. Mixed Prints on Colorful Tips
Leopard prints, fruits, flowers — you can have it all on your nails! If you want to go big on prints, it's another idea to try for colored French tip nails.
37. Bright Marbled Tips
They say there's beauty in chaos, and this clash of colors to achieve a marble effect for beautifully colored French tips is proof.
38. Teal and Bling
A simple bubblegum blue French nail works well as a balanced backdrop if you want to go heavy on the nail bling.
39. Multicolor Tips With Rhinestones
This one's quite the opposite of the last one. You don't have to use plenty of rhinestones, but having some will instantly make your multicolored French tip nails more stylish.
40. Ombre Neon Rainbow Tips
Add a fun twist on neons and rainbow colors. Use an ombre effect for superb nails.
41. Shades of Pink
So you love pink but want different colors for tip nails. Why not do it with different shades of pink and top them with tiny cherry nail art like this gorgeous look?
42. Red and Black Hearts
Is it Valentine's season yet? Better get ready with these heart-shaped red-and-black French tip nails.
43. Sparkly Two-Tone Pink Tips
Here's a sparkly approach to two-tone French tip nails. You'll certainly love this combination of pink glitter and light pink lining.
44. Cheetah Print
Nails are part of your fashion statement, so if you're donning animal prints for your outfit, don't hesitate to incorporate cheetah spots on French manicure with beige tips.
45. Multicolor Abstract Shapes
Colorful French tip nails can be more fun with freehand art, pastels, and white outlines for an abstract chic look.
46. Classic French Tip With Silver Lining
If you can't let go of the classic white French tips yet, you take them a small step further by adding silver linings to your nails. You can also switch the silver polish with other colors since white looks good with any color.
47. Bandana-Inspired Tips
Bandana designs are very hip — no doubt — and you can sport it to spice up your colored French tip nails game too!
48. Blinged Sheer Gold Glitter Tips
Go for sheer gold glitter tips for a muted, elegant look. You can also add some bling for more pizzazz.
49. Holiday-Theme Colored French Tips
Bookmark this design for your next holiday nail look! Mix red and green for colorful Christmassy French nails.
Get Creative With Colorful French Tip Nails
It's always fun to take a classic style and give it a modern, fun twist.
As much as we love the clean and timeless French manicure, there's no harm in making things more exciting with a splash of colors.
You can take the basics of French manicures and use block colors to change the usual white French nail tip.
Use all the rainbow colors for multicolored French tip nails, or use various colors on each nail for a more creative and fun design.
Whatever style you choose, the most important thing is to have fun with it. Use nail designs to express your unique self and complete your look!
Want to learn how to take care of your nails?
Check out these articles: