All hail Queen Bey with a new indie polish collection!
Beyoncé has inspired us all to put a ring on it, pay our bills, run the world and get bodied. Now, Beyoncé can inspire us to paint our nails (fiercely of course) with Delush Polish and their romantic XO Collection.
This line pairs cremes with glitter to produce a set of three polishes that will make you fall crazy in love. As soon as I saw this collection, I rushed to purchase them for this review – you can pick up the entire XO Collection for $25. Included in my package was a scratch off game piece giving me the chance to win more Delush Polishes. Fun!
Two quick notes before we get to the swatches. Firstly all of these Delush Polish swatches feature an OPI Nail Envy base coat and a NYC Grand Central Station topcoat. Secondly, let's properly set the mood! Above is your soundtrack for this post.
First up is the feminine and demure Make Me Blush ($8.95). This baby pink creme keeps from edging into Barbie territory by having a gold shimmer finish; making this ladylike and definitely grown-up.
Like most pastel cremes, a light, even touch is needed; any extra brushstrokes can cause some drag or bald spots. But no worries, Make Me Blush is a fast dryer and just requires two to three coats for opacity.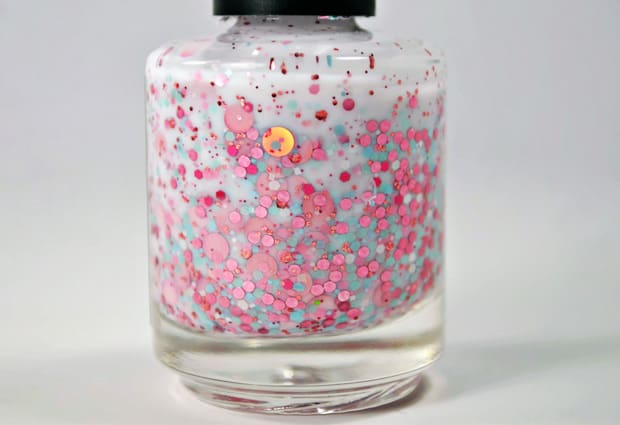 Je Ne Sais Quoi ($8.95) is a creamy white filled with large pink holographic circles, pink hex and micro glitter, and just a touch of pastel blue glitter.
It only took two coats to be opaque, but I had a hard time getting the large circles out. I found that this was remedied by letting the bottle sit upside down for five minutes before using, after that the circles practically jumped out of the bottle!
Finally, I've got to say that Love Me Lights Out ($8.95) is a true stunner – with a white base that holds holographic dots, neon pink stars, and hex and micro glitters in green, purple, yellow, pink and blue.
Such a rainbow of glittery color might seem too much, but the white base softens the polish into something fun and a little romantic. Having learned from Je Ne Sais Quoi, I let the bottle stand upside down before application, which made the stars and dots come out with ease.
With subsequent applications of both Je Ne Sais Quoi and Love Me Lights Out, I also found it fun to play with the layers a bit; having the neon stars and holographic dots under a layer or two of the white base gave it a whole different look and added dimension overall.
Final verdict? The formulas on these are dreamy, and colors feminine and beautiful. Delush Polish has created a stunning collection, regardless of your level of Bey love.
we heartsters – Does the XO collection make your heart sing? Share your opinions (and the name of your Sasha Fierce-esque alter ego) in the comments!
photos: Alyssa for we heart this
Alyssa is kinda geeky, kinda girly and all the way in love with her cowboy husband who can say words like, "ornery" with a straight face. She live in Texas and is working on her Masters, being a good cook and the art of looking cute in the morning AND being on time for work.
skin tone: NC42
skin type: oily to normal
favorite beauty product: nail polish and mascara
Latest posts by lyssachelle