This post may contain affiliate links, which means I may receive a small commission, at no cost to you, if you make a purchase.
Add a flash of the latest color trend – neon – to your wardrobe!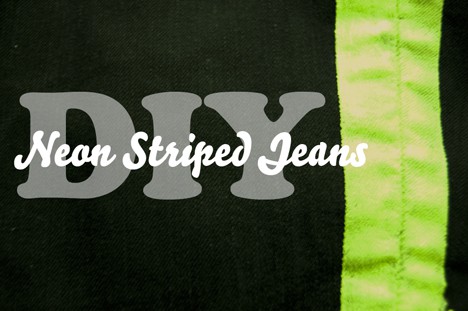 photos: mackenzie for we heart this
There's no doubt that you have seen neon flashing through the streets lately. Racer stripes and highlighter colors have made an appearance once again – and the runways have embraced them with open arms. Are you ready to embrace them too?
You could start easing into this bold color trend by using this easy DIY to incorporate some bright neon into your style this season.
Supplies:
• A pair of jeans
• Neon acrylic paint
• Paint brush
• Masking tape
• Paper plate (not shown)
1. Lay the jeans flat so the side seam is facing up.
2. Using your masking tape, tape off the section that you want to paint.
Tip: Feel free to tape a design, a larger stripe, or multiple stripes – be creative!
3. Once everything is taped off, paint the section. Let that layer dry and paint another layer or two if you want a more solid neon hue.
4. Once the layers are dry, take the tape off.
5. Try on and wear your new Neon Striped Jeans! May I suggest adding a floral cardigan (or something 'girly' on top) for a great contrast and to keep that feminine touch.
we heartsters – are you thinking of adding neon stripes to your bags, thermal tees, jackets or other old and tired pieces? If you have any questions about this DIY, feel free to ask in the comments – there are no silly questions!
Latest posts by Mackenzie Gelina
(see all)