This post may contain affiliate links, which means I may receive a small commission, at no cost to you, if you make a purchase.
photos: kirsten for we heart this
There's something about gold + black that I love. Maybe it's the half edgy-half classy look, or maybe its the way the colors contrast…I may never know exactly what the appeal is.
But I do know these these Painted Leather Earrings, will look great with all sorts of outfits – from that little black dress to a chic blazer and jeans combo.
And of course, you don't have to go with gold and black like I did – customize it all you want. (You knew I was going to say that!) Our latest DIY of the Month is easy to make, and you'll only need a few supplies.
Supplies:
• Leather scraps
• Metallic acrylic paint
• Thin paintbrush
• Sharp scissors
• Jewelry pliers
• Masking tape in a thin width
• Earring hooks
• Jump rings, about 4
Instructions:
1) Cut out 2 triangles from your leather scraps – mine were roughly 2 inches long.
2) Place the masking tape on the triangles, depending on the pattern you want. Make sure the tape is perfectly flat.
3) Paint! You'll need very little paint on your paintbrush, so be sure to wipe excess paint off before you start applying it.
Let dry.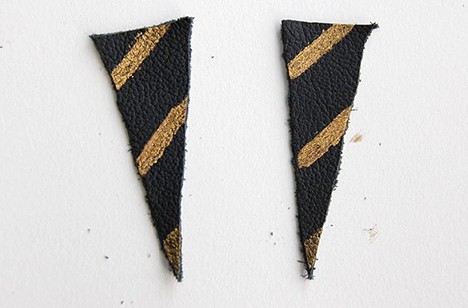 4) Peel the tape off. You can leave it like this, or you can add some more stripes.
5) If you decide to build upon your pattern, make sure the paint is completely dry before placing more tape on the triangles.
6) Repeat Step 3 and peel the tape off when dry.
7) Using the scissors, carefully pierce a hole at the top of each of the triangles.
8) Insert two jump rings in each hole, like above.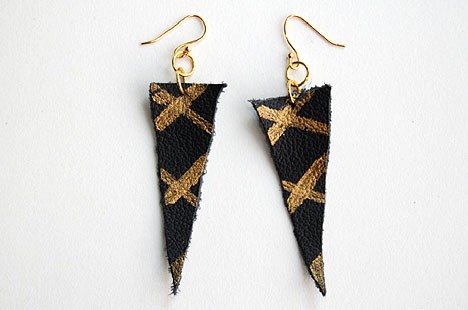 9) Attach the earring hooks, and you've finished another we heart this DIY!
Some Fun Options:…
* You can also use suede, faux leather, or vinyl instead of leather.
* Try regular or neon acrylic paint for a different look.
* Use different colored paints for your pattern, instead of just one
* Go with a different earring shape – a circle or square maybe?
we heartsters – do you adore gold + black as well? How will you customize these Painted Leather Earrings?
Latest posts by kirsten-nunez
(see all)