This post may contain affiliate links, which means I may receive a small commission, at no cost to you, if you make a purchase.
Valentine's Day is just around the corner. If you want to add some sweetness to your home, need a cute little gift or just heart hearts, this Valentine's Day project is for you! You can create your very own Button Heart in no time, to give as a gift or brighten your space.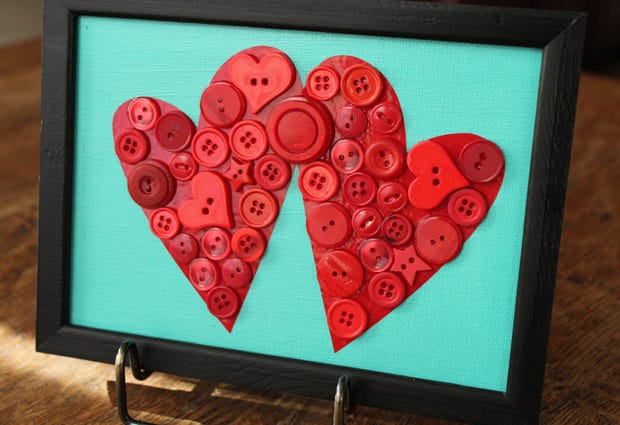 Here are two samples of this DIY Valentine's Day project – the first a neutral burlap with creamy white buttons or, if you prefer a pop of color, bright red buttons on an aqua background.
Supplies:
• Stretched burlap or paintable canvas
• Buttons
• White or Clear Glue
• Pencil
• Paint brush
• Acrylic paint or vinyl heart stickers (optional)
Directions:
1. For creating the burlap canvas, draw or trace a large heart-shape on the canvas with a pencil. I used a paper doily, but you could also use a stencil or a heart shape printed from your computer, and cut to the appropriate size, for your template.
2. Start gluing buttons, in a variety of sizes, along your pencil line.
Tip: Use a paintbrush to apply a small amount of glue to the back of buttons.
3. Work inwards, gluing buttons, until your heart is filled.
4. Lay flat to dry.
Pop-Of-Color Button Heart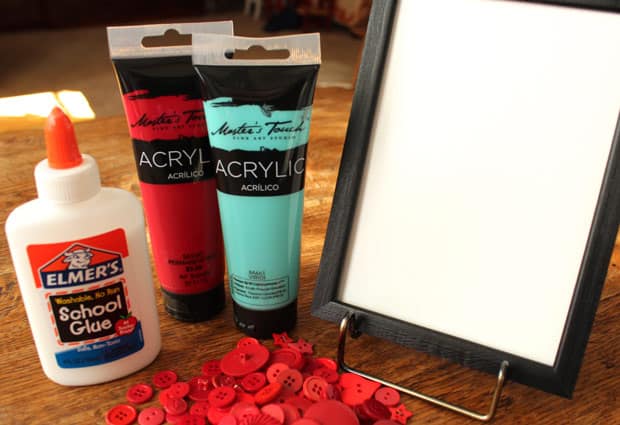 1. If you desire more color, start with a blank canvas and paint it your choice of hue (or hues.) Let it dry and apply a second coat. Let the second coat dry.
Tip: If you are in a hurry, you can use a hairdryer to speed up the drying process.
2. Next trace and paint a heart or adhere vinyl stickers.
3. Once dry, glue buttons of any color along the edges of the hearts. Again, work your way inwards, until hearts are filled with buttons.
4. Lay flat to dry.
That's it – you can gift or display these cuties for the Valentine's season – or prop them in a room of your home all year long!
we heartsters – What are you DIYing for Valentine's Day?
All photos: Rachel for we heart this
Rachel is a stay-at-home Mom that never seems to be home. She's a military wife, mother to The Danger Boys and a self-proclaimed craftaholic that enjoys photography, knitting, baking and all things handmade.
Latest posts by rachelshay
(see all)