This post may contain affiliate links, which means I may receive a small commission, at no cost to you, if you make a purchase.
In all my years of crafting up a storm, making jewelry has always been a favorite activity of mine. And thanks to the simplicity of jewelry, you don't need much to make something awesome. Leftovers from another project can be re-purposed for the next. To top it off, fancy materials aren't even a necessity. For example, this tutorial uses a safety pin and a single bead to make an edgy necklace. Keep reading to see how you can make your own – even if you're a novice DIYer!
Supplies
Safety pin
Chain*
12mm jump rings (2)
10mm jump rings (2)
Pearl bead
Head pin
Jewelry clasp
Jewelry pliers
* Use two 8-inch strands of chain to create a necklace of a standard length. You can use shorter or longer strands depending on the desired length of your finished necklace.
1. Add the pearl bead to the head pin.
2. Using the cutter portion of the pliers, cut the head pin ½ inch above the pearl.
3. Bend the pin into a loop using the round-nosed ends of the pliers. This will transform the pearl bead into a charm.
4. Using the pliers, open up a 12mm jump ring.
5. Add the safety pin, a strand of chain and the pearl bead to the jump ring. Bend the ends toward each other to close.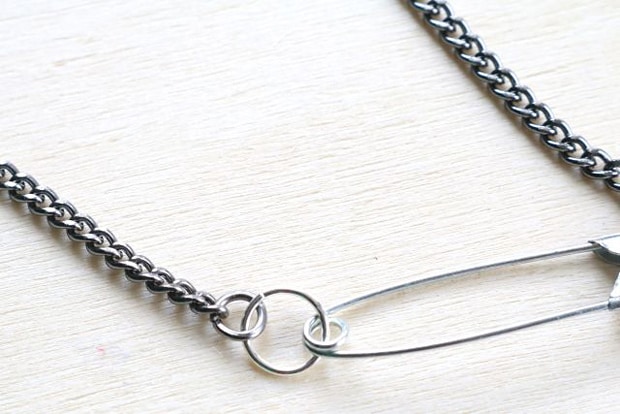 6. Using another 12mm jump ring, attach another strand of chain to the opposite end of the safety pin.
7. Add a 10mm jump ring and a jewelry clasp to one chain. Add another 10mm jump ring to the other.
Pretty simple, right? I love the combination of pearls and safety pins, but you can customize this necklace to your liking. Feel free to use something different, such as a crystal, stone or wood bead.

Tutorial Photos: Kirsten Nunez
Street Style Photos: Haruka Sakaguchi
Latest posts by kirsten-nunez
(see all)