This post may contain affiliate links, which means I may receive a small commission, at no cost to you, if you make a purchase.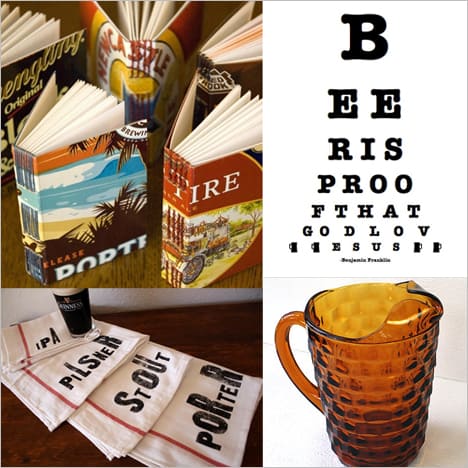 With Father's Day coming up, and some gift giving to be done, there was only one subject I had in mind for this 4 for Friday that would be sure to please almost every man – Beer. If you're looking for a gift for Dad (or you're just looking forward to Happy Hour ~ I sure am), you can find all sorts of beer goodness (just no actual beer) over at Etsy.
A few pieces, any beer loving Dad would cherish:
• Even men make lists occasionally, and here's a little notebook (he'll never lose) to help keep him on track. Etsy vendor repaper makes these awesome Beer Box Books from all recycled and scrap materials. These bold books are small enough to carry around and can take some heavy use without falling apart. The stock of available beers is always changing, so keep checking back (or email the seller) for a notebook with Dad's favorite beer. $14
• Maybe you have a Dad that would appreciate these wise words from Benjamin Franklin, Beer is proof that God loves us… (and wants us to be happy). Printed on 65lb matte card stock, the print has a standard white background, that can be customized to fit any decor – home office, basement bar or man cave. Print measures 8.5 x 11 inches and is ready for framing. $12.99
• If he's pouring out a few rounds for friends, he can do it in style with this Vintage Glass Amber Pitcher. The deep amber hue adds a touch of class to this simple retro pitcher with a raised geometric texture. And the hefty weight may help keep spills to a minimum. $24.50
• Of course, when beer is flowing, spills happen – so clean up any messes with a Beer Lovers Towel. This set of 100% cotton kitchen/bar towels is hand stamped with antique printing blocks using water based inks. The four towels, IPA, Stout, Pilsner, and Porter have a hook for hanging and are machine washable. $21
Cheers!