This post may contain affiliate links, which means I may receive a small commission, at no cost to you, if you make a purchase.
For those about to rock, we suggest this shortcut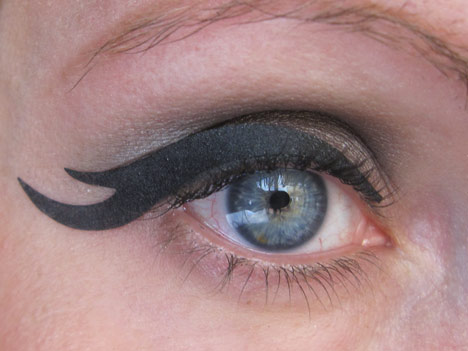 photos: we heart this
How about that expertly applied eye liner I've got on above? Think I rock? Nope, Eye Rock!
That intricate and perfect line is courtesy of Eye Rock Instant Eyeliner Tapes. "Wait…what?" you ask. Stay with me here.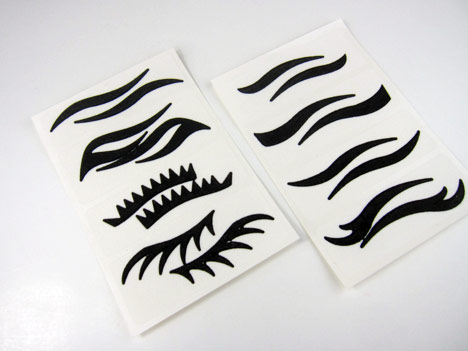 Trends and Classic Eye Rock liner sheets
Sold in two designs (Trends
and Classics
), each come with a sheet of four different liner styles that can be easily peeled, stuck and rocked.
But don't do what I did above – touch the adhesive side – it will lose some of its tackiness. Use tweezers instead, then stick to clean, dry skin.
liner from the Classic set
At only $6.99, these are a great way to play around with some wilder than usual styles. Perfect timing with Halloween just around the corner.
liner from the Trends set
Or, use them as a quick and easy short cut to the perfect cat-eye.
Now, are these as comfortable as traditional eye liner? No. But they're also not as uncomfortable as you would think wearing a sticker on your eye would be. They're pretty comfortable actually, I forgot I had them on after a while. They also say they'll stay on for up to 16 hours. But, that is one long night out!
And when the party is over, just peel off and remove any residue with cleanser.
So how about it readers – would you rock Eye Rock?
Disclosure: This review includes products that were provided by the manufacturer/PR firm for our consideration. It also may contain an affiliate link, a link that gives us a small commission if you purchase the item. For more info, or any questions, please see our disclosure policy.