This post may contain affiliate links, which means I may receive a small commission, at no cost to you, if you make a purchase.
affiliate link
Fall's here, is your closet ready? If your answer is no, don't panic. Because it's sale time at Shopbop! From now until Friday September 29 at 11:59pm (PST) you can:
Take 20% off all orders under $500 | Take 25% off all orders over $500
(This includes sale and full price items!) Use code: EOTS17
CLICK HERE to see all the details.
With code in hand and closet in mind, check out these three key fall fashion items you need now (with steal and splurge suggestions for each).
A 70's Inspired Piece
I, for one, am super happy that the 70s are making a comeback in the fashion world. It's an obvious transition from the bohemian look that's EVERYWHERE now. (Seriously, I was at Target the other day and it was a fringed nightmare.) Flowered and flowy is 70s too, but for fall there's a slightly more sophisticated edge. Think velvet, think ruffles, think backstage at a Led Zeppelin concert.
Steal: The Fix – Farah Platform Sandal Pumps ($99)
Splurge: Stevie May – Dance at the Moulin Mini Dress ($380)
A Coat That Makes a Statement
Sure, we all need a black wool peacoat (you really do). But you also need a coat that when you walk in the room makes people say "Who is THAT? And where did she get that coat?!"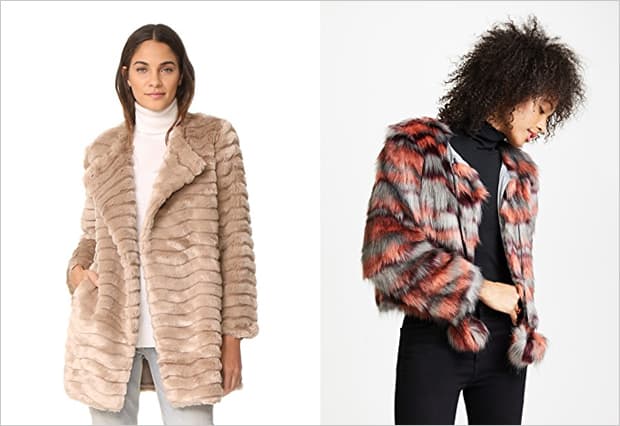 Steal: BB Dakota McCoy Faux Fur Coat ($135)
Splurge: Ramy Brook Camo Faux Fur Krissy Jacket ($495)
A Sweet Pair of Kitten Heels
Hooray, heels you can walk in! Don't worry about looking too retro, there are a lot of modern takes on this vintage style in everything from mules to boots.
Steal: Matiko – Lisa Mules ($136)
Splurge: Diane von Furstenberg – Mollo 2 Booties ($398)
we heartsters, what will you be picking up at the Shopbop sale? Share your picks and let's virtual shop in the comments!
shop the post