This post may contain affiliate links, which means I may receive a small commission, at no cost to you, if you make a purchase.
If you are here you are probably wondering, "How do I become a Farmasi beauty influencer?"
(The term Farmasi beauty influencer can be used interchangeably with terms like Farmasi consultant, Farmasi distributor, Farmasi rep. Etc.)
Farmasi is a beauty and personal care brand that is open in 125 countries in the world, but just barely opened here in the U.S.
As cheesy as it sounds it truly is a ground-floor opportunity.
The best time to get into a direct sales company is when it is in momentum.
Momentum is when a company is experiencing rapid, massive growth. This usually lasts for about two years and then goes into a period of stabilization.
Momentum is when the millionaires are made!
Here is an example of another direct sales company that hit momentum and then went into stabilization.
Farmasi Is In Momentum
If you want proof look take a look and see how Farmasi is trending right now!
Mind-boggling, right?
It is seriously the best time to become Farmasi beauty influencer.
If you want to learn more about evaluating direct sales opportunities (+ get a peek of what I am really like) check out this training I did here.
My Journey Before Farmasi
In 2015 I became a mom! It was a wonderful and overwhelming time. Right before my baby was born my husband's employer started doing massive layoffs and immediately cut his pay by one-third.
Honestly, we were terrified.
My first year as a mom I built three businesses that helped our family stay afloat. I learned everything that I could about marketing, business management and ultimately selling products. Lots of them.
My new passion is helping other moms build up their business so they have the freedom to choose to stay at home with their babies too.
I also like chocolate, country music, and sleeping in (although that doesn't happen often!) 😊
Professionally, I have been featured as an expert in major publications like Yahoo Finance, Money.com, Forbes, MSN, and the U.S. Chamber of Commerce.
I only say this because I want you to know that I know my stuff and I am going to be there for you every step of the way to absolutely crush it as a Farmasi distributor!
Why Become A Farmasi Beauty Influencer?
Now you may be thinking, why Farmasi?
That is a great question! I like a girl that does her homework :)
In addition to being at the very beginning of the momentum phase like we talked about earlier (aka the best time to join) here are a few reasons why becoming a Farmasi beauty influencer is a great opportunity.

Want the inside scoop on upcoming Farmasi beauty influencer sign up promotions, special team promotions, and other Farmasi beauty influencer info? Sign up and we'll make sure to keep you in the loop!
Farmasi Beauty Influencer Benefits
19.99 Investment
If you have ever started a business you know that less than $20 to get started is ridiculously low. I can honestly say this is the least expensive business that I've ever started, and I have started many companies.
No Inventory
Yep, you don't have to hold inventory ever!
In other businesses I've run, I had so many boxes of product it quickly started to take up an entire room in my house. As a Farmasi rep, all of your products are sold online and ship directly to your customer.
This means no packaging and shipping products and no big upfront investments.
50% Commission
Every single product you sell you earn 50% commission on. This is absolutely HUGE! It is very rare to see profit potential like that in any industry.
Do you love the Farmasi products and want to order just for yourself? You get 50% off all of your own personal orders. All day, every day.
High-Quality Products
When it comes to makeup quality matters. Farmasi has been manufacturing products for over sixty years and they are very particular about the quality of the products they produce.
Farmasi meets European manufacturing quality standards. U.S. laws are very lax on what is allowed in beauty products. Makeup that meets European standards means that it is without over 1,300 icky chemicals that are in U.S. cosmetics.
Farmasi is also cruelty-free which is so important in this industry.
Affordable Products
I am a self-proclaimed makeup junkie, but my team leader is an actual makeup artist! I have asked her what her experience has been like using these products compared to high-end brands and she says that many of the products are just as good if not better.
Now, if high-end beauty is not in your price range have no fear!
Fortunately for us, Farmasi is Nordstrom quality at Target prices (I mean come on, what girl doesn't love that?!)
Farmasi Product Prices
Farmasi products are affordable at any budget. They have products as inexpensive as $5 with their high-end serums topping out at around $50. Most products are under $15.
Now here is where becoming a Farmasi beauty influencer makes it even better.
On top of those already low prices any products you want for your personal use are an additional 50% off.
Here are a few examples after your 50% Farmasi distributor discount:
Liquid Lipstick: $5.95
Gel Cleanser: $7.45
BB Cream: $7.95
Foundation: $11.45
My upline says that the Farmasi Foundation even beats out her high-end Laura Mercier foundation and that stuff is pricey!
How To Become A Farmasi Distributor
Step 1: Go to the Farmasi US Website
Step 2: Fill Out Personal Information
Fill out your personal information including your name, address, etc.
(Note: I've recently changed my business name to MMC Media. So it will say that where the image says McKinzie Bean)
Step 3: Enter in Sponsor ID 0122394
Verify your sponsor. I would so love to have you on our team. We are devoted to our girls. You will get lots of support, training, and materials to help you rock at this business!
As a marketing professional, I typically charge a consulting fee of $150/hour, but when you are on my team you get access to all of my strategies for free!
I also thoroughly vetted my uplines as well to make sure that you have an abundance of helpful resources. They consist of previous corporate trainers, VP's of marketing, and professional makeup artists. With all of our experience, you will have major help at your disposal.
When you go to complete the signup process if it does not confirm that I am your upline as shown below.
Please try to manually enter in my ID # which is 0122394 then click the button next to the box to pair us.
(Note: I've recently changed my business name to MMC Media. So it will say that where the image says McKinzie Bean)
Tip: "Nickname"
Below the sponsor area, it has a place that says farmasius.com/nickname. Here is where you will create your unique referral link. Replace where it says "Nickname" with the text you would like for your personal website.
Mine for example is, farmasius.com/weheartthis.
Many people use their own name for their link, but you also can choose a business name or any text you would like!
Step 4: Join the BEST Farmasi Team
Why let me be your leader in Farmasi? I'll give you a few reasons 😊
Be a part of one of the fastest-growing teams in the United States. This means you have abundant support from leaders, a sisterhood to rally around you and cheer you on, and education from top leaders in the company who will share the exact steps and systems they followed to become successful.
Unlimited access to an online marketing expert. Before Farmasi I offered online marketing coaching to business owners. I charged $150+/hour for this coaching. But, when you join my team you get unlimited access to my strategies and coaching.
Digital marketing courses for free. The other side of my business is teaching other online business owners to be successful on platforms like Pinterest, Facebook, and blogs. I sell courses on these subjects that range from $47-$397. When you join my team I want to give you every resource to be successful, so just ask me and I will happily enroll you in them at no charge.
Amazing team culture. Don't gamble when choosing your Farmasi team. Pick our team which is fun, supportive and diverse. We welcome all new team members and facilitate a culture that is positive, accepting and motivating.
Ready to start?
Click here to go to the Farmasi website.
Step 5: Select Your Farmasi Beauty Influencer Starter Kit
Your sign up fee is a one time cost of $19.99 + shipping. This kit includes catalogs and beauty samples.
Farmasi $19.99 kit
*Subject to change
If you would like you can purchase one of the other optional kits at the time you sign up.
Farmasi $125 Kits
I would start with one of the $125 kits. These give you a wide variety of products to sample and a great price. There are three new $125 kit options for 2021: The Beauty Kit, The Clear and Bright Skin Kit, and The Detox and Healing Kit. Let's take a closer look at what's included in all of the kits.
The Beauty Kit
The Beauty Kit has EVERYTHING you could possibly need for your makeup collection! It comes with 23 products, plus free samples and has a retail value of $337.70.
VFX Pro Camera Ready Primer
VFX Pro Camera Ready Strobe Cream Primer
Farmasi BB Cream (Light to Medium)
Farmasi CC Cream (Light to Medium)
3-in-1 Face Palette
Face Perfecting Pressed Powder (03-Neutral Medium)
Tender Blush On (18-Pink Lily)
Pro to Fit Eyeshadow Primer
Iconic Eyeshadow Palette (12 Shadows)
Extralast Eye Pencil (04-Metallic Brown)
Express Waterproof Eye Pencil (01-Black)
Ink Liner
Brow Mascara (Rich Brown)
Double Lash Extend 2 Step Mascara
Limitless Volumizing Mascara
(2) Nudes for all Lipglosses (01-Nude Flirt and 06-Rose Flame)
(3) Matte Liquid Lipsticks (03-Nude Essence, 06-Superstar, 08-Sunset Breeze)
Time Locker Setting Spray
Sensi-Wipes Makeup Removing Wipes
That is a crazy amount for $125 😍
Not looking for makeup? Farmasi has three skincare kit options to choose from!
All-in Favorites
This kit contains three of Farmasi's skincare lines: The Aqua line, Calendula line, and Charcoal line. This kit also includes the foot care line and the massage gels (the paprika and chili balsam gel is incredible!!).
There are 16 products, plus free samples in this kit and it has a retail value of $350.
Forever Young kit
This kit contains two skincare lines (Age Reversist and Lumi Radience).
This is a great kit for anti-aging skincare. I have used the Age Reversist line for two years now and love it! The Lumi Radiance line is great for brightening skin and lightening skin imperfections like scaring and melesma.
There are a total of 24 products, plus free samples. The Detox and Healing Kit has a retail value of $350.
Farmasi Better You Kit
This kit is great for those that struggle with acne. It includes our two powerful lines for acne-prone/oily skin, the Tea Tree line and the Acne line. This kit also includes two of our popular massage gels and the reviving hair line. The reviving hair line is great for growing stronger, thicker hair.
This kit includes 14 products and is a $347 value.
When I signed up I personally did not order a kit and I totally regretted it. If I could go back I would get one of the $125 kits.
Once you have chosen your Farmasi signup kit you can continue to the shipping and payment page. When that is completed you are done!
You are officially a Farmasi beauty influencer!
Step 6: Welcome To The Team!
After you have signed up I will be notified and will contact you via email with information to get started. I will also add you to our team groups so that you can have access to our ongoing training and support.
I am so excited to meet you and help you get started as a Faramsi distributor.
(IMPORTANT: If you sign up under me and do not receive an email from me within 24 hours please email me ASAP at [email protected] and I will make sure I have the right email for you!)
Become A Farmasi Beauty Consultant Q&A Video
Want to see what I am like and learn a bit more about our team?
I put together this video to answer some of the Farmasi Beauty Influencer FAQ's.
Additional Farmasi U.S. Information
Farmasi, which is pronounced like pharmacy, is a cosmetics and personal care brand that offers Nordstrom quality products at Target prices.
What is Farmasi?
The cosmetics and skincare brand Farmasi was founded by Dr. C. Tuna and his son Omer in 2003 after decades of experience in the pharmaceuticals and cosmetics manufacturing industry.
Farmasi is a play on words for the term pharmacy and their experience in the pharmaceutical industry. Their experience in that industry taught them to be detail-oriented and to uphold the highest quality standards.
Farmasi's products have been sold in 125 countries and are continuing to expand at a rapid rate.
You may not have heard of it much yet because it just launched in the U.S. in 2019, but it is a company to keep your eye on!
P.S. Are you in Canada? Read here about the Farmasi Canada launch in fall 2021!
Farmasi Overview
Name: Farmasi Colour Cosmetics
Owners: The late Dr. C. Tuna, his son Omer Tunam and grandsons Emre Tuna and Sinan Tuna
(Here is a picture of me with Farmasi CEO Sinan Tuna – I'm the one on the right 😊)
Product Prices: $5-50
Wholesale Signup Price: $19.99
(Becoming a wholesale member here gives you 50% off on all orders.)
Official Website: farmasius.com
Farmasi Products
Farmasi offers a wide variety of products. They currently have over 2,000 products that they sell worldwide. In the United States, 400 of those 2000 products are available for purchase.
Farmasi's Products include,
Makeup
Skincare
Footcare
Personal Health & Hygiene
Men's Care
Baby Care
Hair Care
Fragrances & Perfumes
Health
Farmasi products are very high quality and are certified by many organizations.
What is Farmasi Makeup?
Farmasi Makeup is one piece of the popular Farmasi line. They offer all sorts of beauty products including foundation, blush, mascara, eyeshadow, lip products and more.
Farmasi makeup products meet European beauty products standards which means they meet stringent criteria for what is in their products.
Is Farmasi Makeup Cruelty-Free?
Yes, Farmasi makeup is cruelty-free.
Here is their statement on their website:
"We Respect Animals. Neither Farmasi US LLC, operating in the United States of America, nor any other Farmasi entity is conducting animal testing."
You can confidently use Farmasi products knowing that they are not tested on animals.
Are Farmasi Products Gluten-Free?
Some of the Farmasi products are gluten-free.
On the website, you will notice that when you view a product that is gluten-free it will have a badge on that page.
It will look similar to the picture below: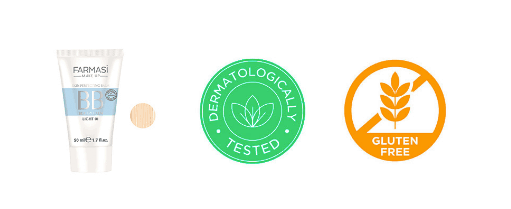 Click here to see what it looks like on the site.
Please note that none of the Farmasi haircare line is gluten-free.
Is Farmasi Makeup organic?
While many Farmasi products do contain organic ingredients they are not all organic.
Are Farmasi Makeup products vegan?
Most Farmasi makeup items are vegan and the skincare is all vegan. The only use of animal by-products is beeswax in the lip glosses.
Is Farmasi Halal Certified?
Yes, Farmasi is Halal certified. You can view this certification along with many of their other certifications here.
Farmasi Compensation Plan
I will be the first to admit that the Farmasi compensation plan was so confusing at first, but that is only because it so generous.
It is only $19.99 to get started and then there are multiple ways you can earn.
(Did I mention this is a one-time signup fee? Most other direct sales companies have a yearly fee you have to pay to stay active, but you don't as a Farmasi beauty influencer!)
First is on your product sales where you will earn 50% commission on all of your personal orders.
The second is via your team commissions (aka commissions on those you personally sponsor and their downlines).
There are also opportunities to earn bonuses, trips, cars and more!
When you are ready to become a Farmasi Beauty Influencer just follow the steps above to sign up (don't forget to use the Sponsor # 0122394) 😍.
Do you have any questions about becoming a Farmasi Beauty Influencer?
Leave a comment below or send me an email at [email protected] and I'll get back to you ASAP!