This post may contain affiliate links, which means I may receive a small commission, at no cost to you, if you make a purchase.
Hey, nail art lovers! Have you heard about the latest trend in the nail art world: flame nails? 
These designs are all the rage right now, and for a good reason! Flame nail art is a super fun and creative way to make your nails pop and stand out from the crowd.
Even celebs like Kylie Jenner and Vannessa Hudgens have been seen wearing edgy and fiery nails!
There are hundreds of ways to create a flame effect on your nail. You can use various colors and techniques to customize the look.
From abstract flames to ombre and gradient designs, trust us. Once you try it, you won't be able to resist the urge to show off your scorching-hot nails to everyone!
In this post, we'll cover everything you need to know about flame nail art designs. Whether you're new to nail art or a seasoned pro, we've got you covered. Let's get started!
Getting Started With Flame Nail Art Designs
Before we dive into the fun part of creating flame nail art designs, let's make sure you have everything you need.
Here are the tools and materials you'll need to get started:
Nail polish. You'll need at least two or three different colors to create the flame effect. Choose colors that complement one another and create a gradient effect from light to dark.

Nail art brush. You'll need a small brush to create the flame design. If you don't have a nail art brush, you can use a small paintbrush or a toothpick as an alternative.

Top coat. A top coat is essential to protect your nail art design and make it last longer.

Nail file. You'll need a nail file to shape and smooth your nails before applying the nail polish.
Base coat. Always start with a base coat. This protects your nails from stains and helps the nail polish stick better and last longer.
Now that you have all the tools and materials ready, it's time to prepare your nails. Here are the steps to follow:
File your nails. With a nail file, shape your nails to the length and shape you want. File in one direction only. This will prevent damage to your nails.
Buff your nails. Using a nail buffer, smooth out the surface of your nails. This will help your nail polish go on smoother and last longer.
Apply a base coat. Apply a thin layer of base coat to all your nails. Let it dry completely before you proceed with nail polish.
With your nails prepped and ready, it's time to create the flame nail art design of your dreams. Check out phenomenal inspirations for achieving the perfect flame design.
Top Instagram-Worthy Flame Nail Ideas You Can Wear
We found some of the most stunning flame nail art ideas you can copy and brag about on your Instagram and FB feeds.
From bold and maximalist to subtle and elegant, these designs are sure to make a statement and complement your entire look.
1. Red-Hot Flames With Cute Pop Art Designs
Tired of traditional flame nail art designs? This nude mani, topped with red-hot flames and vibrant pop art details, will surely add a pop of color and personality to any outfit!
2. Five Shades of Green
Chic and elegant flame art in several shades of green that will complement a sleek black dress or a flowy pastel gown.
3. Chinese New Year Vibe
Stunning and powerful. We love the blazing gold flames atop these bright red nails.
4. Pink and Back Flames with Funky Details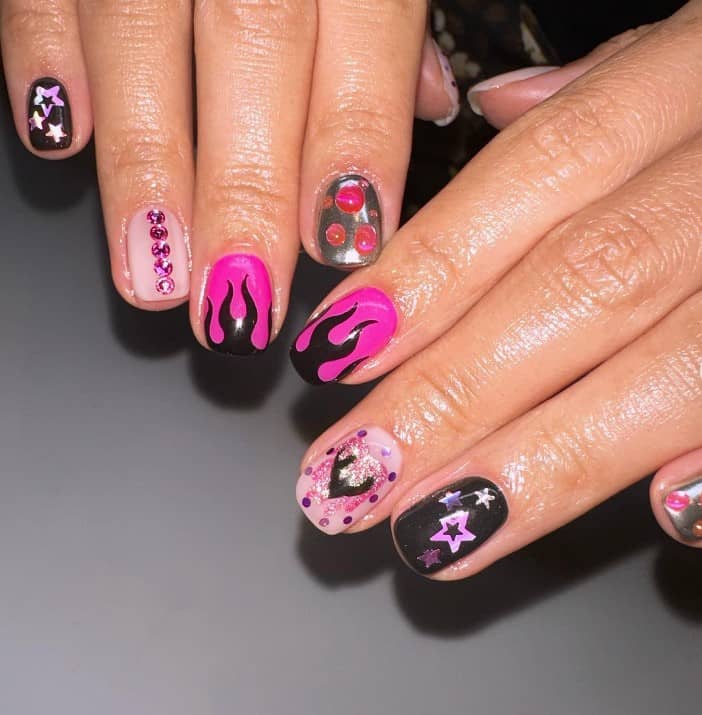 Want to try something different? Then go crazy. Go hot. Go funky in pink shiny 3D decor and black flames!
5. Neon Pink Flames and Yellow Tips Combo
Beautiful and timeless. This neon yellow-tipped pink flame design is perfect for achieving that classic feminine look.
6. Stunning Yellow Red Orange Flames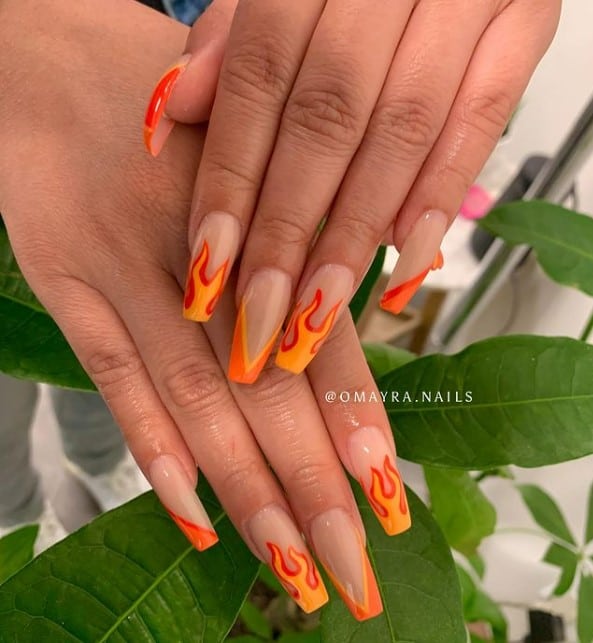 This is one of our favorite flame nail designs for coffin nails. The orange flame and intricate French nail details came together against a nude backdrop to create a beautiful masterpiece.
7. Holographic Flame Nails for Arrowhead Nails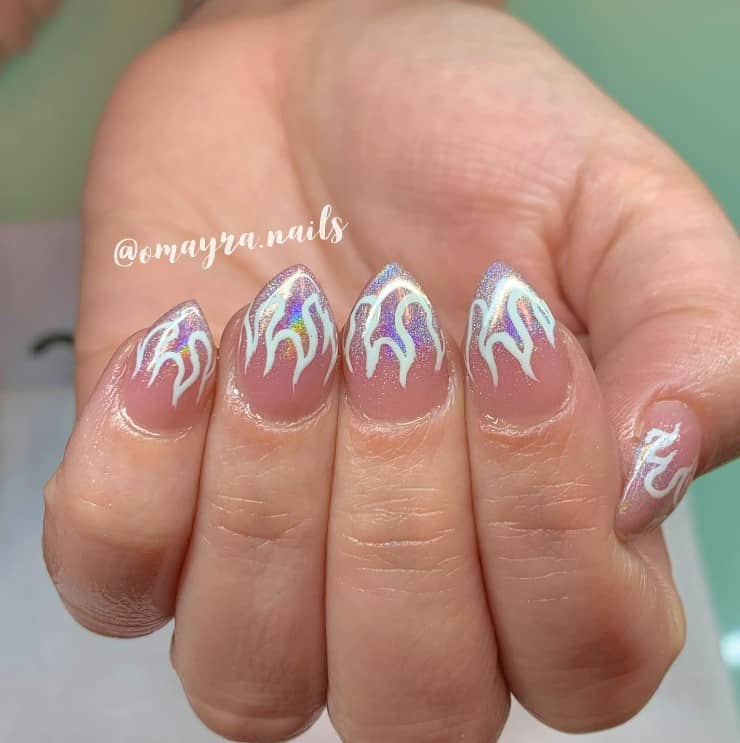 This holographic ombre with white flame nail designs and silver glitter is perfect for adding glitz and glamor to arrowhead nails.
8. Punk Rock Neon Green Flames
This neon green flame on a bright to dark purple gradient is a hot look for stiletto nails. This is one of the flame nail art designs to try for that "cool punk girly vibe."
9. Bright Orange Flames on a Black Accent Nail
Who said fire nail art designs should be in every nail? The contrast of the bright orange flame against a black accent nail and the black wavy accent patterns on the rest of these nude nails brings a zest to the overall look.
10. Multicolored Pastel Flames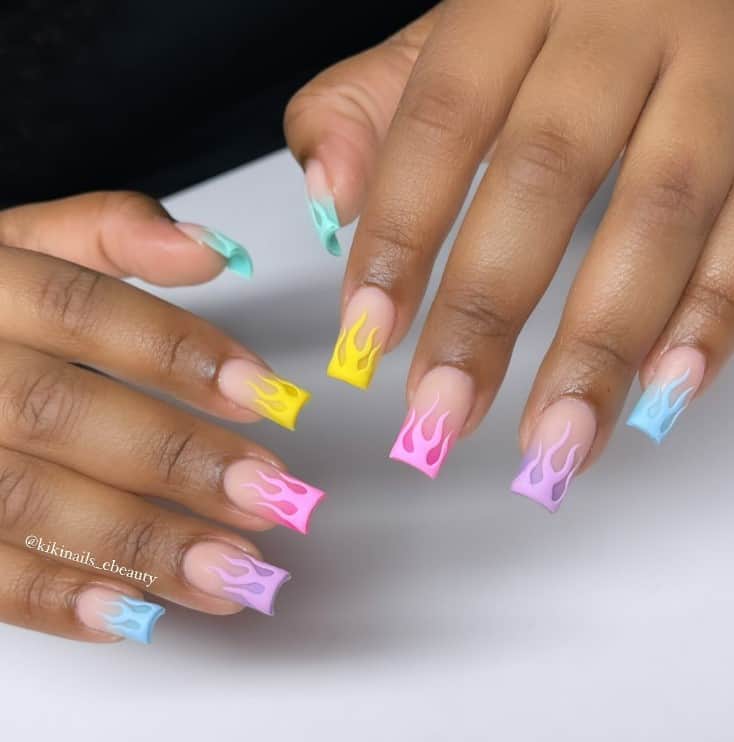 Way to level up a French tip manicure design. We just love the color combination of white flames and soft pastel hues on matte nude square nails.
11. Pink Flames and Mix Prints
If you are looking for something different, edgy, and yet stylish and girly, this custom accent nails inspiration with pink flames, rainbows, and more is for you. The perfect flame nails almond designs!
12. Silver and Pink With North Star Design
Bold. Daring. Creative. Metallic and hot pink flames, accented with metallic stars on other nails, will surely be the envy of your friends.
13. Cute Purple Flames and French Tip Medley
Classic chrome purple flames on glossy nude nails are perfect for making the right impression on the first date.
14. Black Polish and Flame Accents
If you want to make it simple but elegant, you can never go wrong with this black flame design on a nude base and delightful glossy black accent nails.
15. Flame Race Car Nail Art
Looking for a cool flames nail for short almond nails? We're sharing this funky and cute gel art with checkboard patterns, retro beaming stars, and hot pink flames to match your playful mood.
16. Midnight Blue Flames and Metallic French Tips
Want a simple yet cool nail design with fire? Try using this midnight blue chrome flame atop a creamy nude base on your next DIY nail project.
17. Pacific Blue Fires in Green Ombre
Amazing combination of green ombre and blue flames outlined by a lighter blue on glossy nude nails. The ombre effect adds depth to this beautiful art.
18. White Flames with Super Chic Designs
Look how chic this maximalist mishmash is! Try white flame nails complemented with pink and red hearts, amber French tips, and red glittery accent nails.
19. Pretty in Nude and White
This nude and white flame nail design inspires love and romance. A perfect manicure for a date.
20. Chocolate Brown Flames
Sophisticated and polished. Brown flames on long nude nails are among the hottest looks for weekend shopping or formal after-hours events and dinners.
21. Pink and Orange Retro Nails With Flames
We have seen many YouTube video tutorials of cute nail designs, and we simply just can't get enough of these pink outlined flames and cute smileys.
22. Arctic Blue With White Outline Flames
In the mood for an icy blue fire with a white outline? You will never go wrong with this awesome design on short nude nails.
23. Pink Glittery Swirl
Feeling chic and sweet? Hot glittery pink flames and swirls are the perfect look for you.
24. Yin and Yang Minimalist Design
Black and white nails with flames and the symbol of harmony and balance. Who says it can't be fierce?
25. Barely There Pastel Flames
Simplicity is beauty. This white manicure with pastel flames gives a barely there flame illusion.
26. Intricate Love and Obsession Flair
The combination of intricate details of a silver flame, rose, and chain on each finger creates a super chic and chill nail pattern.
27. Fresh in Black and Nude Matte
A fresh and unique nail motif. This black flame and black details in dots, a line, and a French tip highlighted in a matte nude mani with subtle shimmers is ideal for a casual or laidback afternoon.
28. A Rainbow-Themed Drama!
Explosive, fun, and exciting! A rainbow-themed artwork is the perfect backdrop for black-and-white nail design flames to influence a perfect day.
29. In Contrast
Mystery and purity. Elegance and simplicity. Either way, this black and white styled flames on glossy nude oval nails exude sophistication.
30. Alien Goddess Nail Flames
Looking for your next inspo? Try these adorable neon flame nails in purple and neon green hues on clear nails with holographic shimmers!
31. Glitters and Pink
Try these hot pink flames on a silver glitter base for your next at-home mani makeover.
32. Spicy in White
Aiming for a subtle yet sophisticated vibe? Classic white flames on a nude base are the look to go for.
33. Sparkle in Pink and Red
You can never go wrong with these red fire nails with cute pink heart details. You can even use nail art stickers to add an extra zest!
34. Magical and Something Special
It's no wonder this white outline flame on silver glitter matched with a glittery black French tips and accent nails is a popular choice for special occasions such as birthdays and anniversaries.
35. Under a Vibrant Fiery Sun
Look at the explosion of colors! The yellow, pink, and orange gradient flames nail art with gold glitter accents perfectly come together to make a beautiful creation.
36. Scorching Flame French Tips
What's not to love about this hot number? These orange and red flame French tips are among the loved nail art designs in the 2020s, and we simply can't get enough!
37. Yellow and Silver Glitter Flames
Aiming for a chic and edgy yet fiery vibe? Cool and hot, these cute yellow fire nails outlined with red and alternated with silver fire nails outlined with icy blue are for you.
38. Cheery in Pink!
Aesthetic check! Set your nails on fire with this hot cherry and flame nail design theme.
39. Black and Tangerine in Harmony
Get ready to turn up the heat with these gorgeous black flames and black nail art on tangerine French nails.
40. White and Gold Reverse Flames
Shine bright like a diamond with this stunning white mani with metallic flames that blaze on the cuticles.
41. Charming in Creamy Nude Polish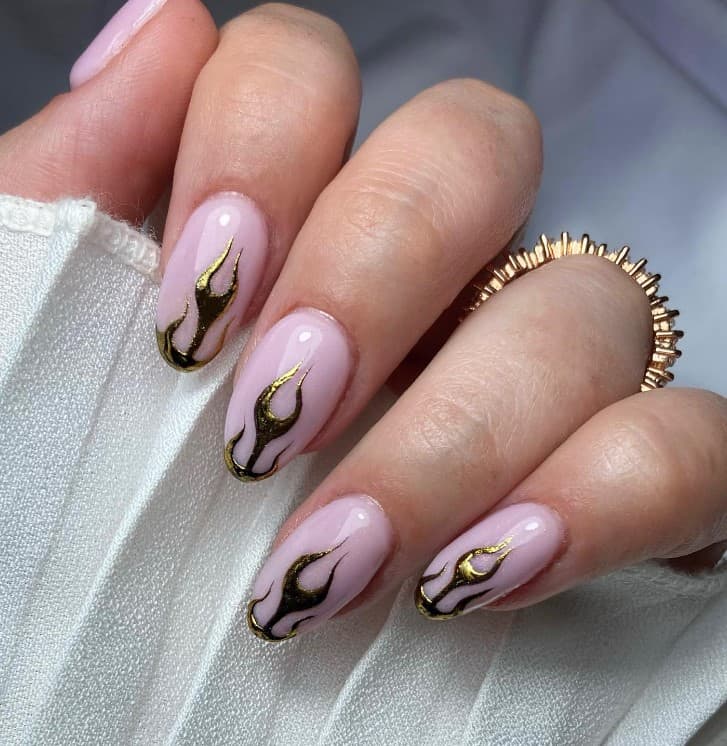 Keeping it simple with creamy nude glossy almond nails and chrome gold flame tips.
42. Fiery Fires and Kisses of Red
Stand out in this nude mani and blazing red flame nails with red lips, hearts, and north star accents.
43. Keep It Pure in White
Add an exciting twist to traditional French tips with white flame nails, almond style!
44. Metallic and Holographic Nails Outlined With Black Flames
Feeling jazzy? This metallic, holographic design is perfected with black outline flames and will surely match your mood.
Top Tips to Make Your Nail Art Last Longer While Keeping Your Nails Strong and Healthy
Once you fall in love with nails with flame designs, there is no turning back.
Rocking black and red flame nails certainly adds glamor to your day; however, maintaining the look is just as important.
Because we know that you want your nail design to last for as long as possible, here are some tips for maintaining your fiery nail art designs:
Steer clear of handling harsh chemicals, such as cleaning products. These chemicals can cause the design to chip or fade.

Apply a clear top coat to your nails every few days to help protect the design and prevent it from chipping or peeling.

Avoid using your nails as tools to open or pick at objects as this can cause your nail designs to wear down prematurely. Be gentle with your nails!
Removing Your Nail Art Safely
Alas, nothing stays forever. Your nail decor will eventually chip and fade away. When it's time to remove your flame nail art, it's important to do so safely and effectively.
Here are some tips for removing your nail art without damaging your nails:
For 10 to 15 minutes, soak your nails in warm, soapy water to soften the design and make it easier to remove.

Using a nail polish remover and a cotton ball, gently rub the design off of your nails. Avoid scraping or picking at the design as this can damage your nails.

If the design is particularly stubborn, you can try using a wooden cuticle stick to gently push the design off of your nails.

After removing the design, apply a nourishing cuticle oil to your nails to help restore moisture and prevent damage.
By following these tips, you can keep your nail art looking great for as long as possible while also protecting the health of your natural nails.
And That, My Flame Nails Lovers, Is a Wrap!
We hope you found some fresh nail flame ideas or art inspirations that are perfect for your style.
Adding flame designs are a fun and unique way to doll up your nail game. By using a variety of techniques or combining colors, you can create an endless array of fiery designs that are sure to turn heads.
So why not give flame designs a try on your next nail mani adventure? With a little creativity and some practice, you can create some seriously hot nail looks that are all your own.
Don't be afraid to experiment and have fun with it; after all, that's what nail art is all about!
Interested in more nail design ideas?
Here are more nail art inspirations for you: