This post may contain affiliate links, which means I may receive a small commission, at no cost to you, if you make a purchase.
Here we are in the new year, trying our best to eat healthy and get fit after the indulgent season of everything delicious. (I ask you, how does anyone resist never-ending plates of cookies and peppermint-flavored everything? How?!) It's #newyearnewyou time, but in the midst of resolution season, when you're not quite far enough into the year to fall off your fitness wagon, I say the best thing you can do is compromise with a cocktail. Skip dessert in favor of a cozy cup of rye!
Slow & Low Rock and Rye Whiskey has a natural sweetness, so in this recipe I countered it with 100% pure cranberry juice. I added a little fresh tangerine juice for brightness and maple syrup to give it a smooth, caramel finish. A few dashes of bitters – the spice of cocktails – balances everything out. I used homemade 1889 Aromatic Bitters from a Dash Bitters kit, but you can sub for classic Angostura if you don't have a homemade one in your arsenal. Garnish with a maraschino cherry if you're feeling fancy. The real deal, like Luxardo – you deserve it.
When freezing your buns off in the dead of winter, nothing warms the bones like a good tipple. And thanks to the lovely hue this one takes on due to the cranberry juice, I couldn't help but think of snuggling up in plaid lumberjack-style flannel pjs. The mind drifts to thoughts of a fireside seat in a picturesque stone and timber ski lodge. With nary a vacation in sight for months, this booze-fueled fantasy is your surefire ticket to relaxation.
Flannel Pajamas Cocktail Recipe
2 oz Slow & Low Rock and Rye Whiskey
1 oz 100% cranberry juice
juice of 2 small tangerines (approximately 1 oz)
1 oz maple syrup
3 dashes aromatic bitters
Luxardo cherry for garnish (optional)
Combine all ingredients over ice. Best served in a rocks glass.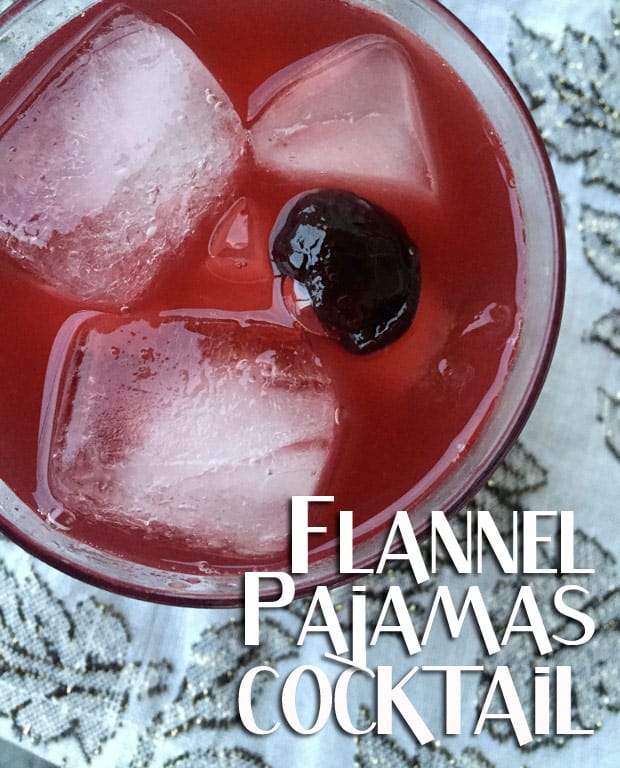 Want to try it? Pin this image for later!
we heartsters – what's your go-to winter drink? Share it in the comments!