This post may contain affiliate links, which means I may receive a small commission, at no cost to you, if you make a purchase.
Press Sample
It all started with a box and a bottle. And before I knew it I was whisked away by car and plane, dressed in a designer gown, primped at a salon, and walking the red carpet in to the launch party of Giada Las Vegas.
Do you want ALL the details? Well, grab a cocktail, because you're about to hear what happens when you follow your Natural Instincts…
After the initial somewhat mysterious email asking if I wanted to be a part of a whirlwind beauty, food and fun filled 24 hours in Vegas (answer: duh!), a package arrived after with more details. Inside I found a box of Clairol Natural Instincts in a color picked just for me by Color Director James Corbett (Sahara, Light Blonde.)
And, a message in a bottle. I'll paraphrase but it said something along the lines of "Do your hair, girl. You're going to Sin City." Maybe not quite that, but I did start packing!
It will become apparent in a moment why I had 3 pairs of shoes for one night…
You see, Natural Instincts spokesperson and chef extraordinaire Giada de Laurentiis was opening her very first restaurant at the brand new hotel, The Cromwell . And Clariol wanted us there.
It's going to be hard to even describe the advanced levels of awesomeness that was this trip. But I will try.
First things first, dye that hair! It was my first time using Natural Instincts and I was delighted with the results. Formulated with aloe, vitamin E, coconut oil and NO ammonia, it's a non-permanent way (it washes out in about 28 shampoos) to refresh color and blend away grays.
For me, it toned down my brassiness, brightened my color a bit and left my hair looking really healthy (which is unheard of with traditional dye.) I will admit though, I'm jealous of you brunettes. This would be a perfect way to play with some color without commitment.
My results
Flash forward to landing in Vegas and arriving at the bedazzled Cosmopolitan Hotel. (Honestly, it's so gorgeous. It looks like one big Liberace costume!) Just past what had to have been the 100th chandelier was our first destination; Rent The Runway.
You see, we didn't even need to bring a dress for the night, Clairol was taking care of that as well! (Hence all the shoes in the photo above. It's hard to pack heels when you're not sure what you'll be wearing.)
Just like that box of Natural Instincts, Rent the Runway was another first for me. And again, a delightful outcome. I was slightly worried at first, seeing a lot of size 2 and 4 on the racks (and at size 14, I'm considered plus size by designer standards.) But once I was assigned a stylist, had a chat and a glass of champagne, I felt much better!
In the dressing room, I encountered a few "no's" (who doesn't?) and had a brief moment of "oh no, I may not find a dress." But their plus size selection is amazing and the "yes" was just around the corner.
I thought the Carmen Marc Valvo lace dress shown above was going to be the winner. But then came the green sequined Badgley Mischka. I swear on my life, the minute I zipped it up "Brick House" starting coming through the speakers and I knew I had the winner! Talk about perfect timing.
From hanger to Mighty Mighty!
Next, our crew (a small group of Clariol reps, bloggers and magazine editors) headed to the beautiful COLOR Salon by Michael Boychuck at Caesars to get our hair and makeup done amongst more chandeliers. I opted for a sleek style to show off the color, and a fierce cat eye and nude lips.
Once properly beautified (nails done, hair done, everything did) we headed back to The Cromwell for a tiny bit of downtime before the big event. The rooms are amazing, very boudoir-like (which makes sense since they're Parisian-inspired.) With dark woods, purple leather, corseted accents and dim lighting; the whole thing was rather sexy. Plus, I appreciated the pillow top bed, rain shower and 55 inch TV.
We met in the lobby and headed up to Giada for the big event. My besties for the night were old pals (Amber from Beauty Junkies Unite) and new (Michelle Collins from…everywhere!) and I don't think there was a minute where we weren't smiling.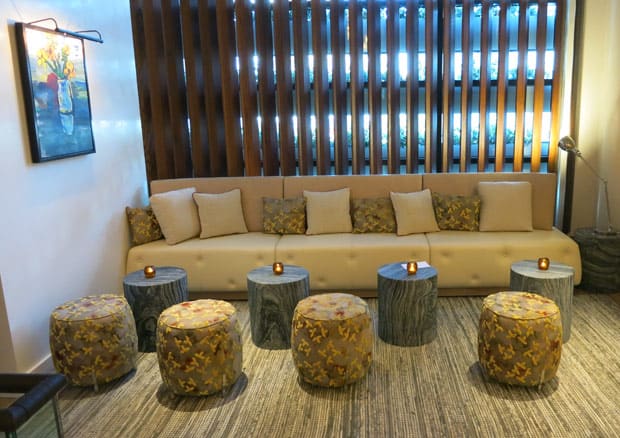 Reception
Dining room mostly cleared of tables
There was A LOT to smile about at Giada's. The restaurant is gorgeous, with lots of wood accents, grey and yellow throughout, and pops of rose gold. The view is magnificent, thanks to gigantic windows that illuminate the excitement of the strip. It's beautiful by day, with the sun streaming in, but absolutely breathtaking at night, just a giant screen of neon and the Bellagio fountains. The windows even fully open to let all that beauty in!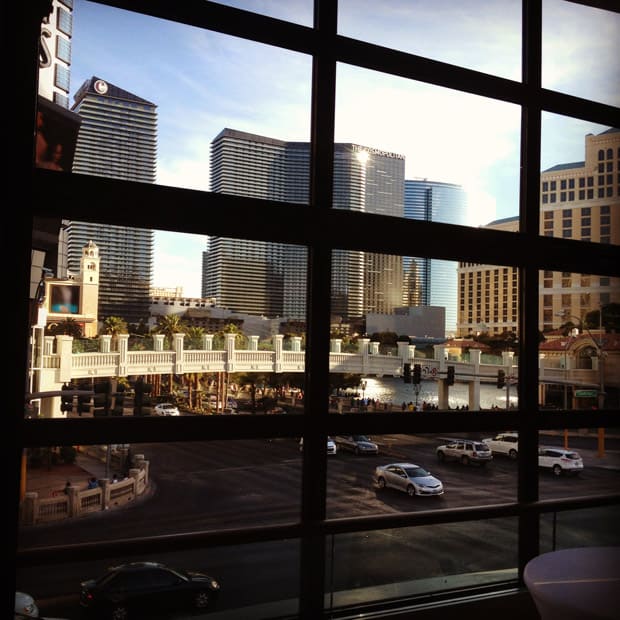 Are you kidding me with that view?!
But as it should be, the food is the absolute star. It's even on display; with an open kitchen concept, antipasto bar and fresh pasta drying right before your eyes.
We ate party style, visiting stations throughout the space. And I made every attempt to try it all! Including Oyster Crudo and Lamp Chops. But my favorite was the Tortellini with Pea Pesto, Pancetta and Mint. It was light, creamy and an explosion of flavor. I also may have almost consumed my weight in Orzo Meatballs.
The desserts were as beautiful as to be expected, as were the cocktails. More than a few were consumed, including "The G" – a Peruvian grape brandy concoction with a honey syrup G on top, and the Barbarella, just one of the cocktails named in honor of her grandfather Dino De Laurentiis' films.
Of course, the absolute highlight was meeting Giada herself. We had some one on one time with her before all the action started and I can happily report she's as nice as can be. She's charming and engaging, but I was most impressed that she held eye contact with me the entire time we spoke! Despite being a half hour away from opening her restaurant, she sat with me and happily listened to be mangle pasta names and dished about what items she always keeps in her purse. (Stay tuned for my interview with her coming up soon!)
And seriously, could she be any more gorgeous? Clairol shared all the details on her look (which included a dress by Cushnie et Ochs and shoes by Givenchy, styled by Stylist Sam Saboura.)
Julie Morgan, celebrity makeup artist and longtime friend of Giada De Laurentiis, got her hair and makeup ready for the event. Here's how:
Giada's hair was freshly colored with Clairol Natural Instincts Amber Shimmer (a shade change for Giada) which gave her hair a gorgeous light golden brown hue. For the evening, she opted for loose voluminous waves to complement her Italian and California roots.
To achieve Giada's look:
1. Shampoo hair 24-48 hours after coloring hair for best results.
2. Blow-dry hair and apply texturizing spray to roots for added volume.
3. Take 1 inch barrel curling iron and twist sections of hair while leaving the ends of the hair out.
4. Apply shine spray.
5. Turn head over and move fingers through hair and spray a medium hold hairspray all-over to hold the curls in place, like Herbal Essences Naked Flexible Hold Spritzer.
To complement Giada's soft locks, Julie went with stone and jewel-tone smoky eye liner by Trish McEvoy. Giada's overall skin, cheeks and lips were done in a rose gold hue (Chantecaille Future Skin Foundation, Jouer Rose Blush with Sunshine Bronzer and Rose Lip Pencil with Peach Pearl Lip Enhancer). Her look was finished with COVERGIRL mascara.
So dear we heartsters, following your Natural Instincts is always a good thing. You never know where they'll lead you!
Stef is many things. Amongst them: co-editor of we heart this, photographer, condiment connoisseur, Philly girl in the California desert, borderline hoarder and a hardcore beauty junkie.
skin tone: NC 25/30
skin type: oily with a fear of rosacea
favorite beauty product: high end skincare and lip products