This post may contain affiliate links, which means I may receive a small commission, at no cost to you, if you make a purchase.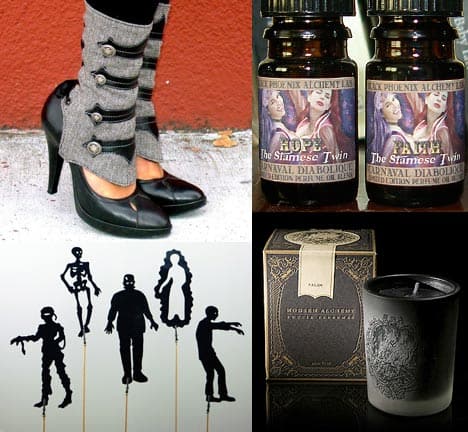 That's right, just because your daughter/niece/friend won't go caroling with you and will be wearing black jammies on Christmas morning doesn't mean she doesn't want you to buy her anything. Goths need gifts too! And with gifts as fabulous as these, I predict there might be a few "regular" people on your list that may want you to buy them these as well…
• Our friends at LuckyScent know how to warm those icy hearts. The Salem candle by Modern Alchemy is spookily beautiful, with it's frosted black glass and medieval box. The scent? A good ol' fashion stake burning, of course! A rich, roaring bonfire of New England maple, hickory and walnut woods. ($55)
• Vintage art lover or baby Goth, the Undead Shadow Puppet Set will delight either and provide some fun to boot! ($30)
• Ok, some of her clothes you just don't get. But some, you secretly want (I know I do!) And the runways are taking note as well. Spats have been everywhere this winter. Rightfully so, how cute are these? This Victorian meets military pair will really spice up the obligatory all black outfit. ($98)
• We're huge fans of BPAL around here, as will be any recipient who gets gifted their fabulous perfume oils. One of their over 35 Limited Edition Yule scents is a steal of deal too. I recommend The Season of Ghosts to make a Goth smile; bergamot, frankincense, rose geranium, ginger, lemongrass, and blood orange. ($17) Or Hope and Faith, The Siamese Twins from Act III of Carnaval Diabolique; sugared violet and sugared rose. ($40)
What a Deal: Everyone loves chocolate! How about some dark brownies with a kick? Marchè Noir Foods (from the same genius folks behind Southern California's edgy BlackMarket Bakery) make them out of wine flour. That's right, wine. The pomace, the grape skins from wine production, is turned into a flour, then mixed with chocolate and delicious ingredients like hazelnut or dried cherries. From the gothic label, to the deep rich taste, these aren't your Grandma's brownies. And I can tell you first hand, they're so good, they could raise the dead! ($9 for three)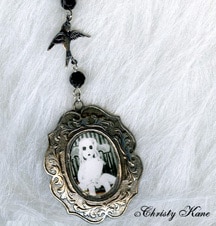 • And from our very own wht team member and doll maker extraordinaire Christy Kane we suggest her Callalilly Beaded Choker. You might not be able to afford one of her handcrafted beauties (actually, you might, take a look!) but you can definitely set up your spooky sweetie with a cameo necklaces featuring one of them. This one shows Callalilly, the subject of the stop motion animation short she made with the legendary Choido Bros. ($22)
Disclosure: This review includes products that were provided by the manufacturer/PR firm for our consideration. For more info, or any questions, please see our disclosure policy.