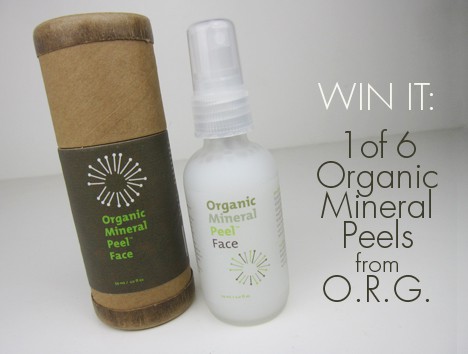 As you've read, we're more than just a tad bit impressed with O.R.G.'s Organic Mineral Peel Face, we're downright obsessed. But don't take our word for it when we say it's one of the best skincare products to pass by our desk in ages, win it and see for yourself why we're gushing!
We're giving away a bottle to six lucky winners (US only, sorry). Just follow the instructions on the rafflecopter form (give it a few secs to load) and fresher looking skin could be just a spritz away. Good luck!
Disclosure: This giveaway includes products/prizes that were provided by the manufacturer/PR firm for our consideration. It is also being monitored by Rafflecopter, who will list your full name as entered on the widget shown here. For more info, or any questions, please see our disclosure policy.
Stef is a plethora of things. Amongst them: co-founder of we heart this, photographer, condiment connoisseur, Philly girl in the California desert, borderline hoarder and a hardcore beauty junkie. She also has a touch of wanderlust and, arguably,
the cutest dog in the whole world
...
skin tone:
NC 25/30
skin type:
oily with a fear of rosacea
favorite beauty product:
high end skincare and lip products