This post may contain affiliate links, which means I may receive a small commission, at no cost to you, if you make a purchase.
photos: mackenzie for we heart this
December always has a lot going on, from getting those last holiday gifts to making sure you have enough food for all your relatives at the family gathering. And don't forget the holiday office party where you get to pull out your favorite sparkly number to dazzle your co-workers! This year, why not knock their socks off a little more when they ask you about your new holiday sequin skirt by saying, "I made this!" They'll never forget that behind all that paperwork, the girl from the fourth floor is also a DIY fashionista!
You'll need:
– a black mini skirt
– sequined trim
– scissors
– gold thread
– a measuring tape
– pins
– a sewing machine or a simple hand sewing needle (not shown)
– scotch tape (not shown)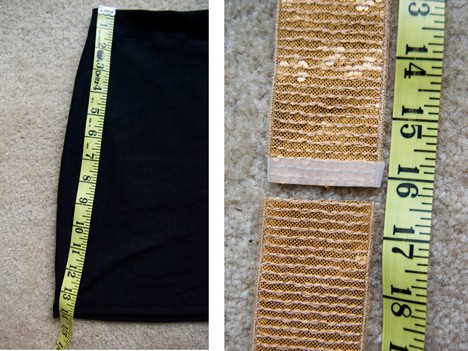 1. Start by laying the skirt flat and measuring the length.
2. Lay the sequined trim flat and measure the same length plus two inches and cut two strips.
Tip: Tape the back before cutting in case you cut through any sequins, they won't make a mess if they're taped.
3. Flatten the skirt so that the side seam is in the middle. Pin the sequined trim centered over the seam leaving a little extra trim hanging off either edge.
4. Sewing either by hand or with a machine, sew along both edges of the trim all the way down. Make sure you only sew through one layer.
5. Repeat steps 3 and 4 on the other side seam.
6. Now, you should have some trim hanging off the top and bottom edge. (like in the left photo) Fold that under and pin
7. Sew across the end to finish the edge.
8. Repeat for each edge. Cut all your loose threads.
9. Wear your holiday sequin skirt and sparkle all through December and into the New Year!
Ok weheartsters, where will you be wearing your new skirt to?
Latest posts by Mackenzie Gelina
(see all)