This post may contain affiliate links, which means I may receive a small commission, at no cost to you, if you make a purchase.
Acquiring Art Doesn't Have To Be Expensive!
When the new year rolls around, I think that everyone looks toward making changes and improvements. Of course, this typically means changes in how we eat, exercise habits, and even beauty routines. I enjoy taking a different approach and use the new year as a time to re-evaluate my home décor.
Most of us would love to go all out and get new pieces of furniture or flooring, but these things are not always practical. Many of us are even unable to paint, as we live in rentals. So one of my favorite ways to re-decorate and add a touch of personal flair to my living space is to hang unique pieces of art. In my opinion, the best place to acquire affordable and unique pieces of art is Etsy. Here is a collection of some of my favorite pop culture art from Etsy.
• I have always loved the look of vintage silhouette prints that people have of their families, but felt a little weird about having one done of my husband and myself. I also adore Star Wars, but am at an age where it might look strange to full-on decorate with movie memorabilia. These Princess Leia and Han Solo Star Wars inspired silhouettes solve both of these problems for me. They are vintage and yet also modern minimalist, while showing my love of Star Wars in a fun and subtle way. ($30)
• I don't know about the rest of you, but I am a huge fan of The Golden Girls. I started watching the TV show with my grandparents in the 1980s, and still love catching it in syndication today. I feel that the show is one of the strongest examples of female friendships and the awesomeness of ladies over 50. This amazing Ode to The Golden Girls print gives me the warm fuzzies. The colors are vibrant and beautiful, while the ladies are featured in a classic scene eating cheesecake and drinking coffee. Thank you for being a friend indeed! ($35)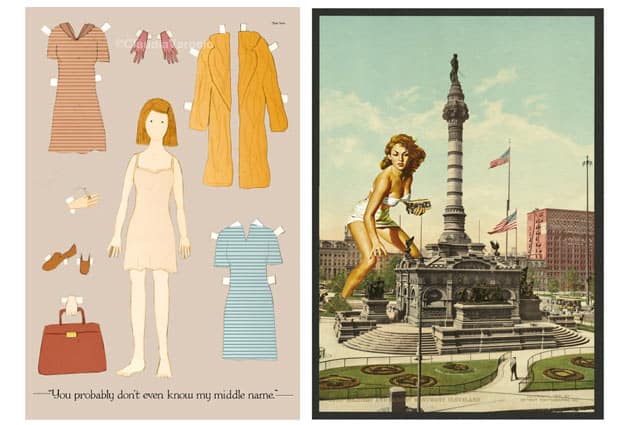 • Wes Anderson is totally my jam. I am particularly fond of The Royal Tenenbaums. Obviously, I am nuts about the writing and the acting, but I am also utterly in love with the set design and costumes. Anderson has this lovely quality where he is able to create unique and beautiful worlds that don't quite belong to any one time or place. Margot Tenenbaum's look was particularly inspired in this film, which is why I am crazy for the Margot Tenenbaum paper doll print. Margot's awesome vintage style lends itself very well to paper dolls. This quirky print looks great on any wall, but would be particularly cute by a vanity. ($20.40)
• I am a huge history nerd. (One of my degrees is actually a BA in History.) This particular interest was not easily incorporated into home décor, that is, until a little Etsy shop, alternatehistories, came into existence. The shop owner takes famous historical images of cities, maps, monuments, battles, etc. and adds a cheeky "alternate historical" element. This is one of my favorite Cleveland-related prints. Weird and fun, right? Any way you slice them, these prints are always a conversation piece. ($20)
we heartsters – How do you get a new look for the new year in your home without breaking the bank?
Kellie is a perpetual grad student, glamorous geek and writer. She hopes to one day soon add the title of history teacher to her repertoire. She resides in the frozen tundra of Northeast Ohio and is an avid consumer of books, tv, music, video games, beauty stuff, and accessories.
skin tone: NC15
skin type: oily and acne prone
favorite beauty product: lip products and face primers