This post may contain affiliate links, which means I may receive a small commission, at no cost to you, if you make a purchase.
I'll admit it, I have a love for the finer traditions and some of those things that we just don't do anymore in the 21st century. What ever happened to tea time? It used to be that at 4 o'clock the ladies came calling, dressed to kill (at least by Victorian standards) and everyone would settle down to tea and scones and finger sandwiches.
When I was young, preschool age, I used to stay with my teacher after school every day. She was from South Africa and it was at her kitchen table, usually on rainy days, that I learned to love hot tea. I used to beg my mother to have tea parties with me on my Wedgewood Peter Rabbit Tea set. Fast forward to 2010, and at 4 o'clock, rather than having tea I'm trying to beat the rush hour home and decide if I have enough will to battle the grocery store crowd for whatever ingredient I NEED to make dinner. But, I digress, back to tea…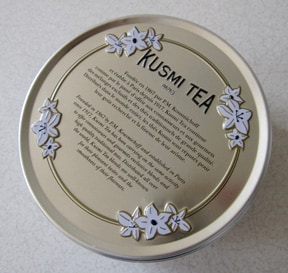 According to Wikipedia, after water, tea is the most widely consumed beverage in the world. So we Americans could do to learn a little bit from our tea-loving friends in the UK, China, and especially the Russians. This is where Kusmi Tea comes in. Pavel Michailovich Kousimichoff (say that three times fast!) founded his own teahouse in St. Petersburg in 1867, after many years of working deliveries in a teashop where he learned the art of blending teas. Fast forward 103 years and an expansion from Russia to Paris and beyond, Kusmi teas and their delicious secret blends are available for us Yanks to know and love today.
I got to try 2010's newest addition, Be Cool, a blend of verbena, rosehip, licorice and peppermint for a refreshing relaxing blend. A $2 tea ball and a mug of hot water was all I needed to transform my bland bowl of granola and OJ into a well balanced refreshing way to start my day. I love how complex the flavor of this tea blend is –so much more fun to drink than boring old Lipton or even regular English Breakfast. And on a hot day, iced down "Be Cool" will make cool you off better than any glass of lemonade ever could!
Disclosure: This review includes products that were provided by the manufacturer/PR firm for our consideration. For more info, or any questions, please see our disclosure policy.
Latest posts by kate2004rock
(see all)