This post may contain affiliate links, which means I may receive a small commission, at no cost to you, if you make a purchase.
Itching to serve fabulous looks this year but don't know how? Don't worry; we've got you covered.
Accessorizing your long nails to complement your unique style is definitely a good way to elevate your everyday look.
One classic nail design that never goes out of fashion is long nails with French tips — and for good reason.
You can't ever go wrong with wearing long French-tip nails, no matter how you choose to glam them up!
In this article, we've compiled our 53 favorite long French-tip nail designs, so you can easily choose the one that suits you just right.
These looks range from fun and flirty to passionate and professional, and each of them may be just the perfect one for your long nails!
What Are Long French-Tip Nails?
French nails or a French manicure is probably a familiar look to you by now.
After all, this is a classic go-to design where your nails are painted with pink, neutral, or sheer nail polish, then topped off with a solid tip, which is usually white.
The result usually looks effortlessly chic, simple, and neat.
This look was invented by Jeff Pink in 1975 specifically for the entertainment industry, where actresses' nails are expected to complement any changes in their costumes. And it still works like a charm in the present!
While regular French tips often have a small sliver or thin white band on top, this is slightly modified a bit when it comes to long French-tip nails.
Designs for long French nails typically have tips wider than usual, giving you enough space to glamorize your manicure.
You also don't need to stick to white tips; you can choose from a wide range of colors for your French tips too!
Why Should You Wear Long French-Tip Nails?
With so many funky nail designs out there, why should you settle for long French-tip nails?
French nails have stood the test of time for a reason. They look simple, uncomplicated, and very neat, making them suitable to wear with any outfit and to any occasion.
However, with long French-tip nails, you can spruce that simple look to make it more unique and fitting to your own brand of style.
You don't have to settle for a combination of pink or neutral with white either! You can play around with different colors for the base and tip, and the result will still be stylish and chic.
Colored French-tip nails are a great way to put a modern spin on a look that's as old as time!
53 Fantastic Ideas for Long French-Tip Nails to Love
Let's look at 53 of our favorite French nail designs on long nails.
Here, you'll see that classic doesn't have to mean outdated; all you need is your imagination, long nails, and your favorite nail polish colors to amp up the traditional French mani!
1. Long Multicolored Tips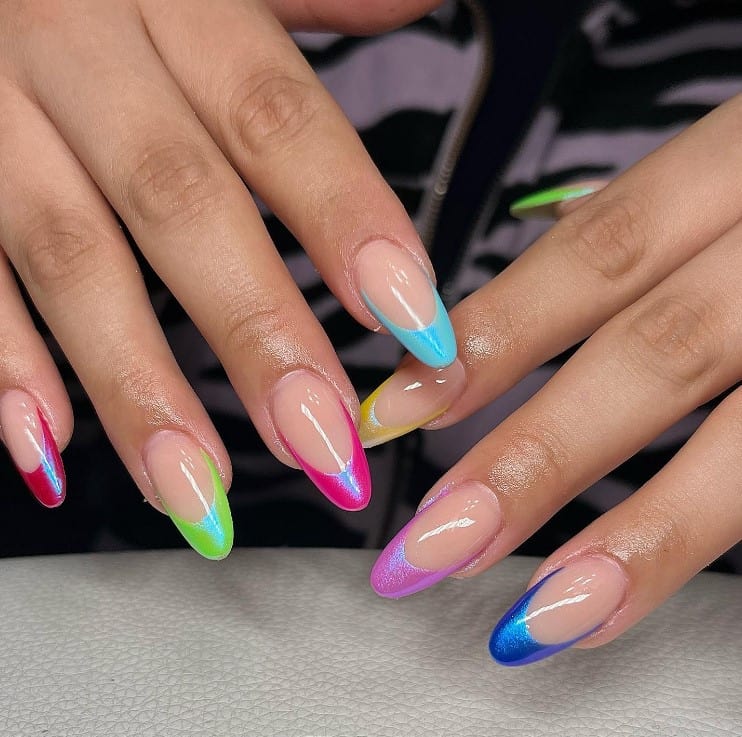 This is a fun take on long French-tip nails. Pairing glittery tips in different colors with clear nails creates a great playful look!
2. Tortoiseshell Print With Highlights
How about choosing tortoiseshell-print tips outlined with pink and neon-green polish? This is wild, funky, and perfect for unleashing your animalistic side!
3. Classic Long French-Tip Nails
Can't think of a bold design on the spot? Picking the classic combination of a pale pink base with crisp, solid white tips will never be the wrong choice.
4. Baby Daisies on French Tips
We simply adore this design! The multicolored tips and the cute daisies on each nail make this mani perfect to wear during spring.
5. Solid Colors
Wearing a different French-tip color on each of your nails is a fun thing to do, especially if you like your French nail designs long and colorful! This mani in particular has different shades of blue, pink, purple, orange, and green.
6. Long Coffin French-Tip Nails
We can't get enough of this design! The solid red tips with a thin red curve under them and the pink and white hearts on top of the nude base all contribute to a cheerful and seamless look.
7. Floral Pastels
Searching for long French-tip nail designs that look delicate? Try this one! The thick pastel tips here are gorgeously topped off with a sheer glittery finish, while the cute floral accents make the entire mani look so quaint!
8. Bold Orange Tips
Orange can be a flattering shade for your French tips; just look at this design! The bold orange shade and the bloody-red line are a great contrast to the neutral base color.
9. Long White French-Tip Nails
We just love how the use of a wide solid white tip over nude nail polish makes this look so effortlessly chic and flawless! Definitely a great spin on the classic French manicure.
10. Glittery Golds and Blue
Want to put a sparkly twist on boring ol' French tips? Use glitter nail polish! Going for shimmery blue tips on the accent nails and shimmery gold tips on the rest of your nails is eclectic and bold.
11. Pretty Sheer 'N' Pink
Wearing an outline French manicure with bright pink, bright green, pale pink, and sky blue colors is such a lovely choice. The result looks subtle and delicate but still stylish and pretty.
12. Black Gradient on Long Tips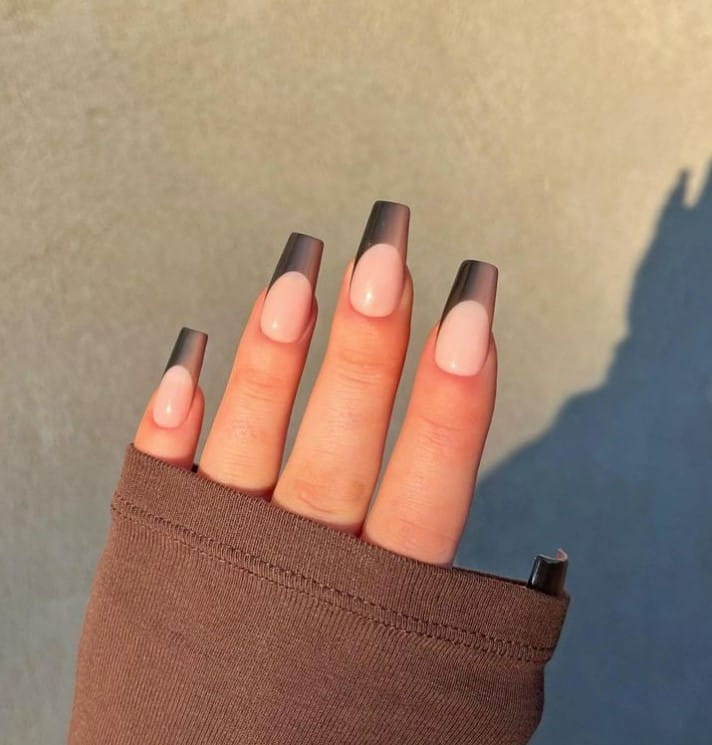 For a more dramatic look, how about choosing a brown ombré for your French tips? This will contrast with the nude base color of your manicure, creating a striking yet polished look.
13. Red French Tips on Long Nails
Red is always a fantastic color choice for your manicure, especially for French tips. The added silver studs also give this design a bit of a shimmer.
14. Black and White Cow Print
The mix of black and white on pale pink nails doesn't have to be plain! Here's a great look with cow-print tips that alternates between the two colors.
15. Exquisite Tricolor Tips
This design looks well put together despite the various styles it combines. We love how the half-black and half-tortoiseshell V-tips look so sleek!
16. Brown Patterned Long Tips
Brown and black hues look spectacular on pale pink nails, especially when used for tortoiseshell tips that manage to look wild and stylish at the same time!
17. Jazzy Textures on Long Tips
The embossed flowers and pastel-colored tips give this mani a playful appearance, which is elevated further by the silver studs placed along the tips and cuticles. The combination of these design elements creates a textured and terrific look!
18. Leopard-Print Tips
Want a great mix of different shades of brown over nude nails? Try these wild leopard-print tips, which add an air of sexiness to even the plainest designs.
19. Bright Neon Tips on Long Nails
Curious how neon shades would look on French tips? Here's your answer. Plus, adding splotches of contrasting colors to pink, blue, orange, green, and yellow tips can give your manicure a unique and quirky look.
20. Gorgeous Aqua Tips
For those of us who love aqua-colored things, here's your chance to show it! We love how vibrant and lively the color looks over long nude nails.
21. Coffee Curves on Long French Nails
If coffee is your preferred drink, then you can also choose to wear mocha, cappuccino, and espresso colors on your long nails. The tips with different shades of brown paired with psychedelic brown curves look chic over pale pink nails.
22. Fresh and Psychedelic Fresh Long Tips
Aiming for an experimental look? Try getting bright-colored tips with psychedelic curves! We're particularly partial to the yellow and green swirls on the middle fingers in this nail design.
23. Kaleidoscopic French-Tip Nails
These colorful French tips on long nails look gorgeous, especially because the swirly patterns with funky colors on each tip stand out when contrasted with the pale pink shade at the bottom.
24. Shimmering Sheer Long Nails
We're obsessed with just how pretty this outline French manicure is. The pale, almost translucent shades of yellow, green, blue, and purple on the tips look beautiful on long nude nails, while the glossy finish just makes them shine.
25. Bright Day
The playful mix of yellow, orange, and pink on French tips calls to mind bright, sunny mornings. Plus, adding silver stars to your nails also lends a shimmery finish to your mani!
26. Frosted Black Tips
Black nail polish over nude nails is bold enough. Using black glitter polish for the tips, however? Makes this look even more breathtaking!
27. Colorful French Nails
Different French-tip colors on each hand? Yes, please! We love how funky and fun the mix of green and yellow is, while the pink and orange look flirty and fabulous. Nude nails are really the best canvas for this kind of nail design.
28. Bold and Red French Nails
The longer the nails, the more fun you can have with them — as this nail design proves. The choice of placing tips painted with textured red polish and decorated with red lips and red hearts over nude matte nails is just sensational and edgy.
29. Pink Hearts, Black Tips
We just love how the black tips accentuate the pink heart designs over them. We're also very fond of the glamorous pink studs!
30. Neutral-Colored Long Tips
Just when you think neutral shades are only good for the base of your nails, here comes a design to prove you wrong. The 3D wavy lines give this look a little extra oomph and edge.
31. Long French-Tip Nails With Purple Accents
The addition of silver studs with petal-like dabs of airbrushed purple polish to classic white French tips creates the look of lilac flowers on a white field!
32. Hello Butterflies
Butterflies are beautiful, and this design is rife with them. The use of glittery pink nail polish on the accent nail really makes it stand out from the white-tipped ones too!
33. Pink Hearts on Ice
Adding hearts to your mani makes it lovelier — just look at this design. The pink hearts appear subtle and quaint over the broad white tips, making this nail art great for those who want simpler designs on their nails.
34. Electric Shades
Why not wear dark-colored nail polish when you want to? These maroon and dark purple chrome tips with nude nails look bold and stylish.
35. Red and White, Yin and Yang
The color combination of red and white is great for nail art, and this design proves it. While the X-eye smiley faces along with the red-and-white swirls and cow prints look awesome, we like the red-and-white yin-and-yang design the most!
36. Brown Lines on Long Acrylic Nails
This twist on long French-tip acrylic nails looks effortlessly chic with peach-colored nails that have outlines in different shades of brown.
37. Neon French Tips
We love just how bright the shade of yellow used for these tips is! The gold foil flakes on the accent nails also make the overall design just look very cheerful and preppy.
38. Long Square French-Tip Nails
Using black polish to create a thin, sleek outline around each nail creates a distinctly minimalist look.
39. Bejeweled Nails with Glitter Red Tips
Looking for long acrylic nails that can make your hands sparkle? Look no further than this design. We adore how the bold white gems add brilliance to the already-sparkly glittery red tips on some of the nails.
40. Long Black French-Tip Nails
Another dramatic combination of black and pink nails. We also adore the gorgeous curvy shape the pink polish lends to your nails.
41. Colored French Tips on Long Acrylic Nails
Tan tips on a nude base with a brown sliver in the middle? All these hues combine for a neat, chic, and effortlessly stylish look.
42. Playful Prints
We adore just how funky these long French-tip nails with retro designs look. We particularly like the white polka dots on the pink tips and the green curvy lines on the light green tips!
43. Black Hearts on French-Tip Nails
If you don't like wearing black on your nails, you may want to think again. This very chic design with black V-tips may change your mind, particularly the quaint little black hearts at the bottom of the nails!
44. Long Blue French-Tip Nails
What's a great way to style your French tips? Give it a unique touch by opting to go for angled tips with a two-toned blue palette instead. This creative look will surely get you compliments!
45. Classic Square Nails
Not into funky designs and colors? You can always stick with the classic look of solid white tips over pale pink nails and still look stylish. This looks best on square nails with well-defined edges that make the design look even cleaner.
46. Dots on Color on Long French Nails
We love the mixture of playful and classic in this design. The pastel-colored tips with dots in them bring out the playfulness, while the nude nails with gold lines evoke a more classic look.
47. Queen of Hearts
The baby pink tips with red and white hearts would be so adorable to wear on your nails. They just look so cheery!
48. White Tips with Glittery Silver
Glitter is always a welcome addition to a French manicure. Just look at the glam the thin outline of silver glitter gives this classic French-tip design!
49. Brown and White Lines
If brown is more your color of choice, then this combination of solid brown tips with crisp white lines on nude-colored nails is the perfect design for you. It's elegant and classy too!
50. Wavy Brown Tips
Want to spice up those brown tips? Try adding wavy lines in white and mint green to break the color monotony. The small pearl studs that decorate each tip give the whole look added glam too!
51. Cute Long French-Tip Nails
Adorable, aren't they? These multicolored French tips with fun curved lines give you a great way to wear all your favorite colors while still sporting a cute mani. We adore the mix of light green and yellow orange the most!
52. Orange Tie-Dye
Wide French tips serve as great canvases for any kind of design, including tie-dye nail art. They can make bright orange, pink, and yellow hues stand out!
53. Pastel Lavender Tips
Wearing long French tips when you have stiletto-shaped nails really makes for a killer look. Just see this pretty lethal combination of lilac tips with pale yellow outlines on nude nails!
Frequently Asked Questions
Do French Tips Look Good on Everyone?
Yes! A French manicure can look good on anyone, so it'll definitely make a great choice for your next mani.
Of course, it's crucial to match the color and design of your manicure to your skin tone and personal style.
How Long Do French-Tip Nails Last?
If done in gel, your French manicure should last up to three weeks. However, if you use regular nail polish, you may expect it to last up to seven days.
Aiming for A Fantastic Look? Then Try Long French-Tip Nails!
French nails will never go out of style.
That's why if you want to look effortlessly elegant and stylish, wearing long French-tip nails is a great way to go about it.
As we've shown you above, there are so many beautiful designs to choose from. So choose your favorite color and design, and go all out on your long nails!
Want more fabulous nails?