This post may contain affiliate links, which means I may receive a small commission, at no cost to you, if you make a purchase.
Louis Vuitton is a name that needs no introduction.
Who would not know about this iconic brand? It is literally the epitome of luxury, style, and sophistication.
Louis Vuitton's popularity as a fashion brand has been sustained for over a century. Its distinct style, high-quality materials, and craftsmanship have contributed to its status as a symbol of elegance and grandeur.
LV may have continuously evolved to meet the ever-changing demands of the industry, but its commitment to quality and style has remained constant.
Today, Louis Vuitton is one of the most coveted and celebrated brands in the world of fashion. The brand's logo and monogram is instantly recognizable around the world.
And you can totally get a splash of its high-end look with our selection of top 27 Louis Vuitton nails!
So whether you're a die-hard Louis V. fan or simply looking for some fashionable nail art ideas, read on!
Louis Vuitton Nail Design Ideas You Can Recreate at Home or Get Fresh Out from a Salon
Check out this range of Louis Vuitton nail ideas that pay homage to the brand's iconic logo and monogram.
From classic designs to creative interpretations of the Louis Vuitton signature style, we've got something for every fashion-forward reader.
1. Classic LV Coffin Nails with Monogram Pattern in Cream and Brown
Classy and elegant. The creamy beige base and brown nail art give the design a soft and sophisticated look, making it the perfect accessory for both casual and formal occasions.
2. Light Pink Louis Vuitton Short Nails Art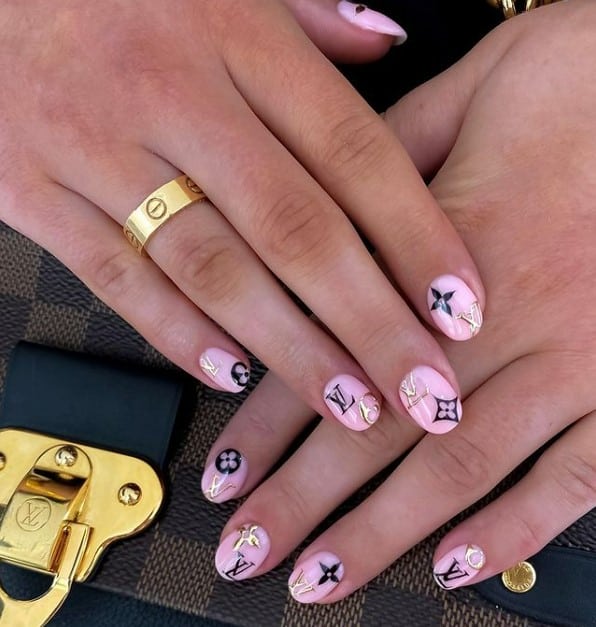 Simple and short yet super chic! And just like the phenomenal brand, this light-pink set with black and gold Louis Vuitton nail art will be a timeless favorite.
3. Red Louis Vuitton Nails and Cherry Glam
A vibrant blend of texture and patterns with cherries, red glitter, and V cut tips in red chrome polish! The Louis Vuitton logo printed in the mix adds just the right touch of luxury and sophistication to the overall look.
4. Subtle Elegance
The soft and neutral beige polish embossed with the LV logo and monogram adds a touch of luxury to the design.
5. Holographic Glitter and Rainbow LV Nail Art
Add a playful twist to your day with holographic glitter and rainbow-colored Louis Vuitton logos and monograms on a nude-to-white ombré base. Each nail features translucent designs to give your nails that dreamy quality.
6. Colorful LV Logos on Translucent White Polish
Brighten your day with a pop of colors. These neon-colored Louis Vuitton nail art stickers set against a backdrop of translucent white polish create a contrasting and eye-catching effect.
It is one of the LV nail ideas perfect for those who love to experiment with colors.
7. Pink and White Hand-Painted Louis Vuitton Nail Art
These Louis Vuitton pink and white nails are expertly polished with a hand-painted LV monogram and logo on the ring fingers. The rest are in deep, thin V cut French tips.
8. White LV Monogram in Nude and Matte White Combo
Stylish and captivating, the combination of a matte white mani complemented with sparkling cuticle jewels, rose gold V cut outlines, and the iconic monogram from the iconic fashion house gives the design an elegant look.
9. White Textured French Tips
Add a modern and unique twist to a classic French manicure with this gorgeous white embossed LV monogram and leather nail art.
10. Louis Vuitton Light Pink and Baby Blue Ombré Nail Design
This is every woman's dream glam. Delicate pink polish is seamlessly blended with a white LV pattern on the ring finger.
Meanwhile the combination of pink-and-blue nail ombré effect and French tip designs are embellished with gold and silver jewels, creating a chic and sophisticated look that's perfect for any occasion.
11. White Chrome and Nude Tones with LV Logo Accents
This right here is one of the classics. It is a stylish French nail art with an alternating combination of white nails and nude nails, with alternating gold rhinestones and gold LV symbols.
12. Chic Nude Mani with Snow-White Frenchie
This nude manicure with a single LV logo on the ring finger, gems in different sizes, and sugary French tips scream luxury.
13. Creamy Beige LV Nail Delight with Butterflies and Black LV logos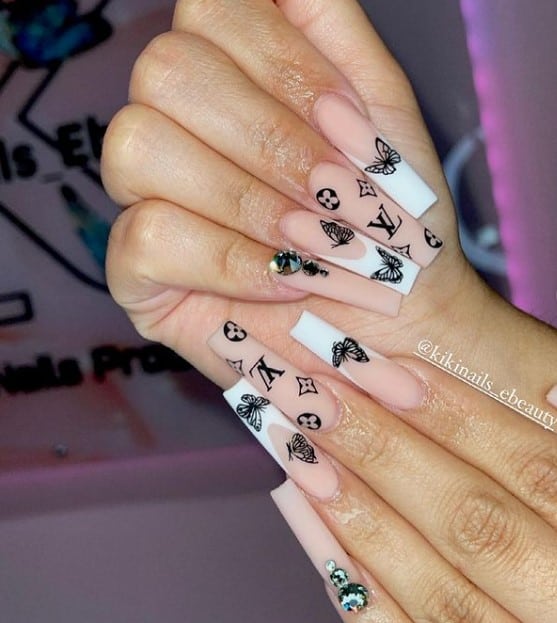 Soft and feminine with just the right tinge of number of butterflies and black LV monograms. This is a simple yet solid design perfect for casual wear.
14. Nude, Silver, and Gold LV Nail Designs
A beautiful showstopper. A lone classic French tip is surrounded by nude nails topped with gold foil and a gold LV logo — a look ideal for those who love understated yet glamorous looks.
15. Louis Vuitton Acrylic Nail Designs with Electric Yellow Tips
Featuring the legendary French fashion house classic LV logo and French tips in bold electric yellow. The color contrasts against the neutral base color, making it pop while adding an edgy twist to the otherwise conventional palette.
16. Bejeweled Louis Vuitton Nails in Red and Nude Ombré Polish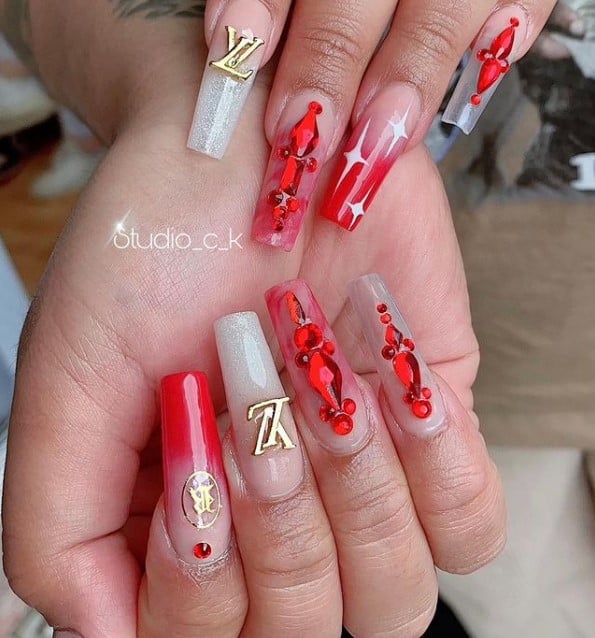 A stunning ombré effect in red and nude polish, as well as soft nude and white, with the iconic LV logo, North Stars, and red jewels accenting the nails. All these elements add a touch of luxury and elegance.
17. Opulent in Translucent White and Gold LV Monogram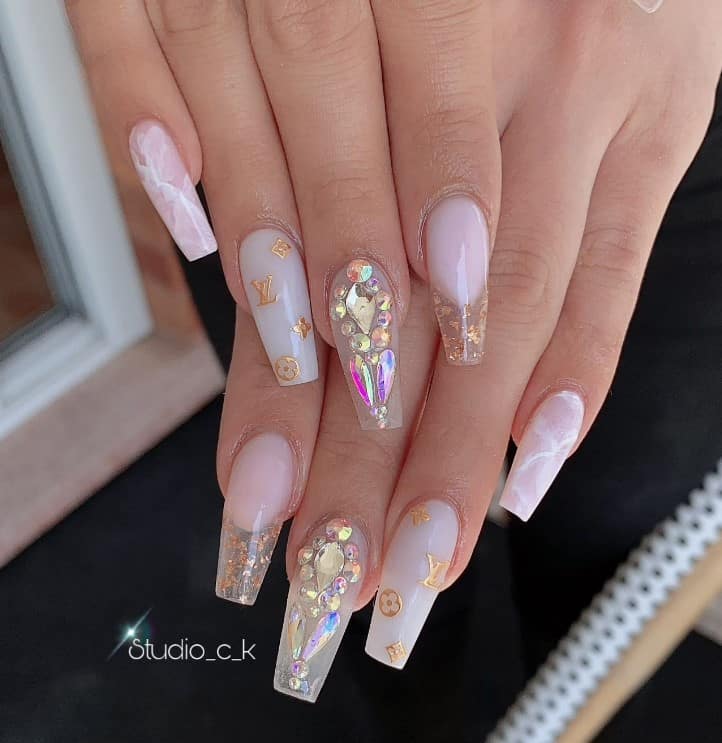 Highlighting an opulent and translucent white base with golden LV monogram accents and silver gems and rhinestones, this set is an intricate design for a romantic night out or a formal evening where you need a subtle yet powerful impression.
18. Posh in Tan and Black LV Monogram
Complement a stylish look with an equally fashionable nail art of a luxury brand logo.
The nude base is complemented with V cut French tips and black LV patterns at the ring finger nail adding texture and contrasting patterns to the overall look.
19. Embossed LV Monogram in Nude and White Frenchies
This nude base is the perfect backdrop for the embossed LV monograms and logos and classic white French tips. This is definitely one of the must-try Louis Vuitton nail art designs for any fashionista.
20. Purple Reverse Ombré on Long Nail Coffin With a Splash of LV
Absolutely love the purple ombré effect on these long coffin nails, with a sprinkling of LV logo accents. Plus, they're perfect for showcasing baby pink and lavender French tips with rhinestones at the cuticles.
21. The Sexiest Shades of Brown
Probably the sexiest shades of brown that will grace your fingernails. It is sleek and fancy but doesn't try too hard. And the matte finish and Louis Vuitton pattern on accent nails are a classy addition to this standout look.
22. Oceanic Ombré with Bright Multicolored LV Monogram Nail Art
Fresh and breathtaking, this matte Pacific-blue with bright multicolored Louis Vuitton patterns offers your nails stunning results.
23. Chocolate-Brown Exotic Coffin Nails With Gold LV Monograms
Indulge in luxury with these exotic coffin nails featuring nude and decadent chocolate brown and accented by golden LV patterns. Perfect for adding a touch of glamor to any outfit!
24. Lemonade Pink Mani With LV Accents
Eager for your next collection of Louis V. nail art? Try this refreshing lemonade pink mani, complete with stunning LV accents. The perfect balance of playful and lavish, these nails are sure to brighten up any outfit.
25. Decadent Mocha and Embossed White Accent Nail
Indulge in luxury with this decadent mocha set and embossed white sweater pattern accent. Sprinkle your matte mocha nails with LV patterns for added indulgence.
26. Nude Mani with Black LV Accents and V Cuts
Get ready to step up your nail game with this stunning nude mani featuring bold black LV accents and striking V cut tips. It's a chic and edgy twist on a classic neutral look.
27. Ombré Beige With Gold Louis Vuitton Nail Designs and Rhinestones
These ombré beige nails featuring rich gold LV designs are a show stealer. Embellish with gold butterflies and silver rhinestones for more pizzazz.
Top Tips on How to Make Your LV Nail Designs Last Longer
As much as we want to make our acrylic nail designs with Louis Vuitton motifs last forever, they will chip, wear out, or peel sooner than we wanted.
Worry no more. We got that covered for you.
With these simple tricks, you can enjoy your luxurious LV nails for weeks on end. Say goodbye to short-lived nail designs and hello to long-lasting LV beauty.
Here are some top tips to make your nail designs last longer! By following these simple tips, you can keep your Louis Vuitton nail stickers, nail art, or nail stamps looking fresh and beautiful for a longer time.
Apply a Top Coat
Applying a clear top coat on your LV nail designs can significantly increase longevity. It protects the nail polish from chipping, cracking, or fading away. Make sure to apply the top coat every few days.
Wear Gloves
Doing household chores or any activity that involves excessive use of hands can damage your nail designs. To avoid this, wear gloves while doing household chores or any other activity that may harm your nails.
Avoid Water Exposure
Water can make your nails soft and prone to chipping. Avoid excessive exposure to water. If your job involves being in contact with water for long periods, at least wear gloves to protect your nails.
Use a Cuticle Oil
Keeping your cuticles moisturized and healthy is essential to maintaining your Louis Vuitton nail designs. Use cuticle oil daily to keep them healthy. This also helps prevent chipping or peeling.
Bringing Luxury Fashion to Your Nails With Louis Vuitton Nails
Louis Vuitton nail designs are the perfect way to add a touch of luxury and high fashion to your everyday look. From classic monogram patterns to bold and colorful designs, the possibilities are endless.
With these Louis Vuitton nail styles, you can make a statement and turn heads wherever you go.
So don't be afraid to experiment and try something new; embrace your inner fashionista and let your nails do the talking!
Looking for More Nail Design Ideas?
You will like these nail art inspirations too!