This post may contain affiliate links, which means I may receive a small commission, at no cost to you, if you make a purchase.
Congrats to Madeline B. – the winner of this amazing giveaway!
Who wants to win 48 products from Milani Cosmetics?
Answer: you ALL do!
That's right, one lucky winner will walk away with the giant stash shown above: 48 products tucked in a fab, oversized Milani makeup bag. These products, all from the new spring 2012 line, have been consistently wowing our team. Now's your chance to see why.
Here's a peek at what you'll get…
photos: we heart this
3 Baked Marble Eye Shadows in Copper Excess, Must Have Fuchsia and Green Fortune ($7.49 each)

6 Haute Flash Shimmer Lip Glosses in Hot Flash, Flashy, In A Flash, Golden Flash, Quick Flash and Star Flash ($7.49 each)

5 Jewel FX Nail Lacquers in Fuchsia, Lavender, Teal, Hot Pink and Red ($4.99 each) ~ Read the we heart this review

3 Illuminating Face Powders in Beauty's Touch, Hermosa Rose and Amber Nectar ($9.49 each) ~ Read the we heart this review
See more products after the giveaway form…
Contest Note: If you do not immediately see your comment in the contest, don't worry. It went to our pending approval list and will be moderated and shown in the comment section shortly. Thanks!

3 Runway Eye Shadows in Golden Touch, Peaches and Cream, and Antigua ($6.99)

5 Crystal Glosses for Lips in Pucker Up, Fruit Punch, Raspberry Icing, Sheer Dark Honey and Clear ($5.49 each)

9 Nail Lacquers in Sail Away, Deep Thoughts, Orchidia, Beach Front, Juno, Silver Stilettos, Signature Gold, Teddy Brown and Dark Coffee ($4.49) ~ Read the we heart this review

3 One Coat Nail Glitter Lacquers in Twinkle, Lavender Fizz and Pink Flare ($4.99) ~ Read the we heart this review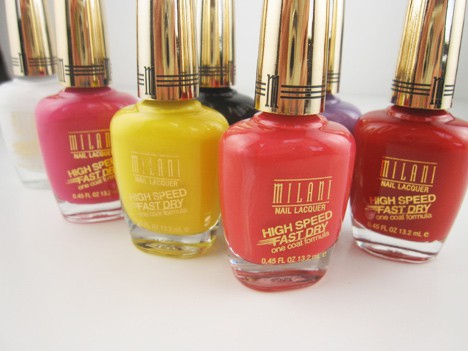 8 High Speed Fast Dry One Coat Nail Lacquers in Fast Fuchsia, Jiffy Orange, Violet Dash, Hot Pink Frenzy, Yellow Whiz, Rapid Cherry, White on the Spot and Black Swift ($4.99) ~ Read the we heart this review
Plus, Brow Tint Pens in dark brown and natural taupe ($5.99) and Eye Tech Extreme Liquid Eye Liner in Blackest Black ($7.49)
We heart Milani. Follow the easy instructions on the form and enter before Tuesday, April 11 at midnight (EST) and you may just get to see why!
Disclosure: This giveaway includes products/prizes that were provided by the manufacturer/PR firm for our consideration. It is also being monitored by Rafflecopter, who will list your full name as entered on the widget shown here. For more info, or any questions, please see our disclosure policy.