This post may contain affiliate links, which means I may receive a small commission, at no cost to you, if you make a purchase.
press visit
Welcome to part two of my Iceland Adventure. If you haven't checked out part one yet, The Blue Lagoon and what to do in Reykjavik, please do!
Late last year, my adventure-seeking self sought adventure. It came in the form a WOW Air jet that flew my husband and I straight from LAX to Iceland in March. This was a press trip, so my tickets were comped. But had I had to buy my flights? Totally affordable. Like, there are times that I could get to Iceland for less than the east coast, THAT kind of affordable. Sure, you won't get any free pretzels on the plane. But I'm totally fine to pack my own snacks for these kinds of savings. And it was a great flight, legitimately! This won't be the last time I fly with them.
As I researched and planned for this trip like a bride plans a wedding, two facts quickly became apparent:
I needed to visit the Golden Circle
I was going to be in foodie heaven
So let's get into both of those things right now…
Iceland is for Foodies
Allow me to take you on an Icelandic food tour, from the mild (breakfast buffet) to the wild (fermented shark).
Our hotel, the adorable Eyja Guldsmeden, offered a breakfast buffet every morning for approximately $25 per person. A bit pricey, but this was no ordinary hotel buffet. Offering fresh, organic selections, we filled our plates with cheeses, crisp bacon, cured salmon, flaky pastries and the brightest, most delicious eggs I've ever tasted (either scrambled or soft-boiled). There was homemade jam, muesli, skyr (Icelandic yogurt) and so much more.
This ain't no cold cereal; breakfast at Hotel Eyja
We made reservations for LAVA Restaurant during our time at Blue Lagoon and were so happy we did. We had a gourmet meal amongst lava rock while we watched the steam rise from the lagoon. Heavenly all around.

This is the Torched Arctic Char appetizer with fennel, pearl onion, cucumber, toasted bread and aioli.

And here's the entrée, a Lamb Fillet and Shoulder of Lamb with creamed artichokes, carrots, dates and thyme. I need to figure out how to cream an artichoke at home, because wow was it good!
Even the butter is better at Matur og Drykkur
Our favorite meal of the trip was at Matur og Drykkur (which translates to Food & Beverage, so straight forward!) On food, atmosphere, staff and our general all-around experience; they killed it on every point.
It's got an eclectic bistro vibe, with a relaxed atmosphere and interesting art/design features. The building itself is near the harbor and was a former salt fish factory. There's a huge black and white photo on the wall, showing female employees of yesteryear cleaning fish.
The chef flaming a cod's head, which was GIANT
The menu is based on traditional Icelandic recipes, elevated by the chef with a modern twist. Though there were several different tasting menus, we chose our items a la carte.

First up was the Trout smoked with sheep´s dung, horseradish and toasted flatbread. My husband got a little hung up on the "dung" part, but when our waiter explained that through this smoking "you can taste hay, you taste the earth of the farm" we were sold. This was so light and flavorful. This island knows their fish!

We also tried Cod Croquettes with horseradish remoulade, the most delicious hot and crunchy ball of goodness ever. Like a crab cake, but somehow better.

For our entrée we selected the Horse Tenderloin in larch bolete crust, onion and angelica potatoes. (Larch bolete is a mushroom, btw.) I really enjoyed this, it reminded me of slightly more gamey steak. It was served very rare (which through my husband for a loop, are you figuring out who's the more adventurous eater by now?) and was as satisfying as any gourmet steak I've had.

We also had the Whisky Meeeh cocktail, made with a lamb fat infused whiskey, whey with Icelandic herbs, and egg white. Similar to a Whiskey Sour, but totally elevated like every selection we had at Matur og Drykkur.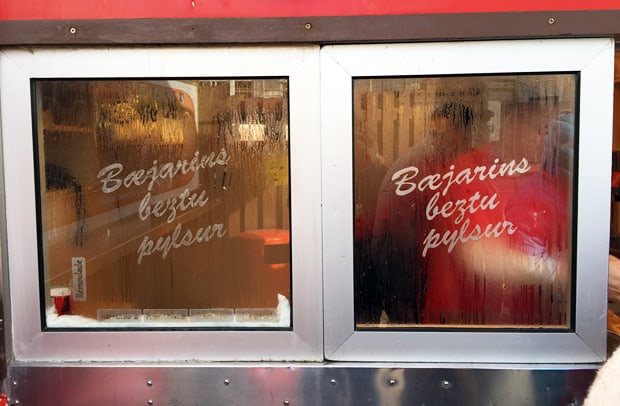 They take their hot dogs very seriously…
It might seem crazy to go from fine dining to a hot dog stand, but this is Iceland and they take their hot dogs very seriously. With good reason, they are habit forming.
We waited in a line for 15 minutes at Baejarins Beztu Pylsur and were handsomely rewarded for our effort. Icelandic hot dogs add lamb into the usual beef/pork mix, but it's the fixings that really made the dog for me. They have crunchy fried onions (think green bean casserole) and raw onions, ketchup and remoulade; a sauce made with mayo and sweet relish, but also the most amazing mustard. It's super creamy, I almost thought it was gravy at first. But it's sweet and tart, and I pretty instantly became addicted.
Since condiments were on my mind (not an unusual occurrence), I made sure to visit a grocery store the next day to see what I could pick up. Sadly, most of the ones I found were refrigerated. But I did find Baejarins Beztu Pylsur mustard and bought a bottle to bring home. Which is already gone a month later and I am very sad I didn't fill my suitcase.
Our other fine dining meal was at Matarkjallarinn, the Food Cellar. We chose it because we were entranced at the thought of their "secret" chef's-choice menu. But by this time, my husband wanted to take the reigns (pun intended).
Located in the cellar of a 160-year-old building in the center of town, the restaurant is beautiful; moody and romantic.
I chose the Icelandic Discovery Menu because I was still in the mood to discover. I loved it all.

This is Grilled Puffin and Leg of Goose with blueberries, button mushrooms and barley. I know you're thinking I'm a monster. First horse, now puffin. But listen, I eat beef, I eat chicken, why not horse and puffin? (But I'm not all bad, I drew the line at whale.) The puffin was super rich, similar to liver in density and color. Honestly, I'd recommend horse over puffin if you were going to go the exotic meat route. The goose was great, crispy like an egg roll with a taste similar to duck.

Malt & Appelsin Cured Salmon with celeriac, mustard and spice bread. (Appelsin is a fizzy orange drink, like Orangina.) Again, bravo on the fish, Iceland. It's so fresh!
Two delicious courses I didn't get pictures of (this place is pretty dark) were Grilled Lamb Tenderloin, a slow cooked lamb shank with baked onion and carrot. And White Chocolate and Sykr, with blueberries and hazelnuts. What a great dessert; tart and just a touch sweet with multiple textures going on.
And from delicious dessert, we go to fermented shark, or Hákarl. There's much buzz about this dish, all of it pretty bad. I was determined to try it, even though Anthony Bourdain described it as ""the single worst, most disgusting and terrible tasting thing." Guess what? He's right.
Being buried in the ground for up to 3 months, then hung to dry for several more, removes the poison so it's edible. But that does nothing to improve the taste of it, in my opinion. It smells like ammonia, it takes like uncooked fat that's been soaked in ammonia. There is video proof of me eating this. But you will only see it at my funeral, when I want you to remember how adventurous I was.
My closing advice for foodies is about bars, should you choose to imbibe. Look for happy hours, drinks are pricey in Reykjavik (as is food). We didn't find a happy hour at Lebowski Bar, but come on: it's a bar based on The Big Lebowski!
The Golden Circle
Iceland is a gorgeous place, and there's no shortage of companies and people who will take you to see its many wonders. If you're only there for a short amount of time and basing yourself in Reykjavik, then The Golden Circle is the tour for you.
Not an actual place, The Golden Circle refers to a circular route about 65 miles in length. Follow it and you'll see three amazing sites: Thingvellir, Geysir and Gullfoss.
We didn't want to deal with a rental car/driving in snow, so we opted for a private tour through Mercury Grail, which was around $400 for the two of us. We had such a great time with Andreas (the owner), and loved the flexibility of a private tour. He really catered to our needs, allowing us the time to roam when we wanted to and answered our every question, on topics from elves to Icelandic fast food. Our tour went about 3 hours longer than planned, but he never once made us feel rushed.
He's also very nice and incredibly knowledgable, which goes very far with me.
But maybe best of all? When he found out I was a dog lover via email prior to our trip, he decided to bring his dog Hercules on the tour with us!
First stop was Thingvellir, a place brimming with historical and geological importance. The continental drift between the North American and Eurasian tectonic plates makes it so that you can actually have each foot in a different continent while you're there.
It's also the site of the first democratic parliament, dating back to 930 AD. There's a church that was built in 1859, with a pulpit from 1683 and a beautiful little graveyard.
Like most of Iceland, there's also water galore; steams, a lake and two waterfalls. I found all of Thingvellir to be extremely peaceful.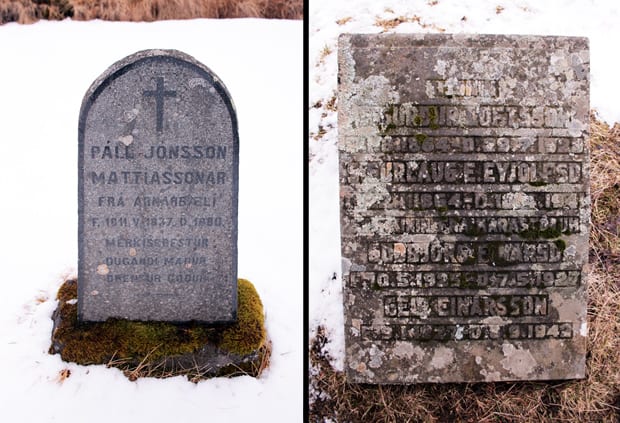 Next up was Geysir, the place from which all geysers get their name (really!) There were a ton of tourists here, probably because of the giant visitor's center with three eating options. We basically had some soup and bolted.
Leaving Geysir, we got to do what I was probably most excited about: see horses! (And yes, I get the irony that I ate one the day before.) Icelandic Horses are small, similar to Shetland ponies. When Andreas asked if I had any special requests before we left, I said "All I want to do is pet horses."
And pet horses I did!
There are horse farms all over The Golden Circle. We stopped at the first one where the horses were out near the main road, happily posing for pictures and eating hay from tourists. I could have stayed all day, but we headed off to our main destination…
Gullfoss (Golden Waterfall) is, quite honestly, one of the most beautiful places I've ever seen. Words, pictures: I don't think anything can describe this massive fall.
All I can say is that standing there, listening to the rushing water and feeling the spray on our faces, we felt extra alive. This is an absolute must-see.
Our trip to Iceland was magical; one of the best trips I've ever been on. Thinking of visiting yourself? Here's a tip: Book a #wowstopeover if you're flying to Europe and you can stop in Iceland for no extra charge! C'mon, I know you want to try the shark too…
Stef is many things. Amongst them: editor-in-chief of we heart this, photographer, condiment connoisseur, Philly girl in the California desert, borderline hoarder and a hardcore beauty junkie. She's also got a touch of wanderlust…