This post may contain affiliate links, which means I may receive a small commission, at no cost to you, if you make a purchase.
Pre-Teen Beauty and the Search for a Signature Scent
It started with an article on finding your "signature scent." I can't recall the publication, but as it was the early 90's and I was a preteen who had not yet discovered the wonders of Sassy or YM, it was most likely in a Redbook or Reader's Digest. I was a voracious reader and thought that reading "grown up" magazines somehow made me more mature. In reality it just taught me the four signs of a stroke and how to keep your perennials lush every year.
I also can't recall the article itself, but I do distinctly remember that it said that wearing a signature scent may seem boring, but sticking to one perfume was classic, like a little black dress that never went out of style. (Unlike my Starter jacket.) The article also used the oft-repeated Marilyn Monroe quote on what she wore to bed, "Why, Chanel No. 5, of course."
Now, I had no idea what Chanel No. 5 smelled like, but if Marilyn loved it enough to make it her signature scent AND to wear it to bed, it must be amazing. And if I had a signature scent, I'd be just like Marilyn! Having been a tall, chunky, mixed race child from Texas, I now realize this is a lot to ask of a perfume…
Somehow, my search led to Vanilla Fields
; possibly because I liked vanilla and possibly because I had received a gift set for Christmas. I had also learned from one of the grown-up magazines the "French art of layering," which I took to mean, "apply all the products; often, with gusto and strong enough for them to smell you coming."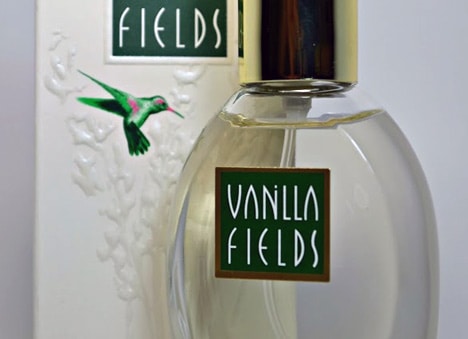 This continued for a few years until our local mall finally got a Bath and Body Works and my love of bath products outgrew my desire for a scent that said, "ALYSSA." Looking back, I cannot be certain that anyone other than me thought of Vanilla Fields as my signature scent, but I know it was not for lack of trying on my part.
On a whim, recently, I decided to pick up a bottle of Vanilla Fields Perfume. Spritzing myself, I was hit with a wave of nostalgia – as well as a cloud of heady florals. I remembered the perfume as being more delicate, more gourmand, but Vanilla Fields is lighter on the vanilla and rather heavy on the fields. It's pleasant but having become a dedicated user of Black Phoenix Alchemy Lab's perfume oils, my darling signature scent is much too oppressive.
Sorry, old friend; I think our time has passed. I'm older, wiser and have a feeling that even Marilyn changed it up once in a while. I'm afraid you're consigned to the back of the makeup case, only to be brought out when I want to go back to days of layered WigWam socks, tight-rolled jeans and a brace-faced preteen learning how to be a woman.
How about you, readers? Did you ever have a signature scent?
photos: Alyssa for we heart this
Latest posts by lyssachelle
(see all)