This post may contain affiliate links, which means I may receive a small commission, at no cost to you, if you make a purchase.
Last month, we shared a few pics from our time spent in NYC for our incredible John Frieda makeovers (Stef's and Tyna's). But we couldn't fit all of our NYC fun into just one post, so we're back with a few more snaps of wht taking the Lower East Side:

We spent three nights in the uber cool Thompson LES where our sleek but cozy room featured two very comfy beds with illuminated light box headboards designed by Lee Friedlander. They make quite the snazzy nightlights!

The gigantic slate shower had multiple shower heads, including the all important rain shower head, and offered a tried and true wht fave, Kiehl's toiletries. And yes, we both snagged a few bottles for future travel – how could we resist?

The view from our window overlooking the outdoor pool which features a photolithograph of Andy Warhol by Gerard Malanga on the floor.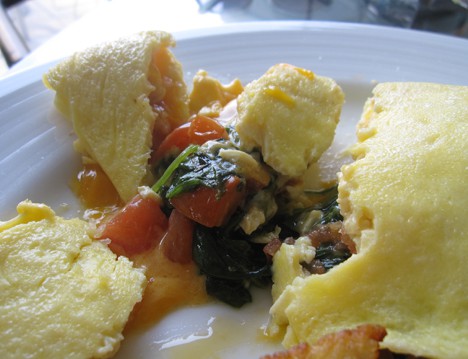 And now, let's talk more food and drink. On the morning of our makeover shopping trip, I fueled up with a perfectly light and fluffy omelette while enjoying the view from the SHANG Terrace at the Thompson LES.

I was thrilled to find many NYC bars offered Pennsylvania's finest beer, Yuengling. Here, Heather of Behind the Lashes and I are about to sample a few Yuengling Ales made even better with a rim of brown sugar – yum.

While roaming the NYC streets we stumbled upon bisous ciao macarons – these sweet French treats were a feast for the eyes…and our bellies.
The best ladies room ever. A view from the lounge of the champagne bar tucked inside the restoom at Beauty & Essex. (We "powdered our noses" three times!)

One of our few quiet moments – a nice picture of Stef and I wasting some time as we anxiously waited for our makeovers to begin.
We're not sure why there was a California flag painted on this building – but it sure looks neat.
Our friends at OCC pointed the way to Moo Shoes, a vegan shoes and accessories store. We loved their range of styles and products, but fell even harder for the shop kitties. A number of rescued cats, once on the streets of NYC, make their home in this cruelty-free boutique.
Stay tuned readers – videos of our NYC makeovers are coming soon!