This post may contain affiliate links, which means I may receive a small commission, at no cost to you, if you make a purchase.
Pixi Rose Flash Balm and Rose Caviar Essence review
Roses have been used in skincare and beauty products for centuries. As you know, the only reason why something withstands the test of time is if it works. Roses have natural anti-inflammatory and antibacterial properties. They hydrate and soothe. The fragrance can even boost your mood! Their benefits are legion and it's perfect in products for dry, sensitive and aging skin. It's a no-brainer for Pixi Beauty to utilize this simple and effective ingredient in their Rose Flash Balm and Rose Caviar Essence.
Pixi Rose Flash Balm ($24, 1.52 fl.oz.) is exactly what this sensitive-skinned gal needed at the end of winter. After months of wood fires and heat on full blast, my skin has suffered. The Rose Flash Balm serves as a moisturizing mask, moisturizer and primer, all in one. The oil-free, creamy balm smells faintly of roses, nothing too heavy. It contains rosewater and numerous soothing extracts, all designed to boost radiance and keep your skin balanced and moisturized. You only need a dime-sized amount of product when using this as a primer or moisturizer. When using this as a mask, I recommend a bit more–about a nickel's worth.
As soon as I applied this to my face, I could feel the moisture in it. It almost felt like when you douse your face in water, but you are applying a cream. I don't know how else to describe it other than you could feel this working. The product claims to boost radiance and I can attest to that–my skin really glowed from within after this, almost immediately.
This is a fairly adjustable product that will work for all skin types, depending on the delivery system you choose. If you need a little moisture, use it as a mask. If you need a bit more, use it as a balm. Pro tip: I highly recommend taking a little dab and applying it to the skin under your eyes–it really plumped up any fine lines and kept the delicate skin from appearing crepe-y. Once this dries down, your skin feels rose petal soft. It's good stuff, y'all!
Next up is Pixi Rose Caviar Essence ($24, 1.52 fl.oz.). This serum is just so much fun to use. The clear tube houses a clear, pink-tinted gel that contains encapsulated flower oils (including rose oil) dotted throughout. You squeeze a tiny amount into your fingers, smoosh it a little bit to blend the oils into the serum, and pat it into your face and neck. As with the balm, the rose fragrance was pleasant, but not cloying. Again, you could feel the moisture on your skin with this product. This serum really made my skin appear as though it was glowing.
If you love roses and you love radiant skin, you'll love Pixi's Rose Flash Balm and Rose Caviar Essence. If you have dry, sensitive, or aging skin, I highly recommend either of these products–they really make quite a bit of difference. Overall, I've been very impressed with every Skintreats product I've tried from Pixi!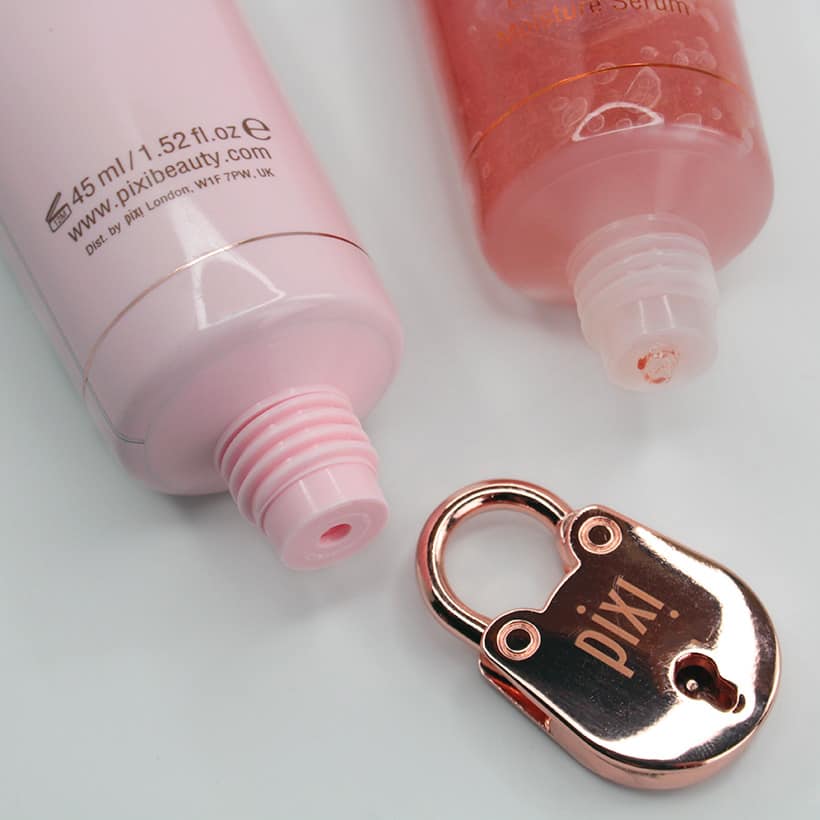 Have you tried rose-based beauty products before? Do you have a favorite? Have you tried Pixi's Rose Flash Balm or Rose Caviar Essence? I want to hear all about it!
shop the post