This post may contain affiliate links, which means I may receive a small commission, at no cost to you, if you make a purchase.
sponsored post
A Different Take on Anti-Aging
Ingredients in beauty products have become incredibly important to me as I get older and take a more proactive stance on things that impact my health, or the health of the environment. But another thing that comes as I get older is wrinkles…and crepiness. I was able to sample a skincare line that attempts to take all of these aspects of growing older into consideration, creating a product that has been winning accolades right and left: Scalisi.
Health means something to the folks at Scalisi. Scalisi Skincare bears the name of its founder, Jill Scalisi. Jill created Scalisi Skincare after being diagnosed with skin cancer at age 40, unable to find skincare products on the market that addressed her needs. She based the development of these products on wound healing, working with a well-rounded team of scientists to achieve her goal. Creating a new technology based on how the body heals, she and her team were able to develop products that are effective at wrinkle control, with an alternative to the often-irritating, but heretofore highly-praised, retinol found in most other efficacious wrinkle fighters.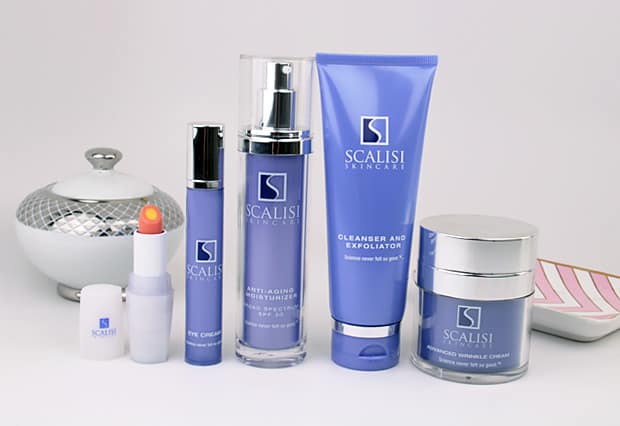 I sampled five of Scalisi's treatments: Advanced Wrinkle Cream (1.75 oz, $75), Anti-Aging Moisturizer with SPF 30 (1.7 oz, $65), Cleanser and Exfoliator (3.4 oz, $25), Eye Cream (.5 oz, $55), and Lip Treatment with SPF 15, .12 oz).
I was most impressed with the Advanced Wrinkle Cream. This pump jar of thick, velvety cream has been used day and night on my décolleté and neck, the only place I presently see significant wrinkle-work happening (and it has inspired the fear of God in me!) This product has an 8-week turnaround promise, and I've only been using it for a quarter of that time. My skin there seems softer and the wrinkles are little less prominent. I can't wait to see what week 8 holds for me!
The Anti-Aging Moisturizer with SPF 30 is super-light, smooth and cool to the touch. It absorbs quite quickly, allowing an almost immediate makeup application. I love, love, love the high SPF content. The lotion is suggested for normal to oily skin, while safe for sensitive skin. I have quite oily skin and it doesn't quite keep oiliness at bay throughout the day, but it does stay supple with increased elasticity. I also have mild rosacea, and while it doesn't treat it, it does not aggravate it either. All in all, thumbs up here, too.
Anti-Aging Moisturizer and Advanced Wrinkle Cream
The Cleanser and Exfoliator is a gel cleanser with microbeads. This is a cooling, non-drying and refreshing cleanser. It is effective at exfoliating dead skin (which my oily face seems to shed at an alarming rate). Scalisi has taken care to eliminate health and environment-damaging parabens from its products, but this current version of the cleanser does contain polyethylene, a plastic environmental hazard that has been legislated to stop being used in products by 2017. We asked Jill about this and she told us "We have spent 9 long months coming up with a natural alternative and are very excited about the results. So that will be in the next version of the product."
Scalisi Cleanser and Exfoliator
The Eye Cream rounds out the creams and potions of the line. The cream feels light—almost gel-like in that it is cool and hydrating, rather than rich and smothering. I don't have too much by way of crow's feet, but I love using this in the morning for my tired puffy eyes. Its silkiness does seem to even out my under eye "chicken skin" as well.
Scalsi Eye Cream
Finally, the Lip Treatment with SPF 15 is magnificent. Buttery soft and super glossy, this apricot-tinged, though essentially colorless balm contains Vitamins C and E. My lips have definitely benefited from this treatment, looking plumper and unlined. I wear this alone most days.
To those who wish for highly effective wrinkle-reducing products, everyone from Shape magazine to Elle and even the Doctors TV Show agree that Scalisi has put forth a commendable product line.
Latest posts by sherrishera
(see all)