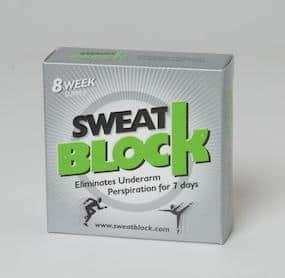 Every woman is plagued with some sort of embarrassing body issue, EVERY last one of us. From hair where hair shouldn't be, veins of the spider or varicose type, acne, nail fungus and the list goes on and on. Many of these issues can easily be masked without anyone (even your significant other) even knowing about your issue.
At the top of the list of embarrassing female issues? Excess perspiration. Sweating is not something you can hide and it can quickly turn your day at the office, a date or any special occasion into a nightmare! No matter your style, big wet stains under your arms are a no-no.
There are hundreds of options on the market to aid in the issue but most of these products do little for those who sweat profusely. I know many women who live in jackets and blazers, and who never wear any shirt color but black (the better to hide the evidence). Add to the list of woes; higher dry cleaning bills, a shorter lifespan of your wardrobe and the overall uneasiness of being out in public (with the possibility of a pit catastrophe) to compound this already trying problem.
An effective solution has come about by way of SweatBlock – handy wipes in a sealed envelope that promise to keep you dry for a week; yep, seven entire days! SweatBlock is used once a week by dabbing the little towelette onto your underarm area. Let it air dry for 5 minutes, go to sleep and viola! No perspiring for the next seven days!
Impossible you say? I for one can attest that this product is revolutionary and I am 100% satisfied. My underarms were dry no matter what the weather and the day threw at me. The formula is effective but still gentle on my skin – no itching or rashes on my (now extra dry) underarms.
Review team – what do you think? Is SweatBlock the answer to perspiration issues?
Disclosure: This review includes products that were provided by the manufacturer/PR firm for our consideration. For more info, or any questions, please see our disclosure policy.