This post may contain affiliate links, which means I may receive a small commission, at no cost to you, if you make a purchase.
photo: we heart this
A beautiful mess, our swatching table during a recent Sugarpill testing session.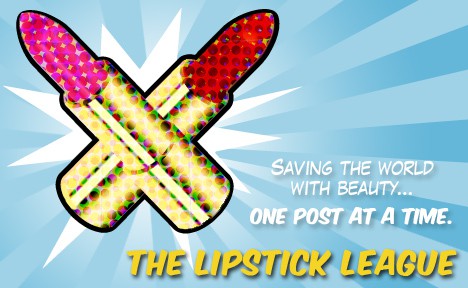 Question of the Week: – What polish is currently on your toes?
Answer: On my toes is my current go to pedi color is Pat on the Black – it's not quite black, more like a super dark and rich red, so it is perfect for this time of year. It's a great polish too, part of the Complete Salon Manicure line from Sally Hanson. You can read the wht review of the collection here – it's got puppy pictures!
A few treats from The Lipstick League this week:
Lipglossiping – celebrates World Porridge Day with some oaty-goodness!
Pink Sith – is drooling over her newest Armani Eyes To Kill Intense Shadow #3 in Purpura. Is it Taupe or Purple or both? You decide!
Prime Beauty – gives us a preview of bareMinerals limited edition eye shadow palette, The Cocktail Hour. Make mine a double!
Phyrra – tells you how to organize before they rise, by showing you the Meow Cosmetics Zombie Apocalypse collection!
Vampy Varnish – If you love glitter, you might love these colors from Deborah Lippmann for holiday 2011!
we heart this – you SO need to take the new lip products from MAC Styledriven for a test drive!
Clumps of Mascara – Sally Hansen recently released a stunning collection of jewel toned polishes. You pretty much need them all. Really.
Gouldylox Reviews – My new obsession is the dry shampoo from UNITE. It's not white, you can put it everywhere and it works better than the others I've tried. How's that for an endorsement?
we heartsters – what color are the toes on your feet? And where will those feet be taking you this weekend?