This post may contain affiliate links, which means I may receive a small commission, at no cost to you, if you make a purchase.
Top Ten Tuesday: Here are 10 beauty products I discovered in 2014 that I am STILL excited about…
NARSissist Smoky Eye Compact – Now I love me some wild eye shadow colors. But what palette did I reach for most this year? This classic stunner. All three shades are buttery soft, finely milled and provide fabulous color payoff for a beautiful brown based smoky eye.
Buy it here: NARS Smoky Eye Kit ($59, with a brush and liner)
Dove Deep Moisture Nourishing Body Wash – Imagine my delight when I discovered a drugstore body wash that gives you skin so soft that you don't even need lotion after the shower? And lucky you, we're giving away a year's supply of it right now too!
Buy it here: Dove Deep Moisture Nourishing Body Wash ($7.49)
Strange Journey on right
MAC Strange Journey lipstick – I reach for this beauty from the Rocky Horror Collection A LOT. I only hope, for both you and me (so I can get a back up) that they re-release this perfect matte tomato red-orange.
Buy it here: From a reputable Ebay seller (overpriced, sorry!)
BPAL Only Lovers Left Alive – This collection, based on the movie of the same name by director Jim Jarmusch, features 23 oils that perfectly epitomize why we love this company so much; endless imagination and a dedication to the craft of scent that's hard to match. I adore Hal, a saffron-infused bourbon vanilla with blackened honey, Kashmir wood, Atlas cedar, ambrette seed, hay and Egyptian jasmine absolute.
Buy it here: BPAL Only Lovers Left Alive ($30)
Hourglass Ambient Lighting Blush – Gorgeous packaging with equally gorgeous products will always make me swoon, as Hourglass consistently does. I love Diffused Heat, a bright coral pink with pale warm yellow marbling. It's an ethereal, subtly shimmering shade that practically twinkles. That's right, twinkles!
Buy it here: Hourglass Ambient Lighting Blush in Diffused Heat ($35)
COVERGIRL Lip Perfection – I was absolutely wowed by this line of lipsticks; pretty and clever packaging (it won't roll off your vanity AND you can see the actual shade when it's closed through the see-through bottom), a large range of beautiful shades and a creamy formula that feels fabulous on your lips. What's not to love? I reach for #327 Bombshell over options that are three times its price!
Buy it here: COVERGIRL Lip Perfection ($7.49)
Briogeo Deep Conditioning Mask – I ADORE the Briogeo Don't Despair, Repair! deep conditioning mask. It's got a scent that's more like a high-end perfume than a conditioner and it takes my over-processed, tired looking locks and transforms them into something that's worthy of a hair commercial.
Buy it here: Briogeo Don't Despair, Repair! deep conditioning mask ($26)
Kevyn Aucoin Sensual Skin Powder Foundation – The newest product in the Sensual Skin collection is the powder of my dreams! Not only does it feel like silk, it has yellow undertones that neutralizer redness. Apply it dry for a matte effect, or with a damp sponge for ultra-sheer coverage. It also comes in a velvet pouch, with a high quality brush and a nice sponge. This is one of those "I'll never be without this again" sort of products.
Buy it here: Sensual Skin Powder Foundation ($56)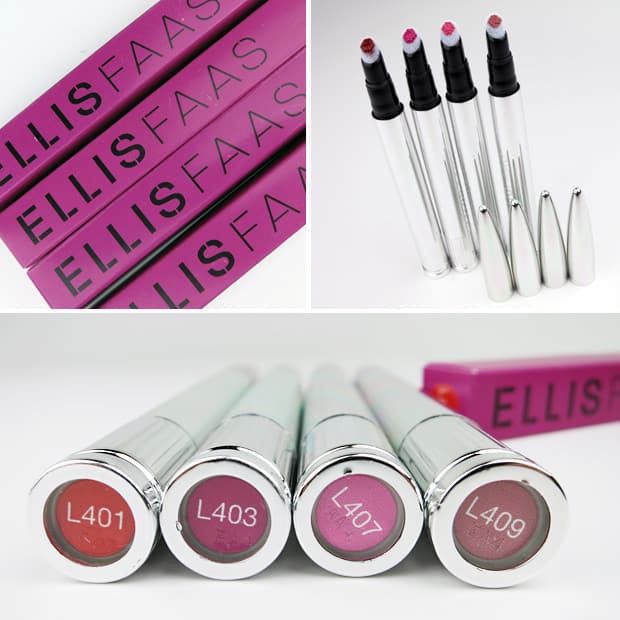 Ellis Faas Hot Lips – Here's another product that hits those gorgeous packaging/gorgeous product cravings I have. How could I have not loved these UBER-pigmented matte-satin liquid lipsticks that look like elongated bullets? I don't think there's a product I like whipping out of my purse more!
Buy it here: Ellis Faas Hot Lips ($35)
MAKE UP FOR EVER Artist Palette – I feel bad to further the pangs of "need" that I know many of you already felt about this limited edition palette that disappeared in minutes. But it was most definitely one of my favorite products of the year. Custom curated by 30 of the biggest makeup artists in the biz, each chose a MUFE eye shadow (in their new gel-powder formula) that they couldn't live without. And now, I can't live without it.
Buy it here: Though you can't buy this exact palette, you can make you're own! Shadows are $21 each and fit in 1, 2 or 3 pan palettes.
So, how about it we heartsters – what were your favorite Beauty products of 2014? And, would you like to sneak any of these off my vanity?
Check out what some of our other blogging buddies chose as their Top Ten Beauty Products…