This post may contain affiliate links, which means I may receive a small commission, at no cost to you, if you make a purchase.
Looking for the best Urban Decay red lipstick? We swatched and wore 13 different shades to help you choose the one perfect for you!
How many lipsticks do you currently own? I just did a quick inventory… and I'm at 125.
One. Hundred. Twenty. Five. Lipsticks.
It's a lot. I get it. And yet… it's not enough. It's not quite complete.
I'm pretty sure my collection is missing a few key shades, such as matte forest green and iridescent nude shimmer.
There's just something special about lipstick–each shade is a kind of message, has a kind of personality and character to it.
And that's especially true for red lipstick.
I LOVE wearing a classic red lip, and in my opinion, it's a nice contrast to my blue hair.
But I didn't always love red lips–I actually had to practice wearing red lipstick at home before I worked up the courage to wear it outside!
Wearing a red lip doesn't have to be daunting–just throw it on! If you want to take your scarlet pout to the next level, try some of these tips.
Tips For Rocking Red Lipstick
Start by gently exfoliating your lips (you can DIY your own with brown sugar, honey and olive oil)–this step is especially important if you're wearing a bold and/or matte color.
Apply a lip primer such as Urban Decay's 24/7 Lip Pencil in Ozone, or their new Multipurpose Primer Pencil in Ultimate Ozone.
These sheer primers help color to apply smoothly, makes your color last longer, prevents feathering and helps keep lips moisturized.
Apply a thin layer of translucent setting powder.
Use a coordinating shade to define your lips. There are 50 shades of Urban Decay 24/7 Lip Pencil, so it's easy to find a shade that matches. Filling in your entire pout with the lip pencil helps color last even longer.
Apply using a lip brush, which makes it easier to create precise lines.
This step is true whether you choose the traditional Vice Lipstick or the creamy Vice Liquid Lipstick. My fave shades of red from Urban Decay are No-Tell Motel, a cherry red cream, and 714, a bright red matte.
All of their lip colors are crazy pigmented, and beautifully glide onto lips, so you can't go wrong with any of the 100 shades of lipstick or 30 shades of liquid lipstick!
Matte lipsticks tend to be longer lasting than other formulas, which is why I reach for UD's Mega Matte and Comfort Matte lipsticks, or UD's Liquid Lipstick, which promises zero-transfer (A claim I was super impressed by when I tested these – it's true!)
Dust lips with a bit of setting powder to matte and make your color last longer, and then use a concealer brush or a Q-tip to fix mistakes.
At the end of a long day of kicking @$$ and taking names, use UD's Makeup Meltdown Remover Lip Oil Stick, which is tough on lip products but gentle on lips.
Then give your lips a little TLC with UD's Rehab Makeup Prep Lip Love, which softens and moisturizes lips.
Ok, who's ready for some swatching?
Urban Decay Vice Lipstick Swatches
No Tell Motel – Cherry Red (cream)
69 – Bright Red with Pink Undertone (cream)
714 – Bright Red (mega matte)
F Bomb – Classic Red (cream)
Gash – Deep Red with Tonal Shimmer (cream)
Get it at: Sephora ($17)
No Tell Motel, 69, 714, F Bomb, Gash
Vice Lipstick in No Tell Motel
Vice Lipstick in 69
Vice Lipstick in 714
Vice Lipstick in F Bomb
Vice Lipstick in Gash
Urban Decay Vice Liquid Lipstick Swatches
Crimson – Rich red (comfort matte)
714 – Bright Red (comfort matte)
Rock Steady – Deep Red Wine (comfort matte)
Get it at: Sephora ($18)
Crimson, 714, Rock Steady
Liquid Lipstick in Crimson
Liquid Lipstick in Rock Steady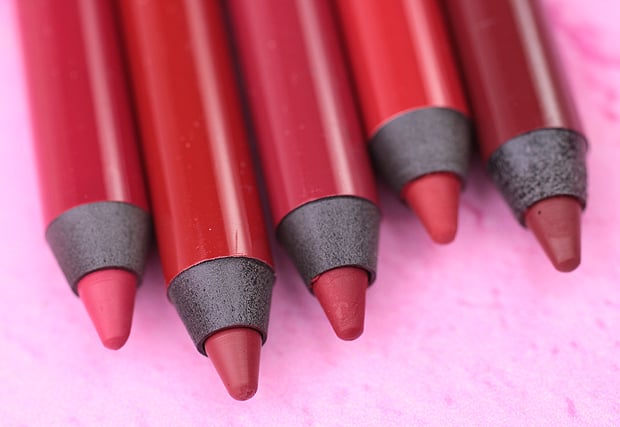 Urban Decay 24/7 Glide On Lip Pencil Swatches
Wonderland – Dark Pink Red
Bad Blood – Deep Red
69 – Bright Red with Pink Undertone
714 – Bright Red
Gash – Deeper Red
Get it at: Sephora ($20)
Wonderland, Bad Blood, 69, 714, Gash
24/7 Glide On Lip Pencil in Wonderland
24/7 Glide On Lip Pencil in Bad Blood
Like this post? Pin this image for later
What's your favorite Urban Decay Red lipstick?
You may also like these Urban Decay reviews:
Latest posts by lipglossandspandex
(see all)