This post may contain affiliate links, which means I may receive a small commission, at no cost to you, if you make a purchase.
Here's why it's our Product of the Week…
Name: Benefit Roller Lash ($24)
What it does: The mascara's Hook 'n' Roll brush catches even the smallest lashes to separate and lift, while the formula curls and holds them.
Why we heart it: If you would have told me Benefit would come out with a mascara that I'd like as much as They're Real (easily one of my top 3 favorite mascaras) – I wouldn't have believed you. But they have, and I do!
As with all Benefit products, the retro packaging is adorable. The rubber cap is not only comfy to hold, but it reminds me of my Grandmother's pink plastic curlers.
But the magic in this product is in the deceptively simple brush. A slightly curved wand with small plastic bristles (hooray for small plastic bristles, why do they even make any other kind anymore?) that hide tiny barbs that hook and grab your lashes. The other side has even tinier ones that you can use for the corners of your eyes.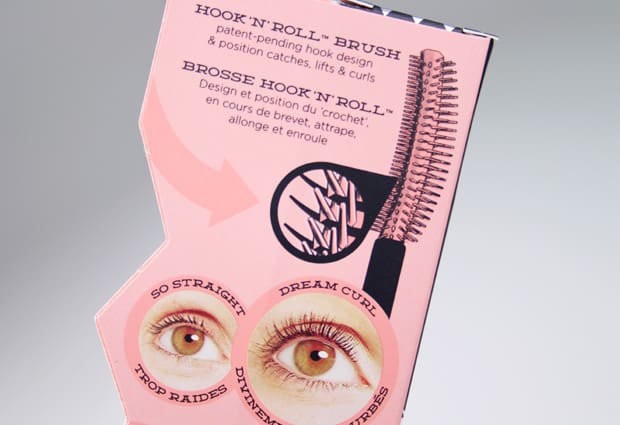 The formula is no slouch either. As it dries, your lashes curl. Skip the barbaric curler, you don't need it!
Here's the proof in before and after photos. I'm wearing no make-up other than the mascara (well, and some brow powder because I'm not a heathen.)
That's with just one quick coat of Roller Lash and nothing else. Impressive, no? If you want to get fancy, Benefit says adding a coat of They're Real on top of Roller Lash is just like a big ol' cherry on top.
Benefit, you complete my lashes.
we heartsters, have you tried Roller Lash yet? Share your thoughts!
Stef is many things. Amongst them: co-editor of we heart this, photographer, condiment connoisseur, Philly girl in the California desert, borderline hoarder and a hardcore beauty junkie.
skin tone: NC 25/30
skin type: oily with a fear of rosacea
favorite beauty product: high end skincare and lip products