This post may contain affiliate links, which means I may receive a small commission, at no cost to you, if you make a purchase.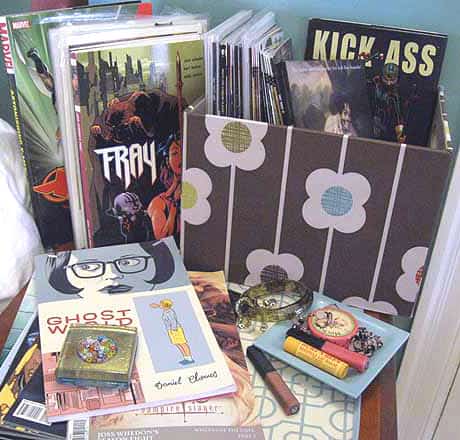 photo: we heart this
Geek is chic. I hate to even use that phrase, because back in my day, it was not cool to be a geek. Not a computer geek, not a sci-fi geek, and ESPECIALLY not a comic book geek. And a girl comic book geek? Forget it. But some of us risked our reputations and braved the comic shops to get our monthly fix. Now it's much more acceptable to be into comics, a badge of honor sometimes! (Kids these days…they don't know how good they have it…)
So what's a modern comic chick read? Before we delve into the gigantic world of comic stories, a short primer may be in order. Like any sub-pop-culture, there are some basic facts, terms and players you'll want an understanding of before you dive in. For those not yet educated in the ways of the comic book world, let's use the analogy of movies and television to give you an idea of how things work. (Work with me, here; it'll make sense, promise…)
Let's start with the publishers. DC and Marvel are the big guns, the oldest and most prolific of publishers. DC runs Batman, Superman, Justice League and Marvel has Spiderman, X-Men, the Avengers; think of these guys like major movie production companies, with the smaller publishing companies being like independent production studios.
A standard series would be an ongoing comic, such as the Batman or Spiderman series which produce issue after issue, year after year. Think of them like a soap opera; they can change writers, switch characters on you and take the whole thing in such a new direction that you get fed up and spend hours on a forum, swearing how you're never reading it EVER AGAIN. Until the next month when you buy it again, "just to see what is going to happen."
Falling in love with an on-going series can be fabulously frustrating, awesomely rewarding and very expensive. But if your bestie mocks you for getting caught up in the series and spending money monthly on it, ask her how that "Secret Diary of a Call Girl" addiction and Showtime subscription is working out for her.
If an on-going series is too much commitment for you, you can be a more casual reader by reading trade paperbacks, or TPBs. These are like the full tv season DVD sets of comics; they collect story arcs in one giant book so you can read them all at once or get caught up with a series you haven't read before. Sometimes they'll collect a particular story arc that spans several series, but a TPB can also collect sequential issues in one large book so you don't have to collect individual issues.
TPBs are great ways to get a taste of a particular series without being fully committing to buying it on a monthly basis. If you have the patience to wait for a TPB to be published – they can come out every few months (but also up to every few years) – this can be a cheaper option. Like I said, it's like waiting until the DVD for a series comes out and then watching it all at once. If you're a fan of an on-going fiction series, you'll probably be okay with this option. (CAUTION, this can lead to buying the on-going series.)
Now if you just want an occasional comic fix, you can read one-shots or graphic novels. "One-shots" that are stand-alone comics within a series. Think of one-shots like the movie version of a beloved TV show or character; they take characters from familiar series and put them in one issue story arcs that don't always affect the regular series' storyline. (They can also have mini-series that does this too, 3 or more issues of a single story.)
Graphic novels can feature regular standard comic characters, but sometimes they are their own book and tell tales that won't span more than that particular novel. Graphic novels, like movies, are sometimes mediocre, but often AMAZING. When people speak of comics as art, I bet you dimes to dollars they are thinking of a graphic novel when they say it.
Ready to take a dive into the world of comic books? Check in tomorrow for my list of my very favorites culled from a lifetime of addiction. Be forewarned, it's an addicting hobby. But at least you don't have to worry about what they'll say about you in the cafeteria anymore.
Latest posts by lyssachelle
(see all)